ALLU Screener Crusher Bucket improves profitability in farm industry recycle applications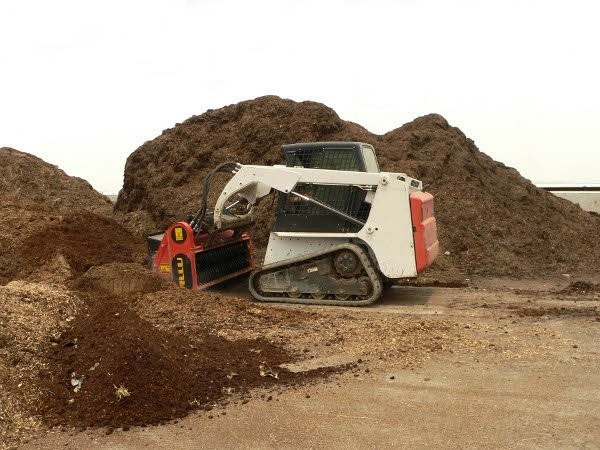 The ALLU® D-Series Screener Crusher Bucket attachment works with wheel loaders, excavators, skid steers or back hoes to screen, crush, pulverize, aerate, blend, mix, separate, feed and load materials all in one stage—increasing the profitability and efficiency of materials recycling applications at farming operations as well as many others.
The Allu D-Series attachment easily aerates and mixes bio-waste, and is capable of shredding and separating most farming-related materials. The ALLU power adjustment valve promotes powerful startup and rotation allowing the attachment to efficiently screen and crush wet or dry material from 0.60-inch to 6-inch (15-mm to 150-mm) fragment sizes.
Straight side plate construction makes the ALLU D-Series Screener Crusher Buckets easy to fill and able to hold a greater volume of material, while the standard power adjustment valve prevents overloads. Locating the hydraulics on the back of the attachment keeps them well protected from damage, while patented fender plates protect the bearings and seals. Its patented construction keeps nuts and bolts away from the material flow.
ALLU D-Series Screener Crusher Bucket attachments are available in over 60 models to fit any excavator, wheel loader, skid steer or backhoe. To lower overall usage costs, the ALLU Screener Crusher Buckets feature changeable wear hammers for crushing applications. Universal wear hammers are used for most applications and materials. Long wear hammers are recommended for screening and aerating compost and other soft materials to increase capacity. Axe wear hammers are ideal for crushing bark and mixing compost, while oval wear hammers are designed for screening material with high stone content or when reduced crushing effect is needed.
10-mm-thick screening discs extend the life of the attachment when processing many types of material, including topsoil, black top and dirt, excavated and waste soil, contaminated soil, clay, peat, bark, compost, bio waste, demolition waste, construction waste, milled asphalt, glass, coal, oil shale, limestone and other materials.
The ALLU D-Series Screener Crusher Bucket also saves money by lowering transportation costs. It can be easily moved around the job site or to different sites as it's mounted on an excavator, wheel loader, skid steer or backhoe.
ALLU Group offers a complete line of technologically advanced screening, crushing, windrow turning, soil stabilizing and compacting equipment and attachments for the recycling, asphalt, compost, environmental, green waste, demolition and pipeline industries. ALLU Group is ISO 9001:2000 certified. For more information, contact ALLU Group, 700 Huyler Street, Teterboro, NJ 07608 USA; phone 800-939-2558; fax 201-288-4479; email [email protected]; or visit www.allu.net.