UNTHA develops intelligent monitoring tools for its shredders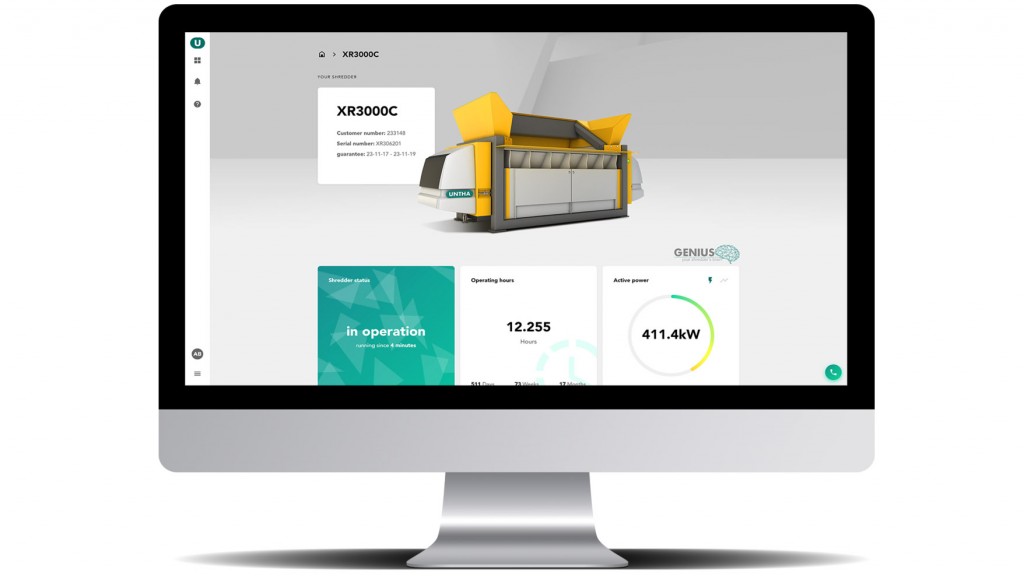 For operators, an overview of all operating and process data of their shredder in real time is a definite bonus. The data from the UNTHA GENIUS database - the machine's "brain" - ensures a high level of plant availability and enables users to correct deviations, increase productivity and lower costs.
UNTHA GENIUS is where the machine data registered by the sensors all comes together, to be processed and visually displayed via a dashboard in the "MyUNTHA" customer portal. This means that users may monitor and analyse over 100 operating and process data streams directly from their desk. The most important features of UNTHA GENIUS are summarized below:
Unplanned downtime and costly production outages are tedious and cost time and money. With condition monitoring, process-relevant data is monitored automatically. Deviations and risks are recognized immediately, enabling rapid process interventions.
Alerts and events appear directly on the user's end device as a push notification. This way, machine operators may react and solve the problem immediately, preventing downtime or at least reducing it to a minimum.
Condition-based maintenance instead of reactive maintenance is key to optimizing maintenance and repair schedules. UNTHA GENIUS notifies users in good time of upcoming service calls. In this way, spare parts with long delivery times may be ordered early and in-house stock levels are kept as low as possible, saving operators actual cash.
Sensors do not just monitor the current state of the machine, but also process-critical components and important operating material. The liquid analysis, for instance, helps UNTHA GENIUS determine current fill levels as well as quality and temperature of liquids such as hydraulic fluid and coolant.
The intelligent condition monitoring system provides detailed data on cooling water temperature, motor temperature, oil temperature, electricity, energy and efficiency measurements, energy costs, degree of efficiency of each aggregate, network quality, automated alerts if threshold values are exceeded, and data on the real power of the machine. This data is recorded and may be consulted for analytical and statistical purposes at any time. This means that both the machine and the plant can be tailored to different input materials and the productivity of the plant may be optimized.
More from Organics Recycling
Single-Ram and II-Ram High-Capacity Balers
At Machinex, we've been designing sorting systems for over 35 years, so we know how essential it is for MRF operators to have a baler they can trust and not worry about its operational reliability. This is why we design and manufacture reliable single-ram and II-ram high-capacity balers to specifically help optimize their operations.
Watch the video of our expert who presents the main features of Machinex balers delivering these important benefits:
Easy & accessible maintenance
Reduced maintenance & bale handling costs
Energy savings
Optimal bale density
For C&D recyclers, waste haulers, demolition contractors and landfills, there is a growing opportunity to profit from rethinking processes. Although every operation is different, by streamlining the front end of the C&D operation processes with purpose-built technologies, recyclers can tap into new end markets, accommodate higher material volumes, stay ahead of regulatory restrictions, increase recovery rates and add commodity revenue, while decreasing labor and other costs.
Download the new eBook to learn about:
Finding opportunities in the alternative to landfilling C&D
How facilities can increase their profits from C&D
Using the right C&D processing technology in the right locations