BYD rolls out first electric collection trucks in New Jersey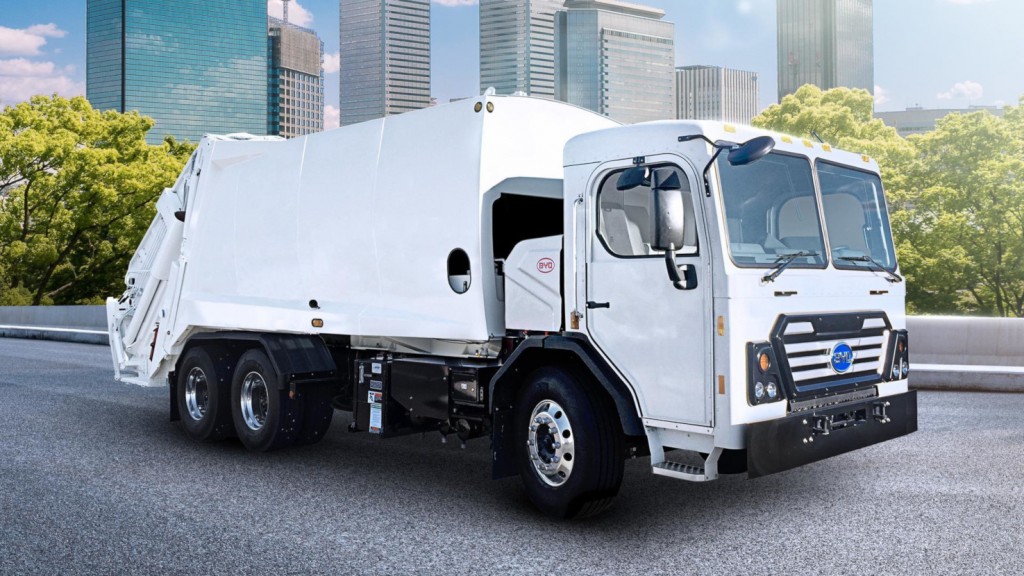 Hudson County Motors and BYD will provide the first all-electric refuse trucks on the US East Coast capable of working an entire route. Five all-electric rear loader collection trucks will go to work on normal daily collection routes, providing regular zero-emission collection services for Jersey City, NJ.
"Jersey City will be a model for what is now possible with zero-emission refuse trucks," says John Gerra, Sr. Director of Business Development with BYD Motors. "We look forward to helping provide clean streets and clean air for the residents of Jersey City."
The project is being supported by the New Jersey Department of Environmental Protection and Sanitation Equipment Corp. of Totawa, New Jersey. Hudson County Motors is BYD's fully authorized truck dealer for Northern NJ, and says it is well positioned to support the state's electric refuse truck market. The company is working in partnership with Climate Change Mitigation Technologies LLC (CCMT), a pioneer in medium- and heavy-duty commercial fleet truck electrification projects. CCMT is providing project management services for all of Hudson County Motors' electric truck programs.
BYD is a commercial electric truck specialist with deployments in the United States, and one of the world's largest manufacturers of electric vehicles and battery-electric trucks, with more than 12,000 electric trucks in service around the world.
More from Collection & Hauling
Single-Ram and II-Ram High-Capacity Balers
At Machinex, we've been designing sorting systems for over 35 years, so we know how essential it is for MRF operators to have a baler they can trust and not worry about its operational reliability. This is why we design and manufacture reliable single-ram and II-ram high-capacity balers to specifically help optimize their operations.
Watch the video of our expert who presents the main features of Machinex balers delivering these important benefits:
Easy & accessible maintenance
Reduced maintenance & bale handling costs
Energy savings
Optimal bale density
For C&D recyclers, waste haulers, demolition contractors and landfills, there is a growing opportunity to profit from rethinking processes. Although every operation is different, by streamlining the front end of the C&D operation processes with purpose-built technologies, recyclers can tap into new end markets, accommodate higher material volumes, stay ahead of regulatory restrictions, increase recovery rates and add commodity revenue, while decreasing labor and other costs.
Download the new eBook to learn about:
Finding opportunities in the alternative to landfilling C&D
How facilities can increase their profits from C&D
Using the right C&D processing technology in the right locations