Antarctica research facility to use specially engineered industrial shredder for demolition debris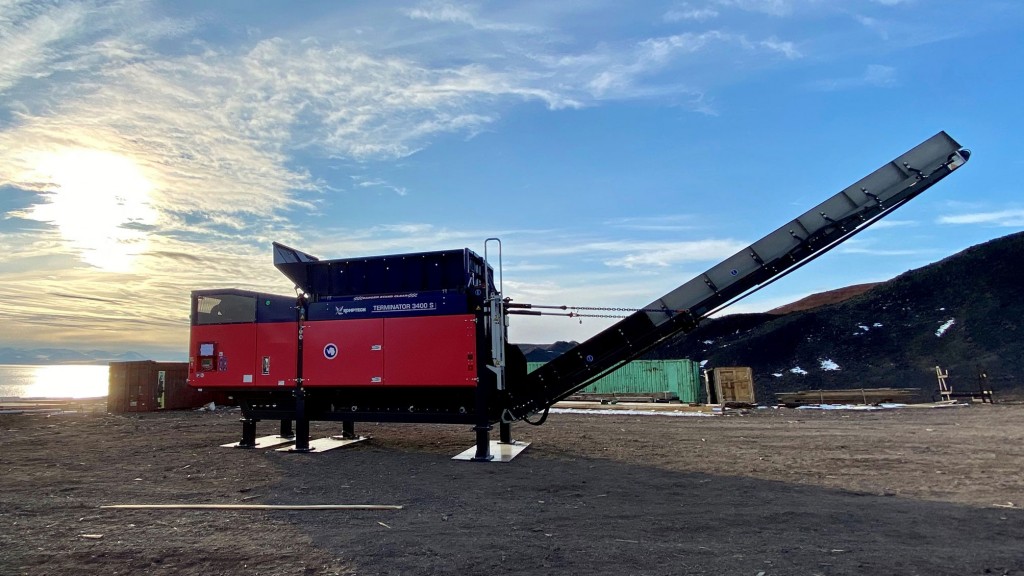 To help support the research efforts of the National Science Foundation in Antarctica, a new Komptech Terminator single-shaft waste shredder will be used during the modernization of facilities at McMurdo Station on Ross Island.
McMurdo Station is the largest research facility on the southernmost continent. Originally built in the 1950s, it is now undergoing a major construction upgrade effort. The Antarctic Infrastructure Modernization for Science (AIMS) project is a multi-year effort to provide more energy-efficient buildings and increase logistical efficiencies.
The National Science Foundation-managed U.S. Antarctic Program supports research that cannot be performed anywhere else on earth. McMurdo Station serves as the hub for scientific study ranging from biology and astrophysics to glaciology and paleontology.
The Antarctic Treaty system includes U.S. laws that regulate environmental protocols, including the concept of "leave no trace." Therefore, all the debris from the demolition of existing buildings must be removed from the continent and shipped back to the United States for disposal or recycling. The new Komptech Terminator low-speed, high-torque shredder at McMurdo Station will provide volume reduction of material for transport off the continent. The Terminator is a universal waste shredder capable of shredding tires, mattresses, carpeting as well as construction and demolition debris (C&D). The unit's single 9.5 ft shaft produces over 165,000 ft-lbs. of torque to shred even the most difficult items.
The conditions on Antarctica aren't ideal for any machinery. Antarctica is the windiest, coldest and driest continent on earth where hurricane-force winds are common, and winter temperatures will reach -30°F. A shredder working outdoors in these conditions must be built specifically for this harsh environment while being efficient and environmentally friendly. The Terminator meets these requirements in a very small footprint.
This Terminator shredder at McMurdo Station is equipped with heaters, solar panels and is painted in the colors of the National Science Foundation. The engineers at Komptech went a step further and programmed a penguin to display the warmup status of the machine.
One could imagine support for a machine like this to be a challenge, as there is only one resupply vessel to the continent per year and any cargo that misses that ship would have to be flown in by the U.S. Air Force which is a much more expensive option. Komptech Americas provided this machine with a large parts pack that was carefully planned out to account for wear parts and maintenance to keep their Terminator running at its best. The CAT engine was also outfitted with a CAT link, so diagnostics can be provided from anywhere in the world.
Company info
Related products
More from Industry News
Single-Ram and II-Ram High-Capacity Balers
At Machinex, we've been designing sorting systems for over 35 years, so we know how essential it is for MRF operators to have a baler they can trust and not worry about its operational reliability. This is why we design and manufacture reliable single-ram and II-ram high-capacity balers to specifically help optimize their operations.
Watch the video of our expert who presents the main features of Machinex balers delivering these important benefits:
Easy & accessible maintenance
Reduced maintenance & bale handling costs
Energy savings
Optimal bale density
For C&D recyclers, waste haulers, demolition contractors and landfills, there is a growing opportunity to profit from rethinking processes. Although every operation is different, by streamlining the front end of the C&D operation processes with purpose-built technologies, recyclers can tap into new end markets, accommodate higher material volumes, stay ahead of regulatory restrictions, increase recovery rates and add commodity revenue, while decreasing labor and other costs.
Download the new eBook to learn about:
Finding opportunities in the alternative to landfilling C&D
How facilities can increase their profits from C&D
Using the right C&D processing technology in the right locations