How the increase in online shopping is impacting sustainable packaging and changing consumer habits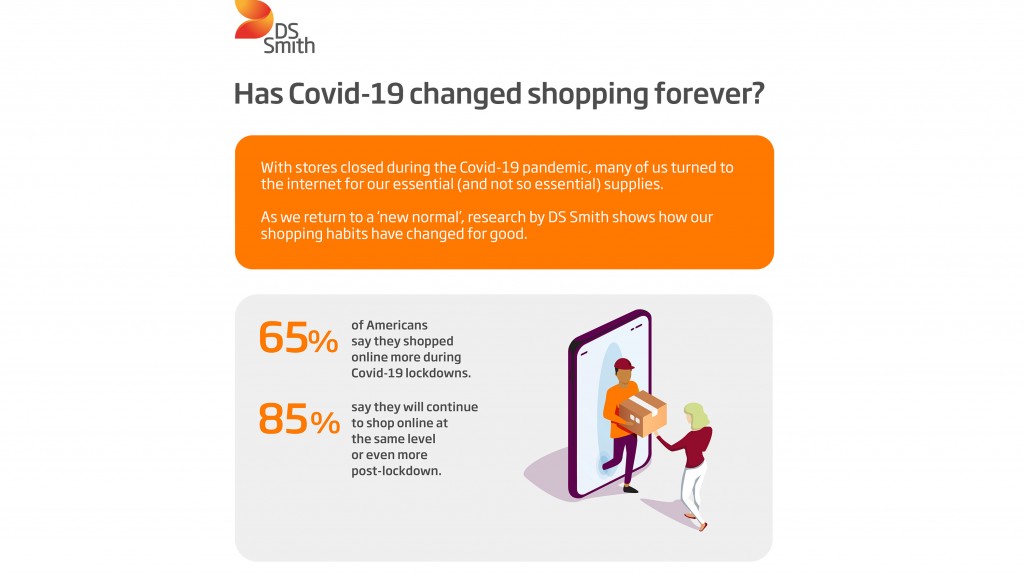 Consumers have rushed to online shopping amid the pandemic, a shift that will steadily grow if retailers provide convenient deliveries and environmentally friendly packaging, according to a DS Smith survey with important cues for businesses eager to flourish in a post-lockdown world.
The national survey by DS Smith found that the pandemic may have permanently changed Americans' buying habits, with 85% of online shoppers saying they will continue to shop online at the same level or more, even after stay-at-home rules are lifted.
The company has provided critical support of the e-commerce industry and supply chain amid the rush to web-based shopping. Nearly two-thirds of consumers polled say they are shopping online more than before the coronavirus outbreak, because it's a safe and convenient way to get what they need.
"There has been a seismic shift in the way consumers are shopping and we've been using our expertise to support businesses of all sizes with the rapid growth of e-commerce so they can survive and thrive through this uncertain time," said Mark Ushpol, managing director of packaging at DS Smith.
"What's clear is that as lockdowns ease, these trends aren't likely to fall away. Consumers have found new confidence and convenience in the way they shop, buying a whole range of items online - everything from groceries to toiletries to fitness products. If companies are not already transforming their business to meet this new age of e-commerce, they risk being left behind," Ushpol said.
Some DS Smith customers have doubled and even tripled their e-commerce orders, requiring businesses like DS Smith to remain open to meet the increased demand for packaging.
For instance, while some major U.S. cosmetics companies have reported a 30% spike in sales, the DS Smith survey showed there still is room to grow. About 74% of Americans plan to buy beauty products online at the same rate or more as lockdown restrictions are relaxed.
Although bars and clubs have remained shuttered in many cities, overall alcohol sales in the US have jumped 16% during the lockdown period compared to 2019. And 40% of survey respondents have bought fitness equipment online at the same level or more during the lockdown.
Beyond the health care crisis, nearly four out of 10 consumers say they most likely would stick with online shopping if delivery times were faster and retailers offered free returns.
In another signal of consumer sentiment, one in five shoppers say they'd likely continue buying online if items were delivered with less packaging or used more sustainable material. About that same number say they'd prefer items delivered in more recyclable packaging.
"We're eager to help brands and businesses navigate this path and work with them so that they can benefit from sustainable packaging solutions that their customers desire," Ushpol said.
More from Industry News
Single-Ram and II-Ram High-Capacity Balers
At Machinex, we've been designing sorting systems for over 35 years, so we know how essential it is for MRF operators to have a baler they can trust and not worry about its operational reliability. This is why we design and manufacture reliable single-ram and II-ram high-capacity balers to specifically help optimize their operations.
Watch the video of our expert who presents the main features of Machinex balers delivering these important benefits:
Easy & accessible maintenance
Reduced maintenance & bale handling costs
Energy savings
Optimal bale density
For C&D recyclers, waste haulers, demolition contractors and landfills, there is a growing opportunity to profit from rethinking processes. Although every operation is different, by streamlining the front end of the C&D operation processes with purpose-built technologies, recyclers can tap into new end markets, accommodate higher material volumes, stay ahead of regulatory restrictions, increase recovery rates and add commodity revenue, while decreasing labor and other costs.
Download the new eBook to learn about:
Finding opportunities in the alternative to landfilling C&D
How facilities can increase their profits from C&D
Using the right C&D processing technology in the right locations