Latest wheeled material handlers designed to deliver on tight urban demolition sites
Small footprint, powerful tool handling and high mobility adapts demolition machine to multiple roles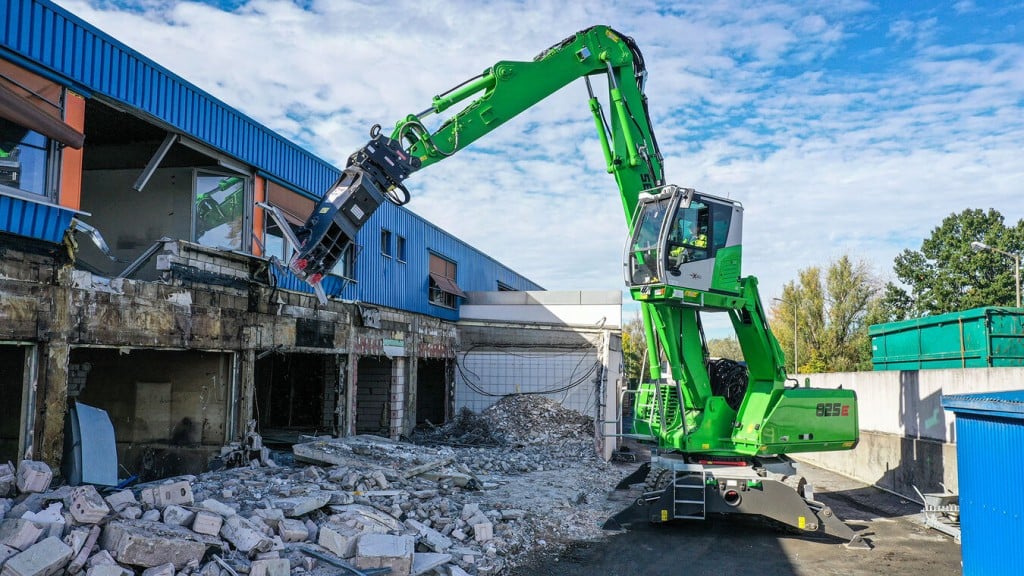 Demolition contractors are rethinking their equipment plans as they face the increasingly confined spaces of urban sites and heightened safety awareness. According to Sennebogen, their mobile demolition machines are engineered to excel in urban locations, ranging in size from 17 to 30 tons, and combining a small footprint and powerful tool handling with flexibility to adapt to multiple roles.
At the upper end of this Series is the 825 R-HD E-Series machine, mounted on an expandable crawler undercarriage. This unit is able to reach up to 45 ft. (14 m) with a full range of interchangeable hydraulic attachments, and is purpose-built for rough working environments, such as scrap yards and waste handling facilities.
The boom of the 825 R-HD features a fully hydraulic quick-change coupler allowing the operator to switch easily to the best tool for the job at hand. According to Sennebogen, comfortably settled into their Maxcab, a single operator can take on every step of the tear-down: targeted deconstruction and sorting of building components, crushing material with a concrete pulverizer, cutting and sizing with demolition shears, and finally loading recyclable material and waste into trucks or bins with a choice of buckets and grapples.
Flexible mobility and transportability are also key factors in the profitability of a demolition machine, the company says. The 825 travels with a compact footprint that allows it to quickly self-load onto a flatbed and move on to the next jobsite. No transit preparation is required, so the machine is shipped with its counterweight and boom in place, ready to work. On arrival at the work zone, the 825 drives off the truck. Its crawler tracks can telescope out for a wider stance, providing a stable working platform on uneven and broken terrain. As work progresses, the machine maneuvers easily to each new position.
Additionally, Sennebogen's package of energy-saving "Green Efficiency" technologies allow their diesel-powered machines to operate with low emissions, low wear and tear and low fuel cost. Features including EcoMode, automatic idle and automatic stop, reduce diesel consumption to a minimum, and further reduce fuel consumption and emissions by up to 25%.
More from C&D Recycling
Single-Ram and II-Ram High-Capacity Balers
At Machinex, we've been designing sorting systems for over 35 years, so we know how essential it is for MRF operators to have a baler they can trust and not worry about its operational reliability. This is why we design and manufacture reliable single-ram and II-ram high-capacity balers to specifically help optimize their operations.
Watch the video of our expert who presents the main features of Machinex balers delivering these important benefits:
Easy & accessible maintenance
Reduced maintenance & bale handling costs
Energy savings
Optimal bale density
For C&D recyclers, waste haulers, demolition contractors and landfills, there is a growing opportunity to profit from rethinking processes. Although every operation is different, by streamlining the front end of the C&D operation processes with purpose-built technologies, recyclers can tap into new end markets, accommodate higher material volumes, stay ahead of regulatory restrictions, increase recovery rates and add commodity revenue, while decreasing labor and other costs.
Download the new eBook to learn about:
Finding opportunities in the alternative to landfilling C&D
How facilities can increase their profits from C&D
Using the right C&D processing technology in the right locations