Waste Connections invests in Lion8 zero-emission electric truck chassis capable of servicing 1,200 homes on a single charge
Combination of the Lion8 chassis and BEV all-electric automated side-loading body offers an efficient, no-emissions waste collection solution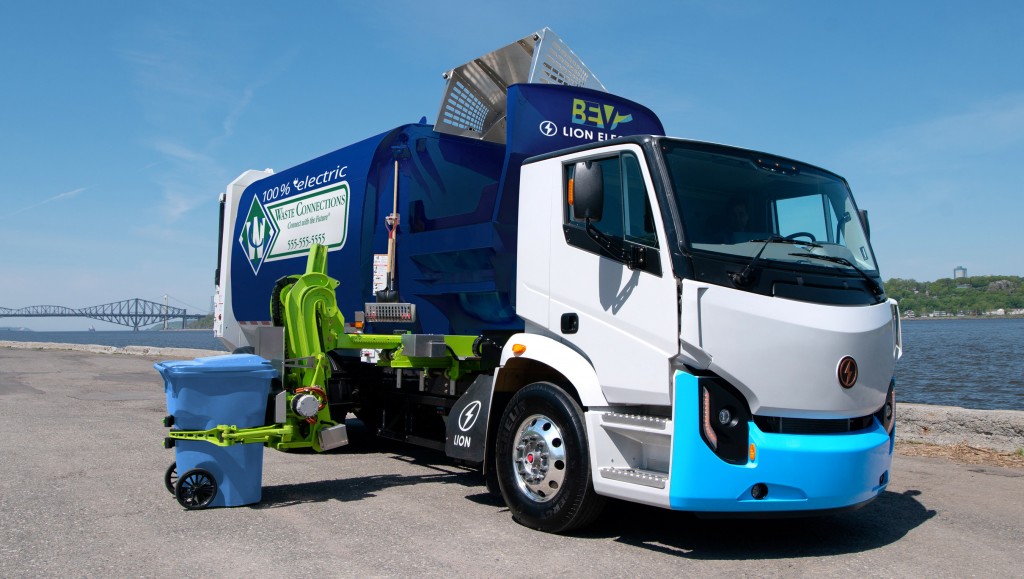 The Lion Electric Co. and Boivin Evolution have sold the first Lion8 chassis with fully automated side load bodies to Waste Connections. The initial vehicles, to be operating in Washington and Florida, represent the first applications of zero-emission trucks with fully electric waste collection bodies and automated arms in North America.
For Waste Connections, this investment furthers the company's sustainability efforts. Developed for the electric market, the combination of the Lion8 chassis and the BEV all-electric automated side-loading body offers a cost-effective waste management solution, which reduces greenhouse gas emissions.

Features of the Lion8 with BEV
Range of 130 miles for a full day of operation (1,200 homes) on a single charge
No noise pollution
Optimal visibility and turning radius
Zero greenhouse gas (GHG) emissions
No hydraulic pumps, valves, tubings, hoses and fluid. All arm and body movements are powered by the battery that drives electric motors for each function
Overnight recharging when the truck is not in operation and when demand for electricity is lower, which reduces energy costs
Savings of up to 80% on total energy costs
60% lower service costs thanks to the simple, low-maintenance electric powertrain that has few components
Oil-free operation with very few moving parts
Longer lasting brakes due to regenerative braking system
More from Collection & Hauling
But we've been successfully sorting paper on the front end with optical sorters since 2005. Why have we been so successful? Because we know it's not JUST about the optical. We focus on your entire operation, so you make the most of your fiber line. Is your optical sorter living up to its potential? Call us at 203-967-1100 for a free system evaluation.
Traditionally, recyclers across Canada have sent a huge percentage of their recovered scrap metal to Hamilton, Ontario, or Pennsylvania in the U.S., via open-top rail cars and truck trailers. The scrap is then melted down and turned into new steel. This is still the case for much of our scrap steel, but recently the growing trend toward containerization has introduced new opportunities for efficient, cost-effective shipping of both non-ferrous and ferrous materials to overseas markets.