Emterra named one of Canada's Greenest Employers for fifth year in a row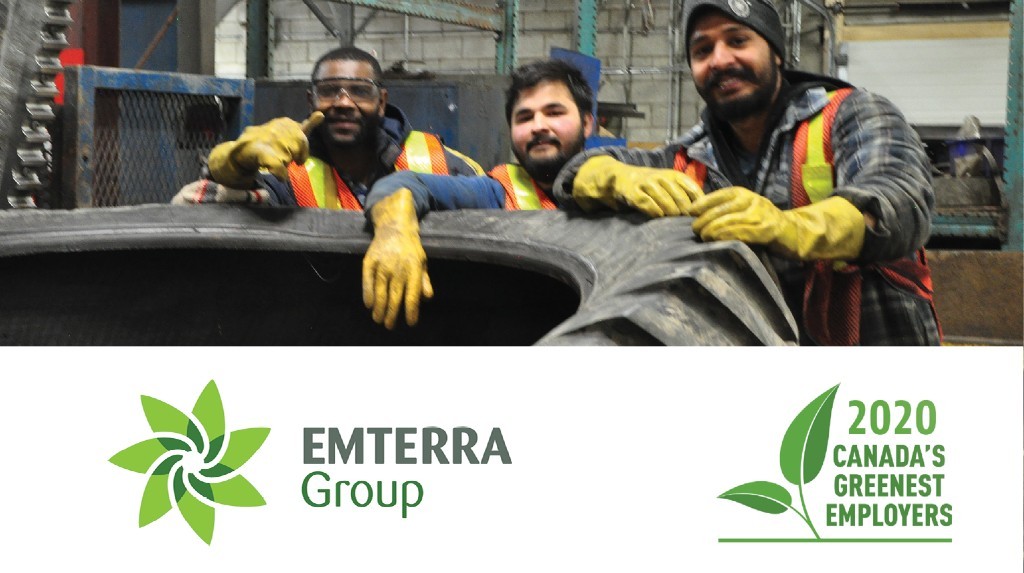 In a national competition designed to identify and showcase Canada's Greenest Employers, Emterra Group continues to be included in this select category. Emterra is also the only organization in the sector to be selected for the award which is granted to some of Canada's largest and most forward-thinking companies. This is the fifth consecutive year that Emterra Group has won this award.
"At Emterra Group, we have a saying, 'think innovatively, transform waste into resources.' For more than 40 years we have been reshaping the way consumers, businesses and municipalities manage waste," explains Emmie Leung, Founder and CEO of Emterra Group. "We work every day to be a positive example of environmental stewardship for our employees, our customers, our communities and the environment."
Applicants for the award are compared to other employers in their industry. Winning employers, selected by editors of Canada's Top 100 Employers, are evaluated using four main criteria:
(1) unique environmental initiatives or programs they have developed;
(2) whether they have been successful in reducing their own environmental footprint;
(3) whether their employees are involved in these programs and contribute unique skills;
(4) whether their environmental initiatives have become linked to the employer's public identity, attracting new employees or customers.
The selection committee, as part of the national competition, once again chose Emterra Group for this award based on a number of its environmental best practices, some of which include:
• Its formal Community Care national charitable program that partners with local organizations to design and implement innovative charitable giving programs that heighten awareness around waste reduction, entices consumers and businesses to recycle more and links community health to sustainability.
• The launch of a new division, Ryse Solutions Inc., which works with producers, retailers and packaging suppliers to help them design products and packaging for recyclability and create recycling programs for materials including tires, waste electronics, packaging and batteries.
• The creation and partnership with the Circular Polymers Group, which collaboratively run industry-leading plastics recycling facilities across North America.
Now in its 13th year, Canada's Greenest Employers is an editorial competition organized by the Canada's Top 100 Employers project. This special designation recognizes the employers that lead the nation in creating a culture of environmental awareness in their organizations. These employers have developed exceptional sustainability initiatives - and are attracting people to their organizations because of their environmental leadership.
Company info
1122 Pioneer Road
Burlington, ON
CA, L7M 1K4

Website:
emterra.ca
Phone number:
905-336-9084
Read more
Related Articles
Traditionally, waste management companies have operated using a simple "management of waste" approach to operating a MRF. Throughput targets and continuous operation (minimal downtime) were the main driving forces. The industry has changed however, and the focus moving forward is now on optimizing system performance and reliability, in conjunction with increasing recycling rates and a drive for a "greener" and more sustainable tomorrow.
When considering the addition of, or upgrade to, an "intelligent" MRF, for municipalities or private operators, the main factors should always be the client's (operator) current requirements, and evolving market needs, which include throughput, reliability, output quality, and adaptability. Equally important is a full understanding of what is really expected from any proposed system. Having an engaged and focused mindset for the project with the client from the beginning, will impact and drive the entire design process. This then impacts the overall project result, through to the productive, efficient, ongoing operation of the facility itself.