Post-consumer waste gets second life as part of Nike's new footwear collection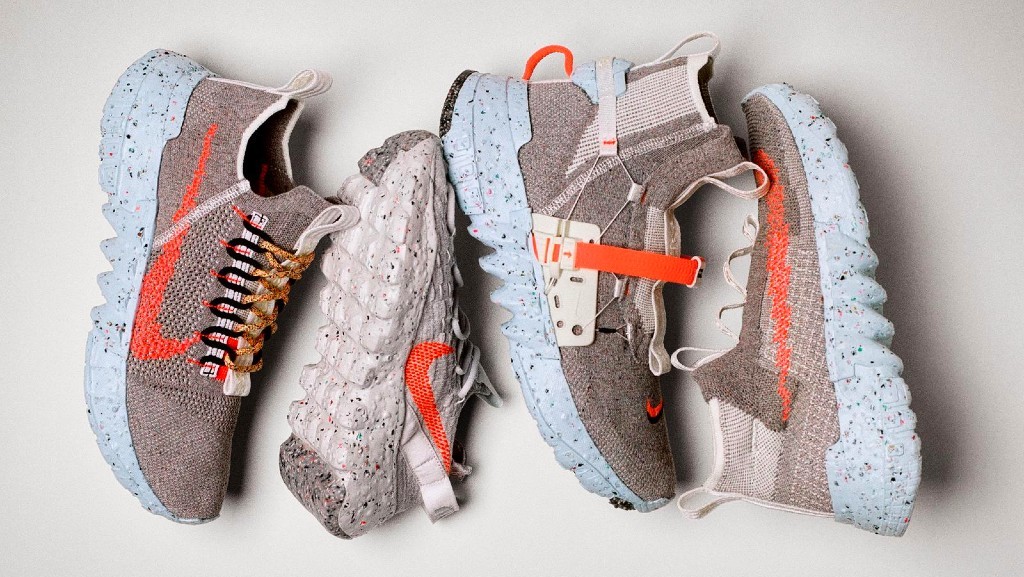 Space Hippie, Nike's exploratory footwear collection constructed with "space junk" — transformed factory and post-consumer waste — marries sustainable practices and radical design. The manufacturing, which employs about 85 to 90 percent recycled polyester Space Waste Yarn, recycled Nike ZoomX foam and Crater Foam (a blend of standard Nike foams and Nike Grind Rubber), results in a radical design with a low carbon footprint.
Every detail of the four initial Space Hippie silhouettes, from material choices to methods of make to packaging, was chosen with consideration for its environmental impact.
"Space Hippie product presents itself as an artifact from the future. It's avant garde; it's rebelliously optimistic," says John Hoke, Nike Chief Design Officer. "Space Hippie is also an idea. It is about figuring out how to make the most with the least material, the least energy and the least carbon."
With Nike Space Hippie, the urgency of climate change is met by a bold step to reimagine solutions to critical environmental problems. The result is the creation of Nike footwear with its lowest carbon footprint scores ever.
"I'd say Space Hippie attacks the villain of trash," says Hoke. "It's changed the way we look at materials, it's changed the way that we look at the aesthetics of our product. It's changed how we approach putting product together."
More from Waste Diversion
Single-Ram and II-Ram High-Capacity Balers
At Machinex, we've been designing sorting systems for over 35 years, so we know how essential it is for MRF operators to have a baler they can trust and not worry about its operational reliability. This is why we design and manufacture reliable single-ram and II-ram high-capacity balers to specifically help optimize their operations.
Watch the video of our expert who presents the main features of Machinex balers delivering these important benefits:
Easy & accessible maintenance
Reduced maintenance & bale handling costs
Energy savings
Optimal bale density
For C&D recyclers, waste haulers, demolition contractors and landfills, there is a growing opportunity to profit from rethinking processes. Although every operation is different, by streamlining the front end of the C&D operation processes with purpose-built technologies, recyclers can tap into new end markets, accommodate higher material volumes, stay ahead of regulatory restrictions, increase recovery rates and add commodity revenue, while decreasing labor and other costs.
Download the new eBook to learn about:
Finding opportunities in the alternative to landfilling C&D
How facilities can increase their profits from C&D
Using the right C&D processing technology in the right locations