Rhineland recycler grows fleet to seven SENNEBOGEN material handlers
CASE STUDY: Purchasing decisions put a high value on community impact, economics of equipment and years of trust between partners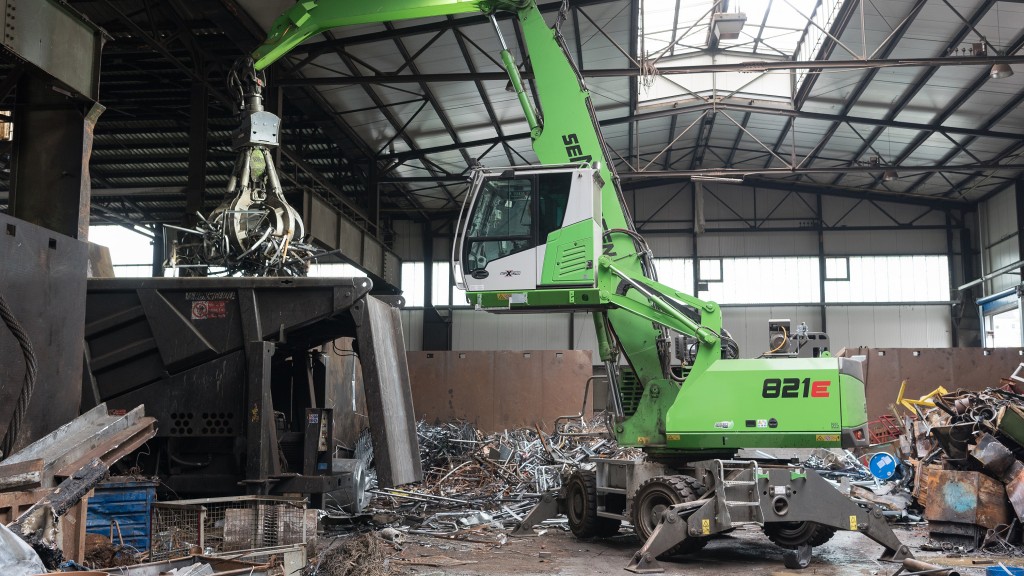 A. Menshen & Co., a long established recycler based in the north Rhine region of western Germany, recently acquired two new SENNEBOGEN purpose-built 821 M E-Series machines. The new material handlers bring the total SENNEBOGEN fleet at Menshen up to seven machines serving all indoor and outdoor processes on the 17-acre (70,000 m²) site.
Over the course of its 60 years, A. Menshen & Co. has developed from the one-man operation founded by Arnold Menshen, into the internationally active, family-owned recycling company that it is today. Menshen now employs around 60 people at its multi-material site in the town of Werdohl, Germany.
According to the company, tradition, trust and reliability play a major role in all company decisions, where new equipment purchases are not based purely on economics, but also with an eye to the future of its community and its people. These are values Menshen says they shared with SENNEBOGEN prior to implementing the latest additions to its scrap handling fleet.
A decision that benefits the environment
As a recycler Menshen takes a holistic approach to handling all types of waste material including non-ferrous metals, scrap steel, construction waste, bulky waste and waste paper. Their seven SENNEBOGEN material handlers work side by side, unloading trucks, feeding the indoor scrap press and sorting materials outdoors.
Menshen says the decision to continue growing the fleet with SENNEBOGEN was based on many years of experience and trust between the partners. They consulted directly with SENNEBOGEN and its dealer to ensure the right model and fit for their applications, and employed a future-oriented purchasing process to consider whether business operations, the environment and employees would all benefit in the long term. Specific requirements include increasing energy efficiency, reducing service costs and lowering exhaust and noise emissions, plus enhancing operator safety.
The decision to acquire the two new 821 units was made with the knowledge that, with proper maintenance, they will deliver long service lives. Thomas Busche, Menshen's Technical Manager in Werdohl sums it up:
"After working with SENNEBOGEN machines for 200,000 operational hours and working with our dealer's service team, it was clear to me that there was no alternative. The SENNEBOGEN machines are robust, economical, and durable. Any new machines that did not meet those standards would not be worthwhile in the long run."
Conserving resources
To make the on-site processes as efficient as possible, the SENNEBOGEN machines are in constant use. Energy efficiency and low fuel consumption are valued features for both cost savings and environmental impact.
"Heavy machinery will always remain heavy machinery," says Busche. "But the fuel consumption of SENNEBOGEN machines compared to others on the market was a key factor in our purchasing decision. Using just 2.5 gal/h (9.6 l/h) of diesel while carrying out demanding tasks is good for our operating costs and also for our ecological balance sheet."
Weighing in at 52,800 lb. (23,950 kg), the 821 M material handlers are able to run cleanly and economically thanks to SENNEBOGEN's "Green Efficiency" system: a package of engineering features shared by all E-Series machines. The package includes automatic stop and idle controls and the Eco Mode option that reduces unnecessary fuel consumption without operator intervention. Hydraulic components are tuned to the engine, so the flow of hydraulic oil is optimized according to the workload and lifting power at any given time. All these factors mean machine components, such as pumps and valves, last longer with less stress.
Focus on people
As well as the environment, Menshen's equipment planning requires that the people who operate the machines must also benefit from the investment.
"The company's most important assets should not be left out when making long term decisions," says Busche.
Operators, who spend eight hours or more a day in their work environment, need a space where they feel comfortable and safe. According to Sennebogen, their Maxcab provides that kind of workspace.
Windshield and skylights are all offered in bulletproof glass, with optional impact guarding available. The adjustable air-suspension operator's seat is ergonomically designed to relieve back strain. The boom and the roof are fitted with powerful LED spotlights to ensure the best visibility in dark indoor corners, improving for safety for all personnel and equipment in the work zone.
"By investing in another SENNEBOGEN machine we have made the right decision on every level. We are looking forward to many more years of working together," says Thomas Busche.
Company info
Related products