Autocar delivers first production model DC-64R conventional roll-off to WCA Waste
Severe-duty truck employs roll-off hoist body mounted onto DC chassis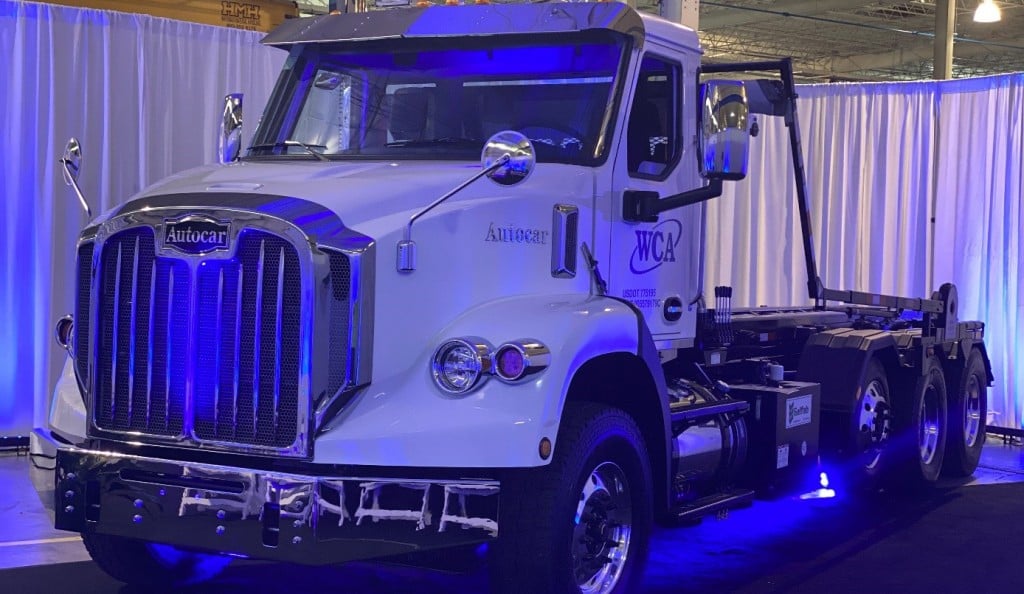 Autocar has delivered the first production model DC-64R conventional roll-off to WCA Waste Corporation of Houston, Texas.
In February 2020, Autocar gathered with WCA to inspect the vehicle firsthand and to celebrate the collaborative efforts on the new DC-64R, the first ground-up designed refuse conventional truck.
In an unprecedented departure from refuse industry tradition, Autocar mounted the roll-off hoist body onto the DC chassis on the OEM production line. Autocar refers to this capability as the Power of One integration of the chassis and body.
The Power of One offers abundant benefits to customers over the traditional body mounting process, which historically takes place after chassis production at the body builder's site, or a third-party dealer. The traditional process, besides taking 6 to 9 months order to delivery, at times includes post-production modifications. The Power of One integration process is designed to protect the integrity of the OEM build, reduce production cycle time and achieve significant advances in safety and reliability by avoiding disassembly at the body builder. In fact, data reported by truck operators for the first 90 days in service shows a substantial improvement in uptime and reliability and dramatic cost savings on unscheduled repairs and maintenance.
In addition to the Ultimate Power of One, a myriad of additional engineering innovations debuted on the DC-64R: ultra-high-strength 160,000 PSI steel frame rails—24 percent stronger and lighter than the rails on other trucks; and the new Always Up digital display, which was designed to direct technicians to root cause issues and to minimize driver distractions for operators. Also, Autocar engineered in the recently launched Cummins X-12 lightweight engine package coupled with the bullet proof Allison 4700 transmission is the DC-64R right powertrain for this application.
The DC-64 joins the ACX and ACMD cabover trucks and the ACTT terminal tractor as Autocar's fourth line of severe duty work trucks. The new truck also represents the rebirth of Autocar's DC, first introduced by the Autocar Company in 1939 as its premier severe-duty and, for the time, revolutionary, diesel-powered work truck.
Company info
Related products
More from Collection & Hauling
Single-Ram and II-Ram High-Capacity Balers
At Machinex, we've been designing sorting systems for over 35 years, so we know how essential it is for MRF operators to have a baler they can trust and not worry about its operational reliability. This is why we design and manufacture reliable single-ram and II-ram high-capacity balers to specifically help optimize their operations.
Watch the video of our expert who presents the main features of Machinex balers delivering these important benefits:
Easy & accessible maintenance
Reduced maintenance & bale handling costs
Energy savings
Optimal bale density
For C&D recyclers, waste haulers, demolition contractors and landfills, there is a growing opportunity to profit from rethinking processes. Although every operation is different, by streamlining the front end of the C&D operation processes with purpose-built technologies, recyclers can tap into new end markets, accommodate higher material volumes, stay ahead of regulatory restrictions, increase recovery rates and add commodity revenue, while decreasing labor and other costs.
Download the new eBook to learn about:
Finding opportunities in the alternative to landfilling C&D
How facilities can increase their profits from C&D
Using the right C&D processing technology in the right locations