Mcloskey's CONEXPO 2020 lineup includes multiple innovations for recyclers
Largest line-up of equipment ever for Ontario manufacturer on display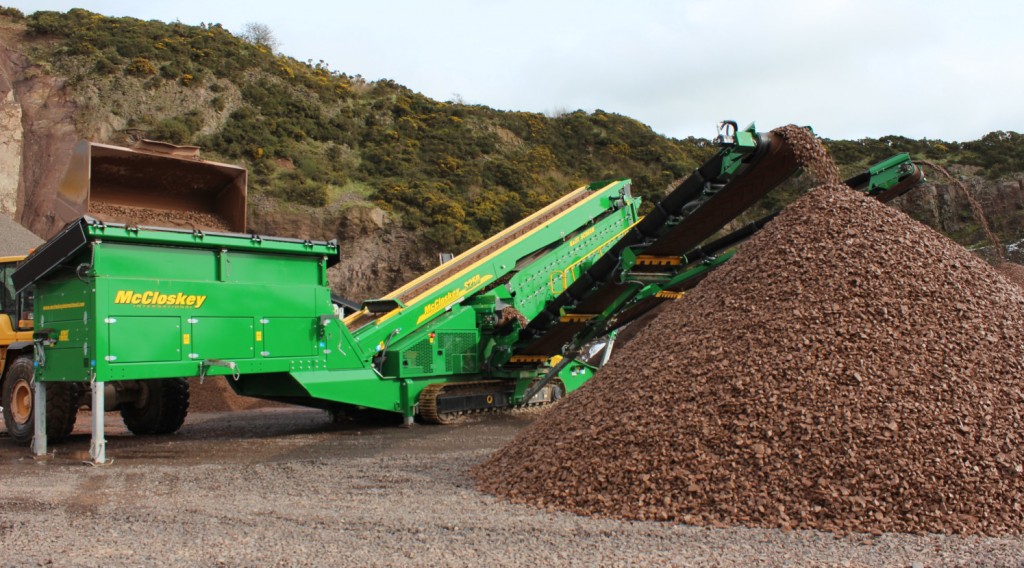 Screening and crushing industry specialist McCloskey International displayed its largest lineup of equipment ever at this year's CONEXPO/CON-AGG 2020, with a total of nine products on display, including multiple machines designed to improve C&D and other recycling operations.
Peterborough, Ontario-based McCloskey International (acquired by Metso Corporation in the Fall of 2019) was set up at the event in a 20,000+ sq.ft. (1,858 m2) space where the company showed their newest plants including new features designed in collaboration with customers. Equipment on display at the show included crushers, screeners, stackers, trommels as well as a compact washing plant.

Following are some of the higlights of particular interest to C&D and other recyclers.
Making its North American debut at this year's Conexpo, McCloskey's new S250 Screener (shown top) is positioned as one of the largest and most portable vibratory screening plants in production, according to McCloskey.
These screens feature a heavy-duty high energy 2 bearing 3 deck, side-tensioned screenbox designed to deliver more true screening area with 22 x 6-inch area on the two upper decks, and a 20 x 6- inch bottom deck. Available in double or triple deck models, the S250 features up to 10m3 (13.1 yd3) high capacity hopper with generous grid opening, allowing the use of larger loaders for loading.
McCloskey also showed off their redesigned impact crusher line in a new heavy duty format. The updated McCloskey I44RV3 combines the productivity of a 45-inch impactor with the versatility of a full screening and recirculating system, allowing operators to produce a crushed and screened final product with one machine.
The combination of the impactor and a High Energy Screenbox and a recirculating conveyor deliver maximum productivity and unmatched portability, according to McCloskey. New features include an open chassis for ease-of-access, a larger double deck prescreen for more efficient fines removal, a swing out radial return conveyor that can complete 90 degrees while the machine is running, and a direct drive crusher boosting power and lowering fuel costs.
Also on display this year was McCloskey's portable and versatile 516RE trommel, displayed with a 16-foot drum at the show. This trommel screen includes a wide range of drum designs and screen sizes for applications ranging from topsoil and compost, to sand, gravel and wood chips. For heavy duty applications, a remote control hydraulic tipping grizzly can be added to scalp off large material.the SDX-150 telescoping stacker is engineered to desegregate and maximize stockpile capacity for a range of materials using a robust, fully automated and highly flexible CAN-based control system to providing optimal control of material quality.
In addition, McCloskey showed the SDX-150 telescoping stacker, the R155 Long Hopper for easy loading, and the latest plant from MWS, McCloskey's washing plant division.
The SDX-150 radial tracked telescoping stacker (shown above) is capable of 700TPH in applications including aggregates and C&D recycling. New to the telescoping stacker line is the LIFT AXLE option, which allows the conveyor to switch from track mode to radial mode in seconds.
In addition, McCloskey showed their new Long Hopper R155 model, portable 516RE trommel and the MWS CSP 200 compact washing system for sand and C&D materials recovery.
The R155 long hopper is designed to provide maximum load flexibility and capacity and to accommodate a larger variety of loaders without the need for a ramp, providing for efficient screening operations.
Finally, McCloskey Washing Systems' (MWS) compact range on display this year included the MWS CSP200 modular sand recovery plant (also applicable for other aggregates and mixed, crushed C&D materials) designed to be both cost and energy efficiency. The MWS CSP200 offers a 14 x 6-foot dewatering screen producing 1 or 2 grades of clean, recovered material, as well as a self regulating cyclone tank complete with built in float system and anti-turbulence sections.