Bunting's HISC high intensity separation conveyor optimizes copper recovery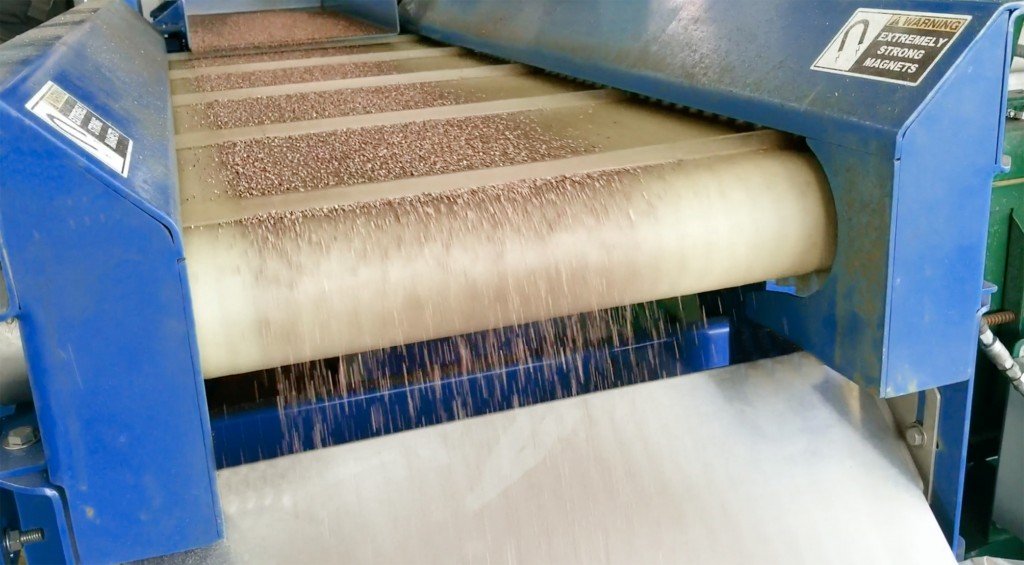 According to Bunting Magnetics, the HISC High Intensity Separation Conveyor has been designed to deliver high purity recycled copper and achieve maximum separation of stainless steel and ferrous dirt in ICW wire-cleaning applications. With a first-of-its-kind design, the HISC was developed using Bunting's Magnetic Finite Element Design software technology.
According to Bunting, in the United States, nearly 45% of all copper is obtained from recycled material rather than newly mined ore. Copper's high recyclability is one of the properties that makes it such a valuable material.
In addition to being easy to recycle and repurpose, copper is also desirable due to its high malleability, its excellent resistance to rust and corrosion, its ability to effectively conduct heat and electricity, and even its antimicrobial properties. When processing copper in your recycling facility, it is important that recovered copper is pure and free of contamination from other metals.
Bunting says that when designing the HISC, their engineers were concerned with how to attract, hold and extract paramagnetic work-hardened 300 stainless steel metal. This type of paramagnetic metal, along with extremely fine particles of ferrous dirt, are both highly common as well as highly difficult to remove from ICW applications. Bunting's HISC achieves removal of these types of contaminant particle by incorporating extremely high gauss fields, neodymium rare earth magnets, and an extensively field-tested design.
The HISC is suitable for both wire pre-chopping purification as well as wire post-chopping purification in ICW wire separation applications. When used in pre-chopping applications, the HISC removes stainless steel and ferrous dirt contamination in order to prevent chopper knives from coming into contact with contaminant particles. By removing contamination, chopper knives experience significantly reduced wear and tear, resulting in a higher throughput, less knife maintenance and downtime, and overall higher profitability. In post-chopping applications, the high intensity magnetic field separation of the HISC removes stainless steel and fine ferrous contamination and greatly increases the purity and profitability of your recycled copper product.
Copper is a critical material for infrastructure, electronics, and many other industries. Because half of the United States copper supply is sourced from recycled material, it is essential that recycling companies are able to recover as much high-purity copper scrap as possible.
Bunting's new HISC excels at assisting in the recovery of pure copper, and is suitable for many other applications requiring high intensity magnetic separation, including medical stainless steel separation, electronics green board recycling, ground plastic purification, auto shredder recycling, and more.
More from Metals Recycling
Single-Ram and II-Ram High-Capacity Balers
At Machinex, we've been designing sorting systems for over 35 years, so we know how essential it is for MRF operators to have a baler they can trust and not worry about its operational reliability. This is why we design and manufacture reliable single-ram and II-ram high-capacity balers to specifically help optimize their operations.
Watch the video of our expert who presents the main features of Machinex balers delivering these important benefits:
Easy & accessible maintenance
Reduced maintenance & bale handling costs
Energy savings
Optimal bale density
For C&D recyclers, waste haulers, demolition contractors and landfills, there is a growing opportunity to profit from rethinking processes. Although every operation is different, by streamlining the front end of the C&D operation processes with purpose-built technologies, recyclers can tap into new end markets, accommodate higher material volumes, stay ahead of regulatory restrictions, increase recovery rates and add commodity revenue, while decreasing labor and other costs.
Download the new eBook to learn about:
Finding opportunities in the alternative to landfilling C&D
How facilities can increase their profits from C&D
Using the right C&D processing technology in the right locations