MAJOR places FLEX-MAT screen data at customers' fingertips with new ID enabled technology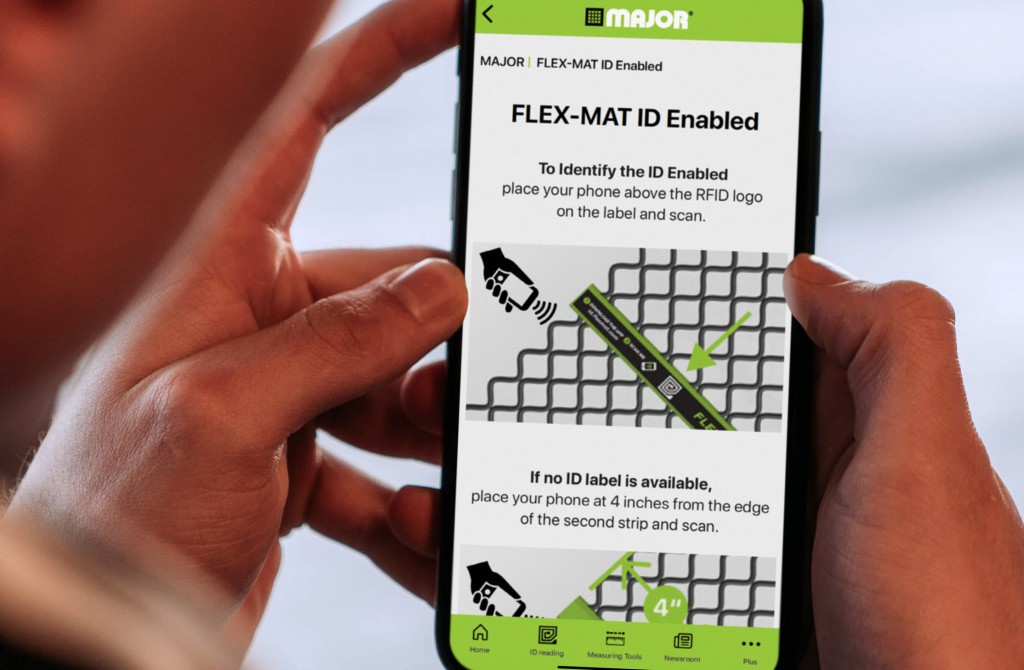 MAJOR, has introduced the FLEX-MAT ID Enabled a new productivity measurement tool. The RFID based technology tracks and stores screen media data such as panel dimensions and customer-defined details to offer users information at their fingertips for simple reorders. The technology improves convenience and productivity for any operation using FLEX-MAT with ID Enabled installed. It takes the guesswork out of re-ordering and prevents costly mistakes that can result from measuring incorrectly and ordering improperly-sized screen media. All FLEX-MAT screen media is now embedded with the ID Enabled microchip. Product information is easily accessed through the company's new MAJOR App without the need of an additional reading device.
MAJOR launched its ID Enabled technology at CONEXPO-CON/AGG 2020 in Las Vegas.
"Our customers' efficiency is always top priority, which encourages us to continue to push limits and be at the forefront of innovation in the industry," said Bernard Betts, MAJOR president. "We are introducing ID Enabled technology as a way to help customers track screen media specifications and improve accuracy during reordering, ultimately resulting in a more consistent end product."
Operations simply scan the FLEX-MAT panel with the MAJOR app to access product information, simplifying re-ordering and inventory management. MAJOR can also program the chip during production with some customer-defined information to improve convenience. Unlike some systems, users just need their smartphone to view the data and don't need to use a separate RFID reader.
Prior to ID Enabled technology, operations required time-consuming gauge measuring — by hand — to order the properly-sized media, which left room for human error. Even the slightest mismeasurement could mean ordering the wrong size screen media, resulting in material not meeting proper specifications and leading to lost profits. ID Enabled also enables operations to track orders with an electronic record instead of paperwork.
More from C&D Recycling
Single-Ram and II-Ram High-Capacity Balers
At Machinex, we've been designing sorting systems for over 35 years, so we know how essential it is for MRF operators to have a baler they can trust and not worry about its operational reliability. This is why we design and manufacture reliable single-ram and II-ram high-capacity balers to specifically help optimize their operations.
Watch the video of our expert who presents the main features of Machinex balers delivering these important benefits:
Easy & accessible maintenance
Reduced maintenance & bale handling costs
Energy savings
Optimal bale density
For C&D recyclers, waste haulers, demolition contractors and landfills, there is a growing opportunity to profit from rethinking processes. Although every operation is different, by streamlining the front end of the C&D operation processes with purpose-built technologies, recyclers can tap into new end markets, accommodate higher material volumes, stay ahead of regulatory restrictions, increase recovery rates and add commodity revenue, while decreasing labor and other costs.
Download the new eBook to learn about:
Finding opportunities in the alternative to landfilling C&D
How facilities can increase their profits from C&D
Using the right C&D processing technology in the right locations