SWANA issues important documents for essential industry workers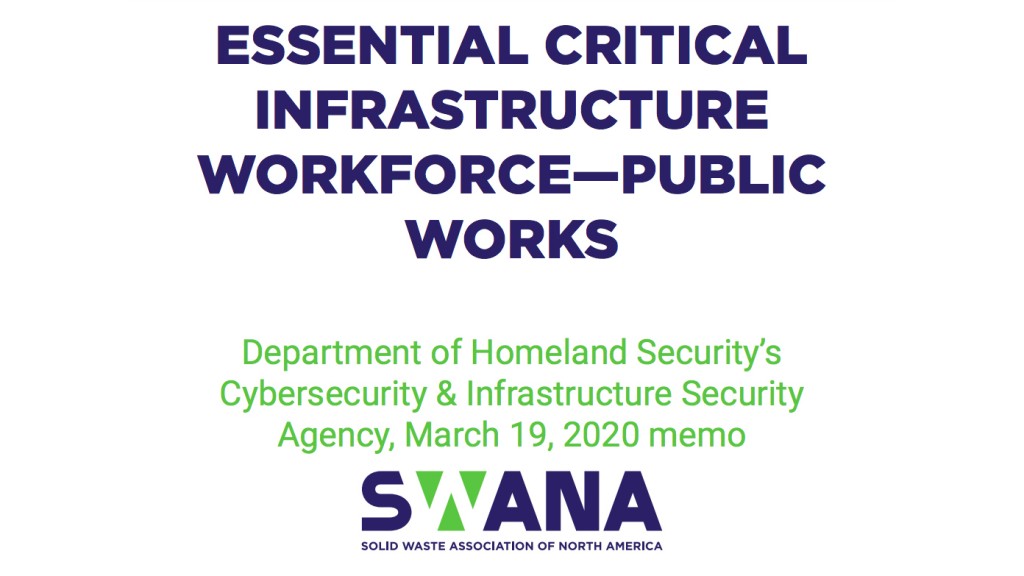 The Solid Waste Association of North America (SWANA) has issued several important documents for members to use to identify themselves as "essential critical infrastructure" workers during the COVID-19 pandemic.
As more states, provinces and cities issue emergency declarations limiting non-essential work and travel, these documents will allow solid waste and recycling workers and others to provide documentation demonstrating their exemption to law enforcement personnel and others if necessary.
The letter below and vehicle placard cite the U.S. Department of Homeland Security's Cybersecurity & Infrastructure Security Agency's (CISA) March 19, 2020 memo and applicable state and local emergency declarations.
The letter below is accompanied by a cover memo directed to employers instructing them on how to customize the letter and effectively distribute it to their employees. SWANA recognizes in this unprecedented situation that clear communication with the public and state and local officials is vital to protecting worker and public safety.
"We have received calls and emails from waste haulers across the United States seeking guidance concerning how their workers will be able to demonstrate to law enforcement officials that their employees are considered essential. This letter, which is available on our website to both members and non-members, will assist haulers and others create a customized letter to provide to their workers. This will be particularly helpful for when employees and contractors are going to or from work in their personal vehicles, stated David Biderman, SWANA Executive Director and CEO.
Download the letter, memo, and placard here.
Additional guidance for the waste industry concerning the Coronavirus pandemic is available on SWANA's website at https://swana.org/initiatives/guidance-on-coronavirus-(covid-19).
More from Industry News
But we've been successfully sorting paper on the front end with optical sorters since 2005. Why have we been so successful? Because we know it's not JUST about the optical. We focus on your entire operation, so you make the most of your fiber line. Is your optical sorter living up to its potential? Call us at 203-967-1100 for a free system evaluation.
Traditionally, recyclers across Canada have sent a huge percentage of their recovered scrap metal to Hamilton, Ontario, or Pennsylvania in the U.S., via open-top rail cars and truck trailers. The scrap is then melted down and turned into new steel. This is still the case for much of our scrap steel, but recently the growing trend toward containerization has introduced new opportunities for efficient, cost-effective shipping of both non-ferrous and ferrous materials to overseas markets.