Heil launches COMMAND-SST automated side loader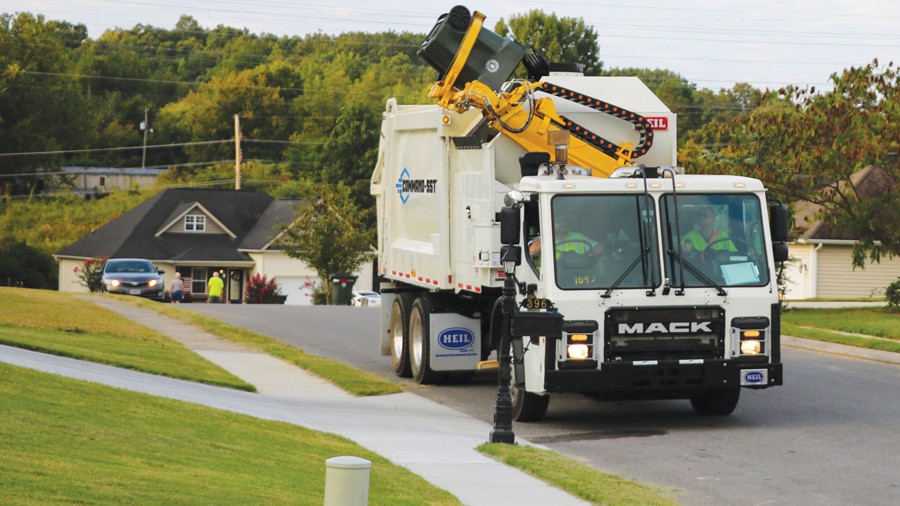 Heil, part of Environmental Solutions Group (ESG) and Dover (NYSE: DOV), and one of North America's largest refuse truck body manufacturers, has announced the launch of the Command-SST Automated Side Loader (ASL).
The Command-SST incorporates a host of new technologies that enhance safety, operational comfort, productivity and maintenance simplicity. All of these enhancements are the result of extensive customer-driven field research, backed by real-world testing to deliver a product that is simple to operate, especially for operators new to automated collection. Specifically, the Command-SST design includes:
New monitor-based guidelines that assist in positioning the arm in the middle of the container, while the driver's eyes remain forward-facing and focused on their surroundings. No more craning the neck to see if the can is lined up correctly. These guidelines are especially valuable to fleets with operators new to automated collection.
Innovative Command-SST arm geometry allows for above and below grade can grabs (for snowbanks and ditches) as well as a feature to pick up a cart that has tipped over, helping the operator to stay in the cab for added safety.
Significantly reduced arm lubrication points: 6 vs 25+ on other ASLs. All lubrication points are easily accessible from the ground.
The arm can be completely swapped out in an hour by two people. No other ASL manufacturer can say that.
Increased maintenance simplicity through the reduction of mechanical linkages. (For example, using sophisticated electronics vs. mechanical components that may require adjustment/replacement.)
Fuel savings based on proven OdysseyTM hydraulic load-sensing controls, which come standard on the Command-SST.
Can-shake feature that helps to dislodge wet waste that can get stuck in the cart and is accessible with the press of a single button on the Command-SST's joystick.
President of Environmental Solutions Group, Pat Carroll, said, "The Command-SST is the culmination of almost a decade of design and innovation, based on customer feedback regarding unfulfilled needs. Our engineers used this data to create a product that truly delivers on customer performance expectations."
One of the primary objectives that Heil engineers addressed was the development of an automated side loader that would thrive amid operator and maintenance technician turnover, a problem identified early on in customer interviews.
"We knew we had to deliver a side loader that was easier to operate for new drivers and simple to maintain with fewer moving parts," said Carroll. "The Command-SST has far fewer moving parts, 50% less cab shake for added operator comfort and an advanced in-cab monitor system that keeps the operator's eyes forward during cart acquisition and dump functions."
Eric Evans, Vice President of Mobile Product Management explained the importance of operator comfort and overall simplicity, both from a driver and a maintenance perspective, as key to addressing personnel shortages in the industry. "We've heard from all of our major customers that both operator and mechanic retention has been a primary concern, especially with the increased complexity of modern garbage trucks. The Command-SST addresses these needs head-on with innovative technologies that both the operator and the maintenance specialists will appreciate."
The Command-SST's arm functionality allows operators to grab carts in ditches, snowbanks or even carts that have tipped over, all from the safety of the cab. Additionally, the arm has settings that make it easier to grab cans that are positioned close together.
From a maintenance standpoint, the Command-SST arm delivers with far fewer moving parts and greatly reduced lubrication points that are all accessible at ground level. The arm can also be completely swapped out in an hour, something unheard of in the industry.
"From a complexity standpoint, Heil engineers delivered with an arm that can be easily swapped out if the arm is damaged," said Carroll. "This means that fleets running Command-SST's will have better operational metrics and a far better return on investment. That's all part of delivering the lowest Total Cost of Collection."
The Command-SST is mounted to a Heil Durapack body, which tips the scales at 2,000 lbs. less than other side loaders, which equates to better payloads and increased productivity. With the Odyssey-inspired hydraulic controls, fleet owners can expect fuel savings on par with our industry-leading Front Loader. With the arm mounted to the body, the Command-SST also frees up valuable frame space for next-generation technologies that require additional chassis real estate.
Company info
2030 Hamilton Place Boulevard, Suite 300
Chattanooga, TN
US, 37421

Website:
heil.com
Read more