CASE STUDY: Tremson gets trifecta of benefits from Doppstadt SM Trommel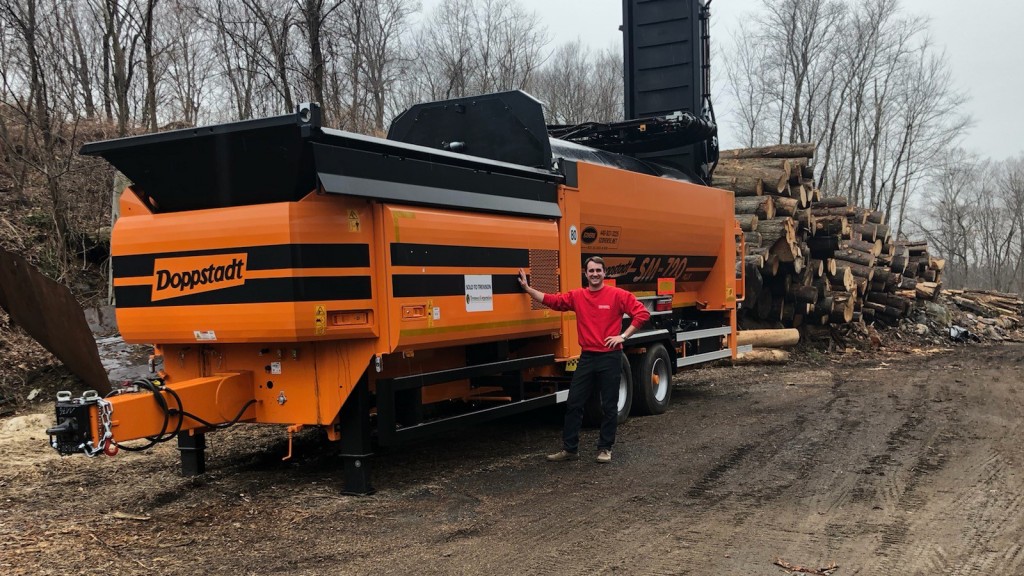 More than 50 years ago, George Tremblay Sr. founded a land clearing business an hour or so north of New York City. The Putnam County area was fast becoming an extension of the growing metropolitan influence, and the construction of Interstates 84 and 684 brought several decades of rapid economic growth.

Tremson Corporation was well-positioned to capitalize on that opportunity, and the next 15 years were spent building a business foundation that set the stage for their expansive operations today.

"My grandfather was quite visionary," explains Tyler Tremblay, Vice President of Business Operations for Tremson Corporation. "Not only did he start a land clearing business in a location that was perfectly set for growth, but in 1985 he recognized the value of the organic byproducts generated from that process and began recycling them into mulch."
Expanding Beyond Their Land Clearing Roots
The next phase of Tremson's growth came in 1994 when brothers George Jr. and John Tremblay took over leadership of the land clearing division and started focusing more intently on the recycling opportunities. At the time, the company had one yard in Brewster and had acquired one of the first high-speed grinders in the country.
Today the company boasts three recycling yards where mulch production takes place, and a wholesale mulch distribution operation that serves the insatiable demand for high-quality landscaping products. Tyler Tremblay left his Fortune 500 corporate life in Washington D.C. to join the company two years ago, with the responsibility of maximizing the market and business opportunity for the recycling division.
"My cousin Aaron and I are the third generation of our family business," he shares. "It's a big leap to go from a project management office job to the recycled organics industry, but we're proud of George Sr.'s legacy and we believe there is still so much opportunity here to capitalize on."
Turning a Byproduct into a Product
When Tyler started just more than two short years ago, the company was producing roughly 20K yards of natural brown mulch annually. Today, they have a single wholesale client on annual contract for nearly twice that volume as well as dozens of other smaller wholesale customers and a robust bulk retail business as well.
The catalyst for all that new growth?
"We really just listened to the market, and reorganized ourselves to respond better to what we were hearing," Tyler admits. "That and an uncompromising dedication to quality. We transformed our organics from being less of a byproduct and more of a product."
Quickly, Tremson began offering colored mulch options as well as other organics such as topsoil. And quickly, they began realizing that the lack of proper equipment was vastly eating into product margins. Production of a broader range of offerings on a commercial scale was impractical with their existing screen and processes, and in summer of 2019, Tremson rented a Doppstadt SM trommel screen to handle the summer output.
Staking Their Success on a Doppstadt Trommel
"We needed a screen that could color mulch during the season where demand for mulch is high. And we needed a screen that could produce topsoil during the season where demand for topsoil is high," states Tyler. "We could have bought a dedicated machine for each operation that would then sit idle during the other eight months of the year. But the DoppstadtSM trommel effortlessly satisfies both needs for us."
In December 2019, they took delivery of a new SM 720 trommel screen to put in service for the 2020 season. Over a few years of renting machines to plug capacity gaps, Tremson eventually gained experience with every major screening brand in the market so the decision to purchase the Doppstadt was an easy calculation for Tyler.
"This machine is a topsoil screen, a mulch screen and a mulch coloring machine. It serves three purposes for us," Tyler details. "Drum changes take us about 20-30 minutes. Switching between tasks doesn't require sacrificing valuable time. Working with Ecoverse was excellent."
The production rate of the Doppstadt is another instant benefit.
"The more you handle material, the less money you make," he continues." Even if you know absolutely nothing about screening, you could look at the SM trommel next to another machine and easily tell which is producing more product. It really is a major revenue producer."
A hidden benefit that Tyler believes may be the biggest advantage over time is the modular engineering design.
"This machine can be totally taken apart and stripped down in a day to access any part that may need maintenance. Working on it is amazingly easy and it's a benefit that most people don't realize. But it's huge for us. Anyone that's ever tried to replace an oil pan on a different machine will understand."
Capitalizing on Strengths and Opportunities
Tyler knows that having the right equipment is crucial to implementing the best practices required to consistently deliver high quality products to the marketplace. In just the past two years, their mulch business has more than doubled each year, and the added topsoil operation generates even more revenue. Tyler attributes this growth to the dependable quality they can deliver.
"Our large wholesale customer was buying 15K yards from us when I started. Now they buy 40K yards because they know with our quality they can bag this material and push it into the big-brand box store channels."
Being located in a higher income bedroom community that is underserved by organics producers doesn't hurt either. But Tremson Corporation is well aware that they still have to compete for their share of business. Maintaining the perfect balance of volume, pricing and quality is their recipe for success, and Tyler finds the challenge personally appealing and satisfying.
"I used to think working for a $1B software company was fast paced, but this is even more demanding!" he admits. "But it's very engaging and I love it. Working with family is something I've been getting used to but that too has been quite rewarding."
More than 50 years later, George Sr. still comes to work in the yard every day at the age of 87. With three generations of family actively involved in the business, it's clear that they're doing plenty right. And the success they've earned in the marketplace demonstrates that they're doing the right things right, and the future remains bright for this family-owned organics recycling business.