McNeilus displays 12 industry-leading waste and recycling vehicles at Waste Expo
Lightweight front end loader prototype and Excalibre cylinder demo are booth highlights.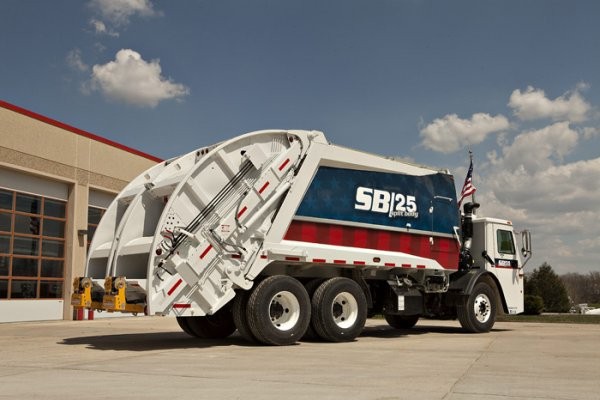 McNeilus Companies, Inc., an Oshkosh Corporation company, displayed a total of 12 waste and recycling vehicles at the Waste Expo in New Orleans, La, which took place from May 20-24 in New Orleans, Louisiana. The company had four McNeilus refuse vehicles at its booth, and eight additional trucks showcased at the booths of key vendors and chassis manufacturers.
In addition, the McNeilus booth included displays demonstrating the Excalibre hardened tool steel scraper, and an all-new Street Smart Vision Systems' Digital Obstacle Detection system.
Vehicles in the McNeilus booth included a 40-cubic yard lightweight front end loader prototype built on a Peterbilt chassis showcasing several new technologies and engineering enhancements. Other vehicles included a 25-cubic yard Split Body Rear Loader, a Zero Radius automated side loader (with a12-foot extended reach arm design) on an Autocar ACX chassis powered by compressed natural gas (CNG), and a McNeilus Extra Compaction (XC) rear loader. Rounding out the display is an IMT Dominator field service vehicle (from McNeilus sister company IMT) built on a Ford F-550 chassis with a CNG conversion.
"This is North America's most important solid waste and recycling trade show, and we prepared a lineup that represents a wide selection of body styles, power plant options, and innovative technologies," said Matt Walter, McNeilus Companies director of marketing and product management. "From CNG engine configurations, to a prototype lightweight front end loader and an extended reach Zero Radius arm design, we address the productivity, safety and bottom line requirements of haulers both big and small."
McNeilus refuse trucks were also displayed at booths of key vendors and chassis manufacturers, including:
• An Atlantic Series Front Loader with CNG power on a Peterbilt chassis in the Rush Refuse Systems booth;
• An XC Rear Loader with CNG power on a Freightliner chassis in the Freightliner booth;
• A pair of 40-cubic yard Contender Front Loaders, one on a Mack MRU, diesel chassis and one on a Mack LEU, CNG chassis at the Mack booth;
• A 40-cubic yard Atlantic Series Front Loader with CNG power in the Peterbilt booth;
• A Contender Front Loader with CNG power at the Curotto-Can booth;
• A McNeilus AutoReach Automated Side Loader on an Autocar right-hand drive chassis with CNG power in the Autocar booth; and
• A 25-cubic yard XC Rear Loader on a Freightliner chassis with CNG power at the Environmental Research Education Foundation (EREF) booth. This package was auctioned off at the EREF Live Auction on Wednesday, May 22 at 4:30 pm. All proceeds from the EREF Live Auction will fund EREF's research and education initiatives.