Mobile metal separation increasingly becoming the norm for recyclers
For Dutch recycler TRS BV - Metal Recovery Solutions small material flows require local mobile processing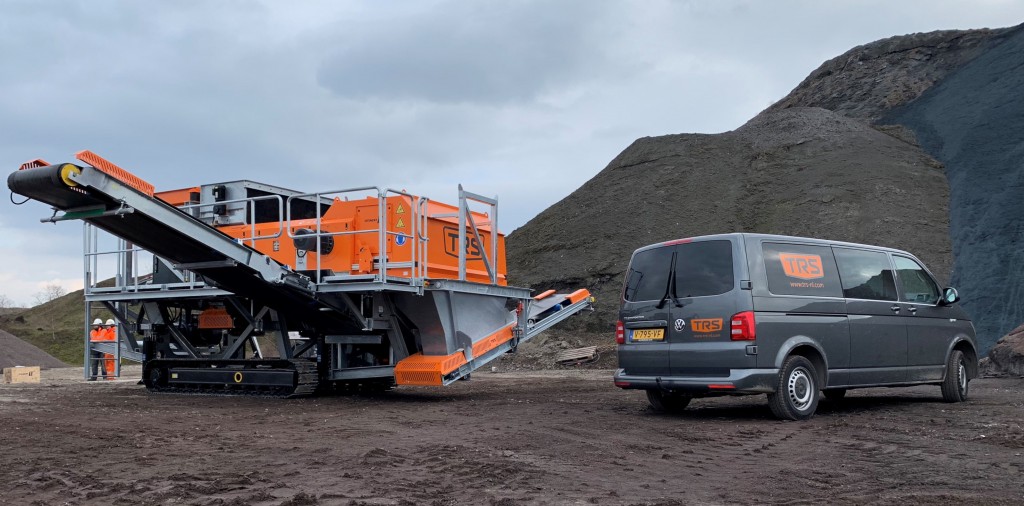 According to TRS BV, the Netherlands based specialist in the design, manufacture and supply of plants for recyclables separation, including incinerator ash processing technology, more and more recyclers are considering mobile metals separation for their recycled materials. More and more depth is being sought in the recycling of these materials, which is why more and more metals, such as ferrous and non-ferrous metals, are being separated on location by mobile equipment.
According to TRS BV there are many types of mobile separation machines, such as mobile conveyor belts, crushers / shredders, sieves, hand-sorting booths, and windsifters. Most recently, mobile Eddy Current separation (ECS) machines have become available to take care of total on-site metal separation.
For this application, TRS developed a robust, user-friendly ECS machine suitable for more difficult recycling streams, such as incinerator bottom ash (shown above). The machine ensures that the incoming recycling flow is first distributed as optimal as possible. The ferrous metal is then separated by a magnetic roller and discharged via a conveyor belt. Then the material flow is perfectly prepared for the next step, the actual non-ferrous metals separation. This way the total metal recovery is very efficient. The non-ferrous metals fall directly from the metal discharge side into a container for further processing and the recycling flow (without the majority of the metals) is neatly deposited on a heap through a discharge conveyor belt.
TRS BV says they have definitely noticed an increased demand for this type of equipment, and in the past year has sold and delivered a large number of mobile metal separation plants to leading European recycling companies. This, according to Eugène van den Boomen, Sales Manager at TRS BV, indicates the significant demand for this category of equipment. He says that due to the ever-increasing legislation and measures regarding recycling, such as banning the export of waste to China, or restrictions on the application of certain recycling streams, companies are constantly upgrading their recycling streams.
Recently, Steelage Czech Republic, an important service provider for the steel industry, purchased a mobile Eddy Current separator with integrated magnetic separator. The new unit was developed and delivered in consultation with TRS BV as a custom-made machine. With this mobile metal separator, Steelage says they are now extracting additional metals (ferrous and non-ferrous) from shredder-sand materials which otherwise never would be processed. These flows are released from various recycling processes, are temporarily stored on site and then periodically they are processed locally.
"Sometimes you need to go to places that are hard-to-reach," commented Jörgen Sassen, general manager of Steelage Czech Republic. "And you have to recover the added value locally, in this particular case the non-ferrous metals."
Company info
Molenlei 7 1921CX Akersloot
NL,

Website:
trs-nl.com
Phone number:
+31 (0) 72 532 05 87
Read more