Acquisition of TRUX Route Management Systems strengthens AMCS position in North America
David Ische, president of TRUX joins AMCS senior management as Director of Business Development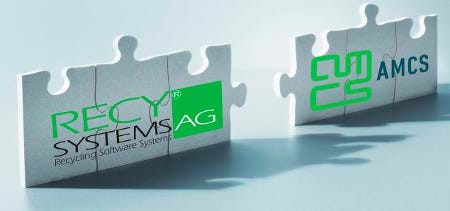 Since the establishment of TRUX in 1990, with headquarters in Cambridge, Ontario, the company has become a leading provider of waste software for the Canadian market and gained wide acceptance with companies around North America. Today TRUX is considered one of the leading and respected waste software companies in North America.
In total, the January acquisition will result in adding 1,000 customers in North America for AMCS, representing over 40 percent of the UK-based company's global business.
Commenting on the acquisition, AMCS CEO, Jimmy Martin said "The North American waste market is a very strategic market for AMCS and shaping to be an exciting place for growth in the coming years. Its dynamic nature and the high degree of complexity involved, will undoubtedly mean that it will benefit from an increased and accelerated adoption of technology.
"Our continued investment in this market has resulted in a scalable, world-class cloud platform that can meet the needs of customers across the globe. Now and in the future, TRUX's impressive customer base will add further expansion of our business in North America. With the strength of TRUX's customers in the mid and enterprise market, coupled with AMCS's investment and resources, I am confident that all our customers will benefit from the integration of the two businesses.
We are looking forward to welcoming the TRUX team and are excited to announce that David Ische, President of TRUX, will join the AMCS Senior Management Team following the acquisition as Director of Business Development."
"TRUX has been a pioneer and leader in the development of software for the waste management industry in North America over the past 30 years," commented David Ische, President of TRUX. "We are excited to take the next step in our evolution with AMCS to deliver best-in-class software for the broader global market. We share their vision as a customer focused, market leading company and view this as a great opportunity for the future growth of our customers and employees."
Discussing the direction of the company in North America, Michael Winton, President of the region said "I would like to take this opportunity to welcome TRUX customers and employees to AMCS and assure them that they will experience a seamless transition and a high level of support from our global organization. The AMCS team takes pride in helping companies in the waste and recycling sector to accelerate top line growth, deliver environmental sustainability, and improve operational efficiency and margins using ingenious technologies."
In recent years, AMCS has completed a number of key acquisitions across the globe, which the company says has continued to strengthen their position as a world leader in software and technology for the waste and recycling sector.