EDGE HS750 single-operator shredder set to launch at CONEXPO 2020
Radio remote ensures all major functions can be controlled by a single person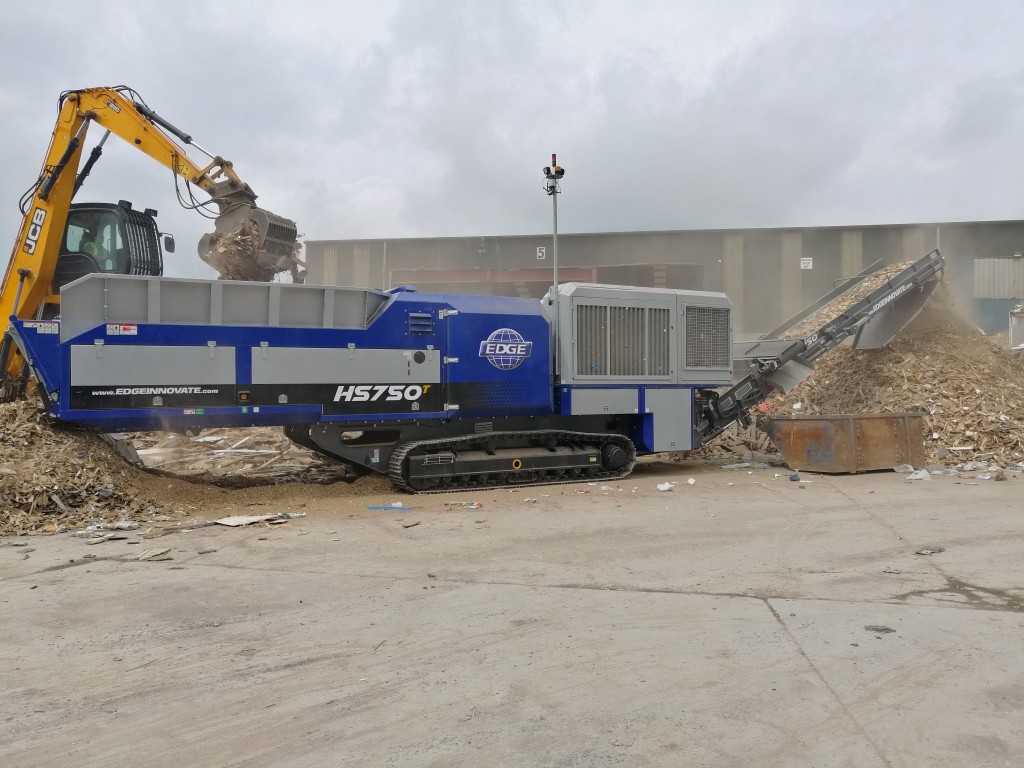 Set for introduction in North America at the upcoming CONEXPO-Con/Agg 2020 in March, the HS750 is a totally new concept to the shredder world, according to EDGE Innovate. This new machine offers operators a high capacity, horizontal slow speed shredder with all major functions controllable via radio remote, ensuring that the EDGE HS750 can be operated by a single operator.
Ideal for land clearance projects and the processing of wood waste, stumps, brush, railway ties, utility poles and construction and demolition waste, the EDGE HS750 is designed to withstand difficult to shred materials and resists non-shreddables.

Should a blockage occur, the feeder, top feed roll and rotor can also be reversed via the radio remote. Rotor maintenance and a quick screen changeover procedure is facilitated via a hydraulic chamber opening and hydraulic screen release system with built in safety switches to prevent accidental start up.

A 42" (1066mm) diameter compression Top Feed Roll aids in the delivery of material to a 42" (1066mm) tip diameter solid steel downturn rotor which has been designed to absorb heavy impacts and deliver high throughput. Potential for rotor overload or material bridging is reduced via an intelligent material management system that ensures the efficient delivery of material to the chamber.

The shredder is powered via a Tier 4 Final / STAGE IV Caterpillar C18 engine providing 750HP (560Kw) and includes an intuitive operating system that enables operators to select from a number of customizable shredder programs whilst also displaying hydraulic pressures, feeder speed, rotor speed, torque mode and average fuel consumption.
Additionally, depending on the level of contamination and type of material, operators have the added benefit of being able to select between two rotor modes with each mode having different torque levels and rotor speeds. Adjustment of finished material piece-size by means of a hydraulically retractable comb enables operators to regulate particle size without the need to change tool inserts, pattern or screen aperture.
More from C&D Recycling
Single-Ram and II-Ram High-Capacity Balers
At Machinex, we've been designing sorting systems for over 35 years, so we know how essential it is for MRF operators to have a baler they can trust and not worry about its operational reliability. This is why we design and manufacture reliable single-ram and II-ram high-capacity balers to specifically help optimize their operations.
Watch the video of our expert who presents the main features of Machinex balers delivering these important benefits:
Easy & accessible maintenance
Reduced maintenance & bale handling costs
Energy savings
Optimal bale density
For C&D recyclers, waste haulers, demolition contractors and landfills, there is a growing opportunity to profit from rethinking processes. Although every operation is different, by streamlining the front end of the C&D operation processes with purpose-built technologies, recyclers can tap into new end markets, accommodate higher material volumes, stay ahead of regulatory restrictions, increase recovery rates and add commodity revenue, while decreasing labor and other costs.
Download the new eBook to learn about:
Finding opportunities in the alternative to landfilling C&D
How facilities can increase their profits from C&D
Using the right C&D processing technology in the right locations