Fraser Valley, BC dealer takes Hino Dealer of the Year Award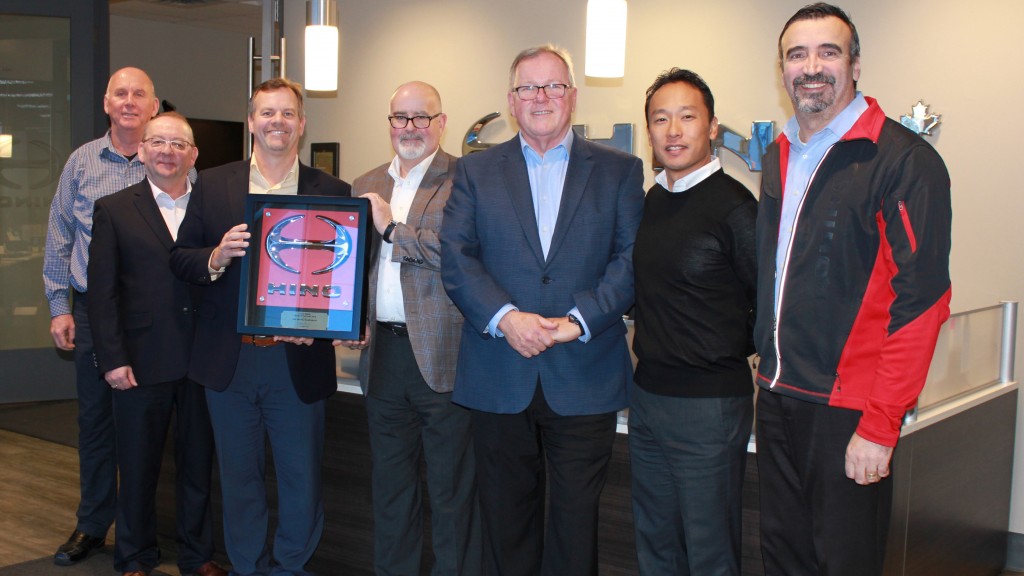 Hino Motors Canada, Ltd. (HMC) announced Hino's 2018 Hino Dealer of the Year award has been presented to Hino Central Fraser Valley of Langley, BC.
The prominent award was presented at a recent dealer meeting to Mark Nolin, Dealer Principal of the Hino Central Group and Greg Tilley, Vice President, Hino Operations.
Hino Central Fraser Valley, part of the Hino Central Group has been a Hino dealership since 2008. Hino Central Fraser Valley received the highest ranking in HMC's annual Dealer Evaluation, a comprehensive measure of the dealer's total business; Sales Management, Service Support, Parts Performance and Overall Facility.
"Their constant focus to work together for the growth of their team members and generating customer satisfaction in everything that they do led them to win Hino's prestigious award", stated Tony Caldarone, SVP Sales & Customer Support, Hino Motors Canada. "Year after year our dealers continue to have outstanding performance across their sales, parts and service facilities; providing the Total Support Experience. At Hino, we believe in a Total Support approach where we will continue to understand customer needs and continue to meet and exceed their expectations resulting in brand loyalty and trust."
Congratulations to the entire team at Hino Central Fraser Valley on this accomplishment.
The second and third place winners are as follows:
2nd Place
Somerville Hino of Toronto, Ontario
3rd Place
Tri Truck Centre of Barrie, Ontario
More from Collection & Hauling
Single-Ram and II-Ram High-Capacity Balers
At Machinex, we've been designing sorting systems for over 35 years, so we know how essential it is for MRF operators to have a baler they can trust and not worry about its operational reliability. This is why we design and manufacture reliable single-ram and II-ram high-capacity balers to specifically help optimize their operations.
Watch the video of our expert who presents the main features of Machinex balers delivering these important benefits:
Easy & accessible maintenance
Reduced maintenance & bale handling costs
Energy savings
Optimal bale density
For C&D recyclers, waste haulers, demolition contractors and landfills, there is a growing opportunity to profit from rethinking processes. Although every operation is different, by streamlining the front end of the C&D operation processes with purpose-built technologies, recyclers can tap into new end markets, accommodate higher material volumes, stay ahead of regulatory restrictions, increase recovery rates and add commodity revenue, while decreasing labor and other costs.
Download the new eBook to learn about:
Finding opportunities in the alternative to landfilling C&D
How facilities can increase their profits from C&D
Using the right C&D processing technology in the right locations