Vancouver Regional Recycling supporting "binner" community in need of warm winter clothing
Gift of Warmth event invites public to donate clothing, warm winter gear and refundable beverage containers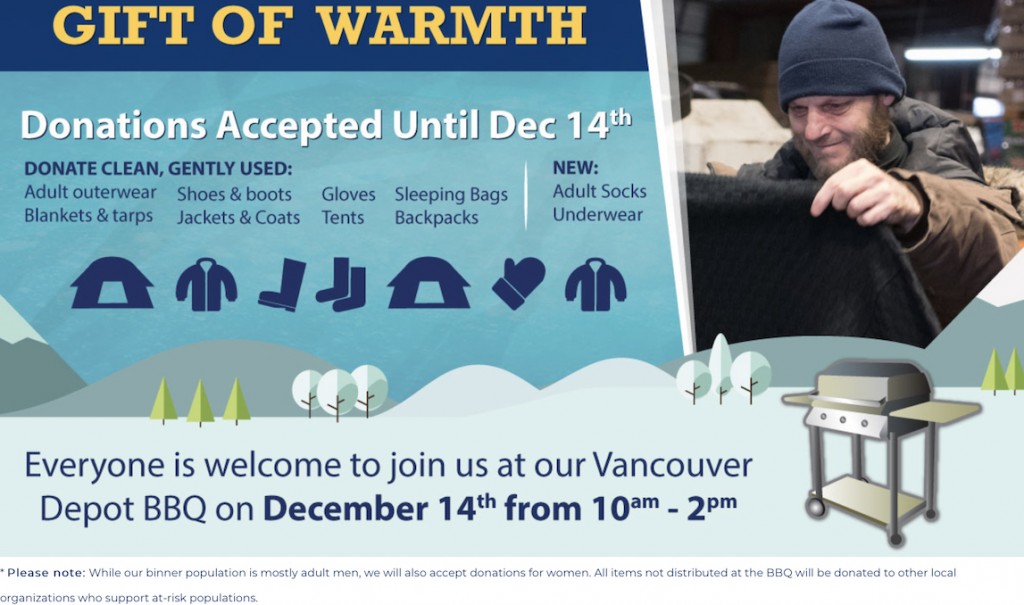 Vancouver Regional Recycling, in partnership with SPUD.ca, The Binner's Project and Working Gear, recently announced that they have officially launched their Gift of Warmth event in support of Vancouver's Binner Community. From now until Saturday, December 14, Vancouver Regional Recycling will be accepting donations of warm winter clothing and gear for some of Vancouver's most vulnerable citizens.
The Vancouver Depot also welcomes clients to donate their refundable beverage containers to a fund that will purchase new socks and underwear for their Binner clients. Clothes, refundable containers and donations can be dropped off at Vancouver Regional Recycling Depot - 960 Evans Avenue, seven days a week from 9:00 a.m. to 6:00 p.m. SPUD.ca's weekly bin program will also be accepting donations.

A free, public 'Gift of Warmth' barbeque will take place on Saturday, December 14, from 10 a.m. until 2 p.m., at Vancouver Regional Recycling Depot- 960 Evans Avenue. Throughout the event, Binner clients will have the opportunity to select warm winter items for themselves.
"Our Vancouver depot services a high number of 'Binners'—people who make their living from pulling recyclable materials from the garbage and returning them to us for their deposit refunds," said Vancouver General Manager, Jason Smith. "A lot of our Binner clients come in with wet shoes and wet clothing and they have nothing to change into. We put together this event to support them during the wet, cold winter months."
Donation items greatly needed include:
New adult male socks and underwear
Gently used adult male warm winter wear such as sweaters, long-sleeved shirts, jackets, outerwear and footwear
Outdoor gear such as tents, tarps, blankets and sleeping bags
The Gift of Warm event is an attempt to support the Binner Community beyond the hot coffee and gift certificates Vancouver Regional Recycling already provides.
"These individuals do a great service for the community and for our environment," said Smith. "They go through other people's trash to make sure items that shouldn't end up in landfills are returned to the recycling loop."
For more information visit http://www.onestoprecycleshop.ca/2019-gift-of-warmth/