Packaging material shredder turns corrugated waste into versatile netted packing material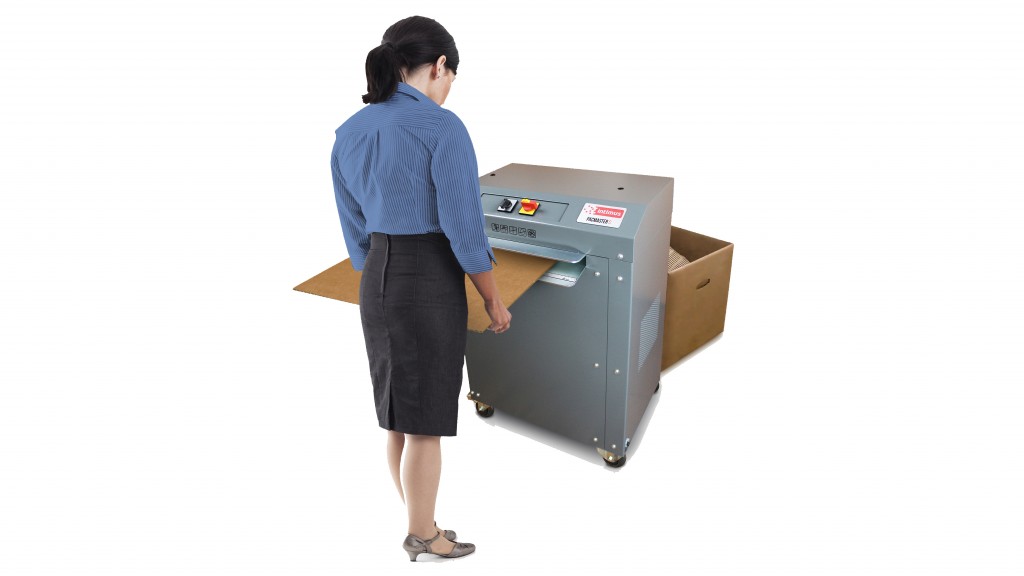 The shredder's unique cutting head configuration creates a series of perforations in the cardboard creating a flexible, expandable material that can be used to line boxes or wrap breakable items such as glass, ceramics, electronic assemblies, or other goods that require protection against shock, impact, or damage during shipping.
With each pass the PacMaster creates packaging material up to 16.75" wide by any length. However, since the feed slot is open on 3 sides the PacMaster can accommodate much wider sheets. The excess width is automatically trimmed off and can then be refed. A measurement guide on the work surface allows users to create packaging material to any width under 16.75".
A lockable power switch doubles as an emergency stop switch. The shredder housing is fabricated from robust steel plate and designed for heavy-duty service at a packing station. The PacMaster S shredder is also available in a variable speed version — the PacMaster VS — which automatically optimizes shredding speed based on load. As a result, the PacMaster VS can be operated on a 230V outlet.
Company info
Related products
More from Waste Diversion
Single-Ram and II-Ram High-Capacity Balers
At Machinex, we've been designing sorting systems for over 35 years, so we know how essential it is for MRF operators to have a baler they can trust and not worry about its operational reliability. This is why we design and manufacture reliable single-ram and II-ram high-capacity balers to specifically help optimize their operations.
Watch the video of our expert who presents the main features of Machinex balers delivering these important benefits:
Easy & accessible maintenance
Reduced maintenance & bale handling costs
Energy savings
Optimal bale density
For C&D recyclers, waste haulers, demolition contractors and landfills, there is a growing opportunity to profit from rethinking processes. Although every operation is different, by streamlining the front end of the C&D operation processes with purpose-built technologies, recyclers can tap into new end markets, accommodate higher material volumes, stay ahead of regulatory restrictions, increase recovery rates and add commodity revenue, while decreasing labor and other costs.
Download the new eBook to learn about:
Finding opportunities in the alternative to landfilling C&D
How facilities can increase their profits from C&D
Using the right C&D processing technology in the right locations