BaleVision demo provides positive feedback on merQbiz paper bale analytics technology
October 23rd live demo in Chicago shows off BaleVision capabilities for recyclers and mills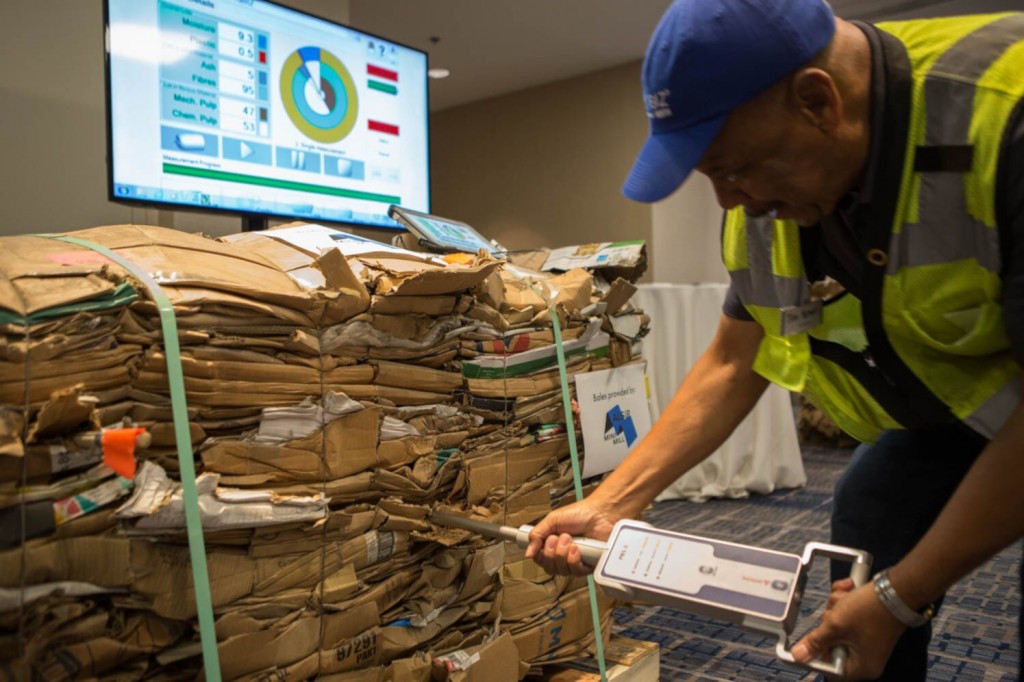 Since the official launch of their BaleVision quality performance solution in July, 2019, merQbiz says both MRFs and paper mills have expressed interest in their technology designed to better evaluate and manage RCP (recovered paper) quality. On October 23rd, merQbiz hosted a live BaleVision demonstration in Chicago, performing quality assessments on paper bales and showcasing its quality and procurement analytics platform. The event was attended by approximately 75 MRF and mill representatives.
"Digital transformation and data-driven decision-making are the future of the RCP industry," commented John Fox, President & CEO of merQbiz. "With paper quality becoming a hotter topic due to current macroeconomic factors, BaleVision provides buyers and sellers with a technology solution that helps them be proactive against the changing landscape. Also, the ability to positively affect bale yield can help decrease landfill output and support sustainability goals."
Key DATA POINTS
● BaleVision is 98% accurate based on side-by-side comparisons to bale breaks.
● With BaleVision, a full inspection takes ~6 minutes per bale with two inspectors (15 to 20 truckloads per shift, 45 to 60 bales per shift.)
● Initially, merQbiz performs an "Implementation Blitz," a comprehensive 90-day inspection to capture baseline data. After the initial period and based on data results, the customer (buyer or seller) can decide the frequency of ongoing inspections.
merQbiz says that overall feedback was positive at their event in October, and there was quite a bit of interest in the quality offering. Feedback from MRF operators and representatives, from the Oct 23 BaleVision demo, indicated that the "program makes it very clear to buyers what they're getting, so (sellers) won't have the issue of claims," and also that the "program provides a lot of information that was previously unknown."

Feedback from one North American-based paper company was as follows: "We have done trials with the merQbiz quality device at a number of our mills and are very impressed with the results. Quality has a huge impact on the yield to a paper machine and the data that is generated provides us with valuable information on the quality we are receiving from our suppliers. This allows us to make better and more educated decisions on our supply."
BaleVision frequently asked questions:
~ What type of data is collected and analyzed? The BaleVision quality assessment device measures detailed data on fiber content, moisture, plastic, ash and other bale contaminants. The insights generated from the analytics platform also take into consideration market factors such as pricing data and seasonality trends.
~ Why is the BaleVision technology better than previous methods?
Conventional RCP quality measurement methodologies primarily involve ocular inspections and bale breaking. Both are manual processes that can be costly, labor intensive and highly subjective. Furthermore, there is a lack of transparency when it comes to viable data and insights for decision-making and process optimization.
The difference with BaleVision is in the efficacy of the data and the insights delivered via the analytics platform. The value this generates is greater than just knowing the contamination level of a bale. In addition, the technology can test bales faster than bale breaking and requires less manpower to test, resulting in savings across labor, time and operational spend. BaleVision is a comprehensive system that unlocks value across a number of business areas.
~ How does BaleVision provide companies actionable insights into their RCP quality?
The data and insights are delivered via custom dashboards and reports on the analytics platform. For example, a materials recovery facility (MRF) can combine its bale data with market and seasonal data to adjust transactional and operational processes. A paper mill can use the insights from a true cost analysis to inform purchase decisions and better manage its supplier base.
~ How does merQbiz handle the issue of data privacy?
Bale data collected using the BaleVision technology remains proprietary to each client. We do not store personal information about customers' personnel or internal processes. The data is encrypted, and we undergo regular penetration tests. Our internal security policies and procedures limit carte blanche access to customer data.
~ At what point in the chain of supply is BaleVision used?
BaleVision can be used at the point of sale (MRF) as well as at the point of delivery (paper mill), allowing both sellers and buyers to take advantage of its benefits. merQbiz can perform inspections for sellers on outgoing bales and for buyers in their loading dock at point of delivery. Furthermore, merQbiz has developed an export-specific application for exporters to certify the quality of their RCP shipments stateside and share results immediately with overseas buyers, thus reducing rejected shipments and claims. The company is currently testing the application now and hopes to expand the offering in the near future.
~ How does merQbiz sell BaleVision technology?
merQbiz offers BaleVision in tiered packages based on customer needs - ranging from equipment leasing and purchasing to full-service turn-key inspections and data services. BaleVision can be integrated with existing customer systems and also as a standalone system.