Hino Motors Canada announces new models and cab configurations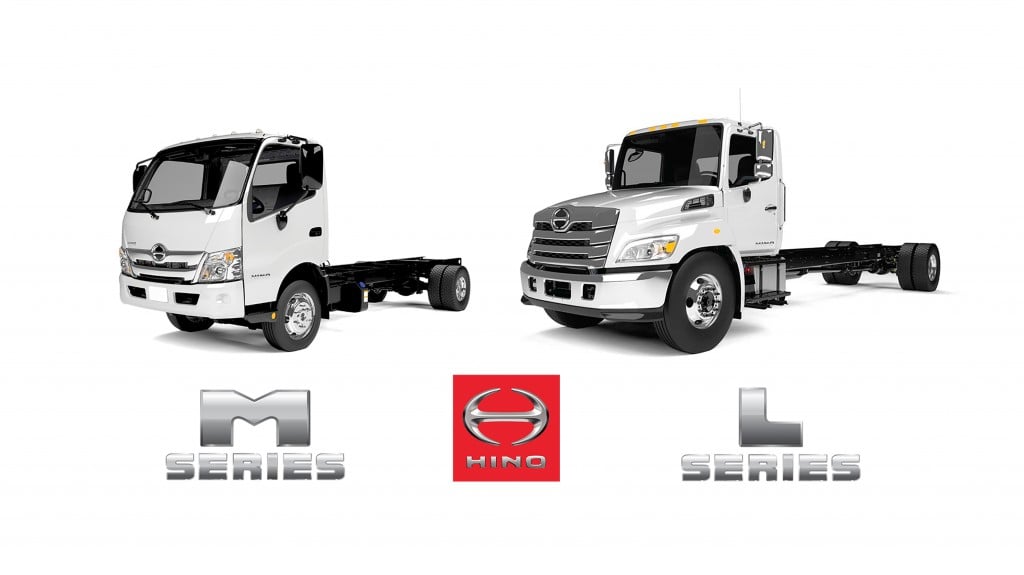 The next generation Hino COE and Conventional cab models made their much-anticipated debut Monday, October 28 at the North American Commercial Vehicle (NACV) Show in Atlanta, GA.
Hino Motors Canada (HMC) has unified its entire lineup of trucks, including model names, to make it even easier for you to match the perfect Hino to you and your business needs. HMC is excited to announce the new 'M Series' Class 4&5 COE's and the new 'L Series' Class 6&7 Conventional trucks, creating a cohesive family of commercial trucks along with the new 'XL Series' Class 8 models.
Each vehicle series now contains a full suite of features adding safety, fresh designs, durability and flexibility, making it clear why Hino is a top choice in Canada for commercial trucks.
The new COE truck models carry the 'Hino M4' and 'Hino M5' badging with the number in the naming scheme representing GVW class. These new truck models have been upgraded with an all-new grille design complete with optional LED headlights and an enhanced 6-speed Aisin HD automatic transmission with gear hold feature. The changes don't stop outside either, interior upgrades include a new shifter layout, steering wheel controls, an all-new gauge cluster including a 4.2" LCD multi-information display and a driver's seatbelt sensor.
The new medium duty Conventional series is represented by the 'Hino L6' and 'Hino L7' models, boasting a bolder chrome grille and front fascia with LED headlights and a new three-piece bumper with an aerodynamic spoiler.
The truck interior has been re-engineered with an automotive grade finish designed for commercial use with improved functionality. New features include steering wheel controls, a large 7" LCD multi-information display, driver's seatbelt sensor and a new transmission shifter location to provide more storage and leg room. Hino also takes your safety very seriously, which is why there are now an array of safety systems optionally available on the 'Hino L Series' air brake models which includes Electronic Stability Control (ESC), Collision Mitigation System (CMS), Lane Departure Warning (LDW) and Adaptive Cruise Control (ACC). Adding even more functionality to your business, are the new Extended cab and Crew cab configurations. The 30" extended cab will have seating for 5 while the 44" crew cab will have full-size doors, seat 6 passengers and provide the comfort of rear zone A/C and heat.
Hino Canada is excited to bring these new trucks to the Canadian market. The Hino L- Series Day cab will be the first to arrive next spring followed by the Hino M-Series. The new Hino L- Series Extended Cab is scheduled to arrive next summer.