STADLER opens €30m global headquarters in Germany
New HQ for recycling systems specialist to accommodate recent and future growth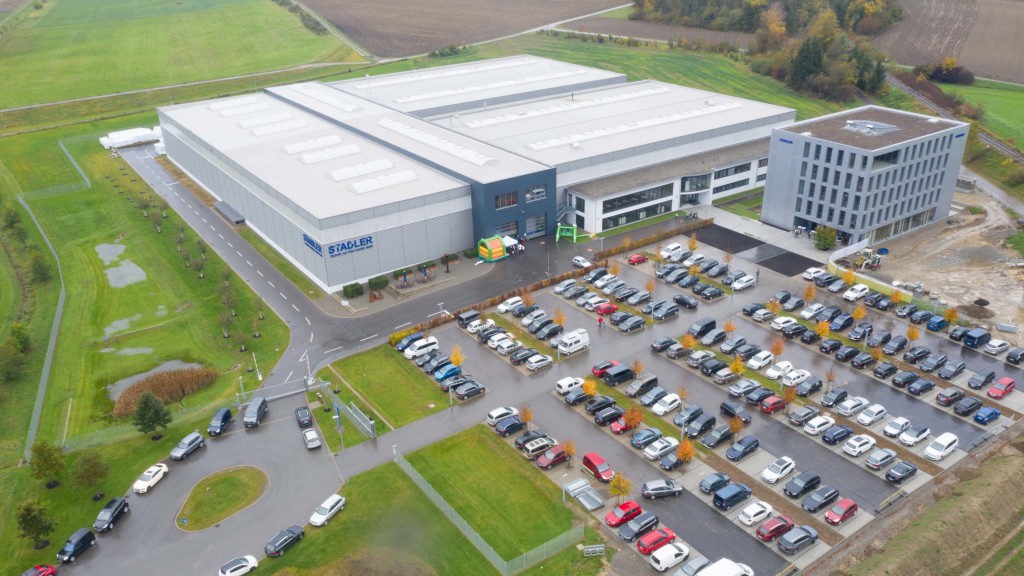 STADLER, the specialist in designing and assembling sorting plants for the recycling and waste disposal industry, opened new global headquarters in Germany on Friday, 18 October. At an inauguration event attended by VIPs and senior company executives, Mr. Willi Stadler, CEO of the STADLER Group, opened the doors to an ultra-modern, five-story building which has the space to accommodate the company's recent and future growth.

The new building keeps STADLER in the town of Altshausen, in the south-west state of Baden-Württemberg, Germany, where the company has been located for 228 years. The headquarters were constructed in three phases, starting in November 2013, at a total cost of €30m. With a 680 square-metre footprint, the premises contain 3,400 square-metres of offices with working spaces for 100 people (and provision for more), six meeting rooms, and an auditorium.
As a prominent business in waste disposal and the emerging circular economy, STADLER places great importance on environmental friendliness, and the new building reflects this. For heating, cooling and lighting, there is an energy-efficient solar photovoltaic system and heat recovery from the company's powder-coating room. Natural daylight and warmth flows into the building through generous use of glass and a central atrium, and comfortable room temperatures are maintained year-round with energy-efficient heating and cooling ceiling systems.
Speeches were made at the opening ceremony by Mr. Stadler; by Mr. Patrick Bauser, the mayor of Altshausen; and by Mr. Franz-Josef Luib, Construction Manager with Power of Attorney of Georg Reisch GmbH & Co KG responsible for construction of the headquarters. The event's 100 attendees included regional and local politicians and business people, STADLER's business partners, and STADLER's heads of department.
Mr. Stadler commented: "We are very proud of our new, state-of-the-art headquarters. Our considerable investment in this building will help our growing business to operate even more efficiently, and will help to ensure that STADLER is a pleasant place to work. This is an important day in our history - a day to reflect how far we have come as a business and how far we can still go, as our planet's need for recycling and a circular economy becomes ever more urgent."
The formal inauguration ceremony was followed on Saturday 19 October by a Family Day at the new headquarters. This gave more than 600 guests of STADLER's employees and collaborators the opportunity to tour the facilities and to enjoy informal hospitality, live music, and a wide range of activities for children.
Although STADLER's headquarters are in Germany, the company says their business is truly global in reach. STADLER has assembled more than 350 sorting plants and installed more than 3,000 sorting machines worldwide, and continues to add to these numbers as the world's need for recycling increases.
More from Industry News
Single-Ram and II-Ram High-Capacity Balers
At Machinex, we've been designing sorting systems for over 35 years, so we know how essential it is for MRF operators to have a baler they can trust and not worry about its operational reliability. This is why we design and manufacture reliable single-ram and II-ram high-capacity balers to specifically help optimize their operations.
Watch the video of our expert who presents the main features of Machinex balers delivering these important benefits:
Easy & accessible maintenance
Reduced maintenance & bale handling costs
Energy savings
Optimal bale density
For C&D recyclers, waste haulers, demolition contractors and landfills, there is a growing opportunity to profit from rethinking processes. Although every operation is different, by streamlining the front end of the C&D operation processes with purpose-built technologies, recyclers can tap into new end markets, accommodate higher material volumes, stay ahead of regulatory restrictions, increase recovery rates and add commodity revenue, while decreasing labor and other costs.
Download the new eBook to learn about:
Finding opportunities in the alternative to landfilling C&D
How facilities can increase their profits from C&D
Using the right C&D processing technology in the right locations