​TOMRA launches free starter pack to digitalize reverse vending
Digital Starter Pack to help transition retailers operating reverse vending technology into the digital era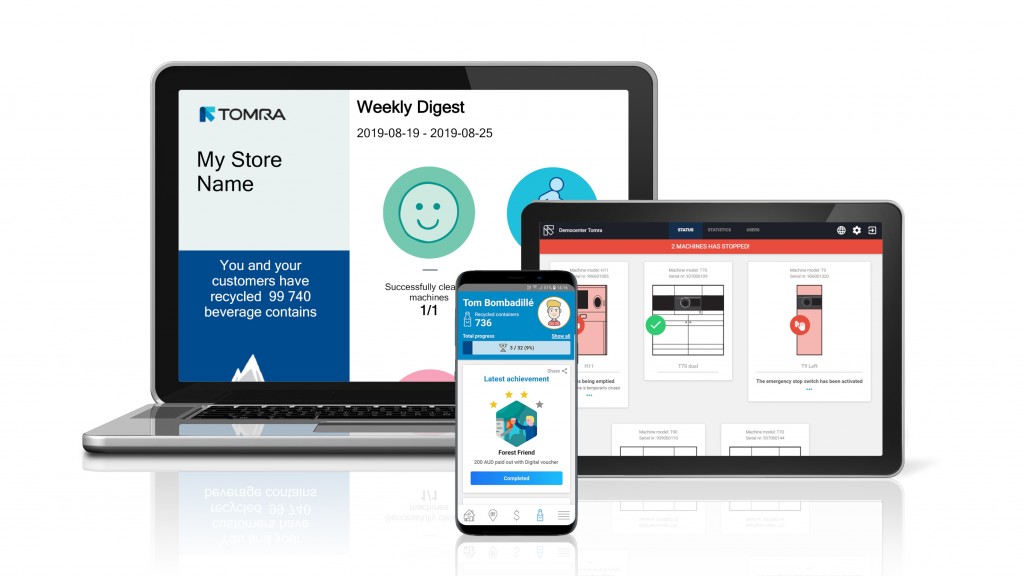 TOMRA Collection Solutions has launched a bundle of digital products free of charge for its reverse vending customers for smoother operations, richer reporting and greater shopper interactivity. Available for all new and existing retail customers, the Digital Starter Pack extends the value of reverse vending for retailers and their shoppers beyond the machines' core function of receiving empty bottles and cans for recycling.

The Digital Starter Pack draws a selection of products from TOMRA's Digital Solutions portfolio of digital products for its reverse vending machines (RVMs). TOMRA Connect gives retailers new insight into in-store reverse vending activity, improves control and ensures a smoother recycling experience. The Digital Starter Pack bundle includes:
• Notify+Assist Basic: Notify+Assist Basic is a notification and guidance application for TOMRA reverse vending systems. It gives instant in-app notifications to store staff when an RVM needs attendance, a visual overview of RVM status, and local user management.
• myTOMRA: The myTOMRA mobile app makes recycling more convenient, environmentally-friendly and engaging for end users. myTOMRA allows recyclers to find their nearest RVM and view its operational status in real time, and enables paperless refunds through digital vouchers. To further engage the user, gamification features have also been added, enabling users to track and celebrate their recycling achievements.
• Weekly Digest: Also included in the Digital Starter Pack is a visual report distributed by email to store managers weekly. This report contains high-level analytics on usage, cleaning and deposit payments, giving stores more insight into how their reverse vending systems are performing and how to operate them most efficiently.
The full TOMRA Digital Solutions portfolio beyond the free Digital Starter Pack also includes Voucher Control for real-time validation of vouchers to secure deposit refunds and prevent fraud, In-store Marketing for showing store promotions on the RVM screen or coupons on the printed vouchers, a premium version of Notify+Assist, and more in-depth analytics reports.
"The launch of the Digital Starter Pack welcomes retailers to the digital era of recycling," said Kurt Schilling, Sales Manager, TOMRA Collection Solutions Digital. "Being a free offering makes it easy for retailers to try out these digital services without any extra investment, while benefiting from the value TOMRA Connect can bring to their business."

The Digital Starter Pack is available for all new and existing TOMRA reverse vending machines currently under warranty or on a service agreement.
More from Glass Recycling
Single-Ram and II-Ram High-Capacity Balers
At Machinex, we've been designing sorting systems for over 35 years, so we know how essential it is for MRF operators to have a baler they can trust and not worry about its operational reliability. This is why we design and manufacture reliable single-ram and II-ram high-capacity balers to specifically help optimize their operations.
Watch the video of our expert who presents the main features of Machinex balers delivering these important benefits:
Easy & accessible maintenance
Reduced maintenance & bale handling costs
Energy savings
Optimal bale density
For C&D recyclers, waste haulers, demolition contractors and landfills, there is a growing opportunity to profit from rethinking processes. Although every operation is different, by streamlining the front end of the C&D operation processes with purpose-built technologies, recyclers can tap into new end markets, accommodate higher material volumes, stay ahead of regulatory restrictions, increase recovery rates and add commodity revenue, while decreasing labor and other costs.
Download the new eBook to learn about:
Finding opportunities in the alternative to landfilling C&D
How facilities can increase their profits from C&D
Using the right C&D processing technology in the right locations