Czech recycling specialist Ozo is "thinking green" with electric drive Sennebogen 818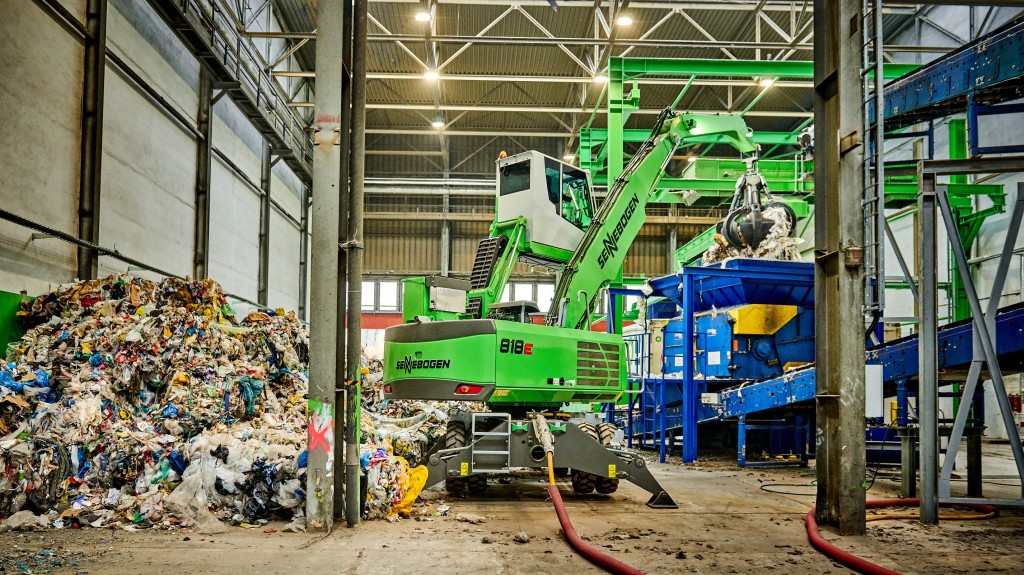 Czech recycling company OZO Ostrava s.r.o., recently commissioned a new line for processing pre-pressed plastic bales. At the heart of the line is a SENNEBOGEN 818 M powered by an eGreen electric drive.
Delivered in September 2018, the new 818 "green machine" fits right in with the other equipment on OZO's 22 acre (9-hectare) premises. With all the green machines in view, you could think you had arrived at one of SENNEBOGEN's production facilities. There is actually only one SENNEBOGEN material handler on the site, but "thinking green" goes all the way through the newly created processes.
"As a regional recycler, we take responsibility for our position in the community and set a good example," says Vladimíra Karasová, PR Manager at OZO. He explains that the company's decision to acquire an electrically powered material handler was driven in part by the machine's low-emission operation.
"In the long term, we also wanted to sustainably increase our production capacity," Karasová continues. "That is why we decided to build a completely new line for RDF (Refuse Derived Fuel) processing. For us, however, sustainability is not just a popular term to attract economic success. It's our reason for being."
RDF production is one of the strategies being developed by the Czech Republic to meet its goal of eliminating the use of landfills by 2024. The nation has the potential to produce approximately 1-1.5 million tonnes of RDF per year, potentially enough to replace coal in the country's energy mix.
A tight rein on processing costs is essential for the program's success. The 818 contributes to the effort, not only with its efficient handling capacity and speed, but with the low operating cost of the eGreen system when compared to diesel-fueled models. The material handler keeps the RDF plant loaded with pre-sorted thermoplastic waste from its regional sorting lines, moving a fresh load every 30 seconds. The 818's elevating cab is another important feature in the line's efficiency. It allows the operator to quickly adjust to different viewing heights for optimum alignment with the hopper he is filling or to pick small parts from the floor level.
Company info
Related products