Greentec partners with Conestoga College in developing robotic sorting cell
New robot dismantles hard drives to effectively recover valuable components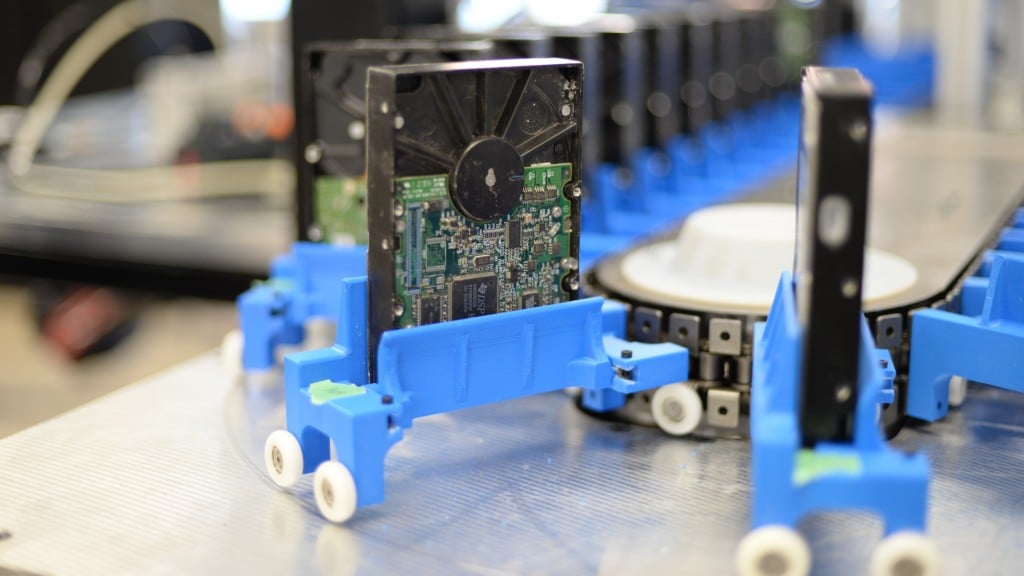 Greentec, based out of Cambridge, Ontario, has partnered with Conestoga College on Project Lexi -- a robotic cell that completely dismantles a computer hard drive in less than a minute. This innovation allows Greentec to recover all components within the drive.
According to Greentec, a major obstacle with hard drives is the difficulty in cost effectively separating and recovering useful materials, like rare earth magnets. By learning how every make and model of hard drive is constructed, Lexi is able to safely and efficiently disassemble hard drives.
"Greentec typically sees around eight tonnes of hard drives a month. Until the arrival of Lexi we recovered some hard drive components by manually disassembling them. Lexi allows us to recover valuable components from the drive, including rare earth materials - magnets, aluminum, gold, silver copper - as well as other recyclable materials," shared Greentec President and CEO Tony Perrotta. "Once these materials have been recovered, they can be reused in the creation of new hard drives or other new products including high-efficiency energy appliances."
Conestoga College and Greentec have collaborated in the past on numerous research projects including optical sorting optimization and ink and toner cartridge cleaning and sorting solutions.
"The new robotic cell is truly a game changer for the electronic recycling industry," said Dr. Hamid Karbasi, NSERC Industrial Research Chair for Colleges Advanced Recycling Technologies for Waste Electrical and Electronic Equipment. "With Lexi, recyclers can efficiently and effectively recover valuable materials and increase the rate at which these materials can be reused. We at Conestoga College are proud to be on the cutting edge of electronic recycling innovation."
The future with Lexi looks bright. Currently in the trial stage, Greentec plans to scale up production in late summer.
"We look forward to further exploring other electronic devices that could be dismantled using the robotic cell," said Perrotta. "Products like laptops, mobile phones, and tablets contain numerous high-value components that could be targeted through this robotic separation system."
Related Articles
Traditionally, waste management companies have operated using a simple "management of waste" approach to operating a MRF. Throughput targets and continuous operation (minimal downtime) were the main driving forces. The industry has changed however, and the focus moving forward is now on optimizing system performance and reliability, in conjunction with increasing recycling rates and a drive for a "greener" and more sustainable tomorrow.
When considering the addition of, or upgrade to, an "intelligent" MRF, for municipalities or private operators, the main factors should always be the client's (operator) current requirements, and evolving market needs, which include throughput, reliability, output quality, and adaptability. Equally important is a full understanding of what is really expected from any proposed system. Having an engaged and focused mindset for the project with the client from the beginning, will impact and drive the entire design process. This then impacts the overall project result, through to the productive, efficient, ongoing operation of the facility itself.