A new generation of CNG vehicles hitting the road across Canada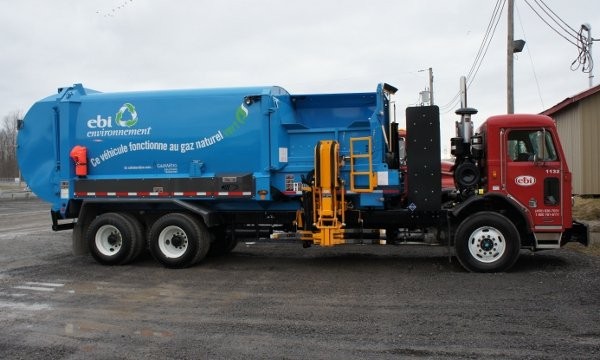 by Wes Muir
In 2012, the Canadian waste industry witnessed an unprecedented increase in the number of waste and recycling collection vehicles powered by compressed natural gas (CNG). It's a growing trend that is playing out across North America as the waste industry is taking steps to improve fleet operations as well as help improve its carbon footprint.
In 2012, there were approximately 5,500 natural gas powered waste vehicles in operation across North America and that number is estimated to increase to 8,000 in 2013. In major cities across Canada, Progressive Waste Solutions, Emterra Group and Waste Management collectively launched over 125 new garbage and recycling trucks powered by CNG during 2012.
The replacement of a diesel truck with a CNG powered vehicle can reduce greenhouse gas emissions by more than 15 metric tonnes per year depending on vehicle mileage. This is an important benefit to not only local residents where the trucks operate but also for municipalities seeking innovative ways to lower their carbon footprint. Another intangible benefit is that CNG trucks are far quieter than their diesel predecessors.
This transformation didn't happen overnight. Over the past two decades, the waste and transportation industry has been investigating alternative fuel and engine technologies in response to increasing government regulations related to diesel emissions. In the early 1990s, natural gas powered vehicles were too heavy and didn't have enough power. The trucks were not reliable, expensive to purchase, difficult to maintain and required significant infrastructure.
As emission requirements became more stringent, additional emission control equipment was required on new diesel trucks. The emission control equipment was heavy, which reduced the amount of material (payload) that a truck could carry before it reached maximum road weight limits. This meant the industry needed to put more trucks on the road, which was increasing costs and offsetting emission reductions.
A critical tipping point was reached in 2007, when U.S. emission requirements were put into place for new 2010 diesel trucks. These requirements were so onerous that many truck manufacturers were not sure how to meet them. Possible solutions required adding equipment that used space and increased weight, which was a "non-starter" for waste and recycling collection operators. It was at this time, companies such as Canada's Cummins Westport began to hit their stride in the development of natural gas powered engines.
Today, natural gas powered vehicles weigh less than 2010 emission-compliant vehicles, with performance as good if not better than diesel, maintenance costs have been reduced and there are more options for fuelling infrastructure.
Of course, natural gas is only one of the ways the industry is improving the environmental performance of fleet operations. Companies are also continuing to investigate alternate engine technologies, including lightweight hybrid engines, and the expanded use of biomethane produced by upgrading waste biogas from landfills, agriculture digesters, sewage treatment, etc. There has also been movement toward the use of class 6 & 7 vehicles.
Additionally, companies can program truck engines to shut down automatically after idling for five minutes, both to save fuel and reduce emissions. Haulers can implement route optimization software to make collection as efficient and unobtrusive as possible. And major investors in fleet infrastructure can use financial leverage to induce manufacturers to provide the industry with cleaner, more efficient vehicles. Fleet vendors also realize the business potential of developing vehicles that are more efficient.
When it comes to accelerating the adoption of natural gas within the waste and recycling sector, it requires public sector support in terms of incentives to purchase new vehicles and associated infrastructure. Though CNG trucks cost less to fuel compared to diesel, they are often more expensive to purchase, and require investment in capital-intensive CNG refuelling stations.
There is no question that the environmental benefits of CNG-powered vehicles are well known in the industry. The industry's approach to natural gas vehicles in recent years – deployment of available technologies with development of newer approaches, and synergy between private investment and public support – has shown this to be true. Going forward, this approach will help not only improve the performance of waste collection fleets, but be a catalyst for the adoption of other innovative, cleaner and more efficient technologies.
Wes Muir is a public affairs and communications consultant working in the waste and recycling industry.
Email: [email protected]