R&M International receives presidential award for exports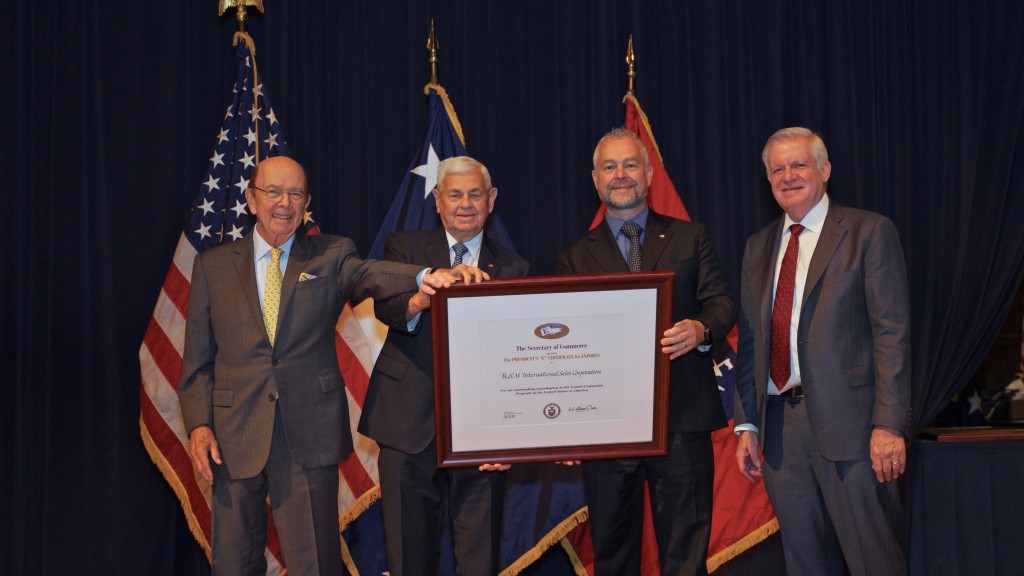 In May, U.S. Secretary of Commerce Wilbur Ross presented R&M International with the President's "E" Award for Exports at a ceremony in Washington, D.C. Secretary Ross honoured a select group of U.S. companies with the President's "E" Award, the highest recognition any U.S. entity can receive for making a significant contribution to the expansion of U.S. exports.
"R&M has demonstrated a sustained commitment to export expansion. The "E" Awards Committee was very impressed with R&M's near doubling of export sales over the past four years," said Secretary Ross in his congratulatory letter to the company announcing its selection as an award recipient. "I was impressed with your company's more than 40-year history of exporting. R&M's achievements have undoubtedly contributed to national export expansion efforts that support the U.S. economy and create American jobs."
R&M International Sales Corporation's business is based on helping primary producers of raw materials in the textiles and plastics arena dispose of over production, substandard, or waste materials. These materials are then either traded, repurposed or recycled into new market opportunities. Although close to 90% of R&M's suppliers are domestic, 79% of its sales are to export markets.
"The President's "E" Award for Export is a great recognition of a long history of working very hard in developing export markets for raw materials in textiles and plastics," said Stephen Rawson, Partner, R&M International. "It speaks to the importance we place on logistics, efficiency, and excellence."
Rawson added that exports are an essential part of R&M International's business. "Foreign buyers want quality products from the United States and we are honored to receive the "E" Award."
In 2018, U.S. exports were the highest on record with U.S. services at $821.1 billion and U.S. exports of goods reaching $1.7 trillion, demonstrating how American private enterprise can not only survive, but thrive, in the international market.
American companies are nominated for "E" Awards through the U.S. and Foreign Commercial Service office network, located within the U.S. Department of Commerce's International Trade Administration. Record years of successive export growth and an applicant's demonstration of an innovative international marketing plan that led to the increase in exports is a significant factor in selecting the overall winners. For more information about the "E" Awards and the benefits of exporting, visit www.export.gov.
"Exporting isn't just for big businesses, 98 percent of all U.S. exporters are small and medium-sized firms," said Tony Ceballos, Director of the U.S. Commercial Service in Philadelphia, whose office also serves Delaware. "Here in Pennsylvania, "E" Award winner R&M International is a great example of how businesses are boosting their bottom line and international competitiveness by exporting. In just the last four years, R&M has nearly doubled its export sales, which now account for nearly 80 percent of total sales. Each year, our Philadelphia office—working in tandem with our worldwide U.S. Commercial service network—helps hundreds of businesses like R&M realize their export goals. Our office can assist your business as well."
For more information about R&M International and its services in developing export markets for raw materials in textiles and plastics, visit www.rmintl.com.