Doosan Infracore North America holds ribbon-cutting ceremony at new parts distribution center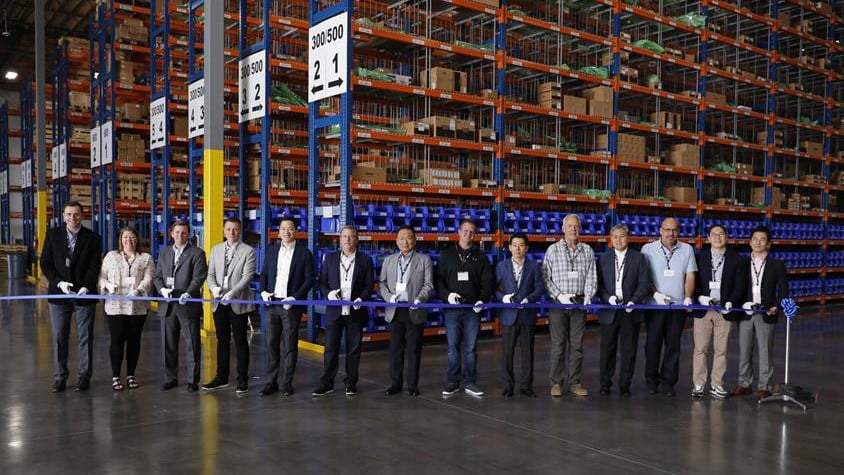 Doosan Infracore North America, LLC, a leading manufacturer of construction equipment, held a ribbon-cutting ceremony at its new parts distribution center in Lacey, Washington, on Tuesday, May 28, 2019.
Doosan executives and equipment dealers from the region were present to celebrate this occasion. The event included a guided tour of the new 57,000-square-foot parts distribution center - which became operational on April 1, 2019 - and remarks from Doosan leadership. A ribbon-cutting ceremony followed, marking the opening of the second Doosan® parts distribution center in North America. A new Doosan parts distribution center opened in the Atlanta area in late 2018. Doosan previously operated a parts distribution center in the Midwest before relocating it to the Atlanta area to be strategically located near its North American headquarters in Suwanee, Georgia.
"The opening of the Seattle-area Doosan parts distribution center is a testament to our dedication to our Doosan dealers and customers," said Edward Song, CEO, Doosan Infracore North America, LLC. "The Atlanta and Seattle-area centers nearly triple the company's parts inventory in North America, which provides our dealers and customers with better service options, deeper inventory and faster parts delivery."
Like the Atlanta-area parts distribution center, the Seattle-area facility located in Lacey is dedicated for genuine Doosan parts distribution and shipping. It is managed by DHL Supply Chain - the Americas' leader in contract logistics.
The center currently stocks approximately 9,000 stock keeping units (SKUs) that can be shipped to service Doosan equipment throughout the Western United States and Canada, with room to expand parts inventory. DHL's Transportation Brokerage Service manages the Doosan less than load (LTL) outbound transportation to Doosan equipment dealers located in the Western United States and Canada.
The new parts distribution center allows Doosan to improve order visibility for its dealers and customers, as well as be strategic in key markets and locations across the United States and Canada.
"With two North American parts distribution centers, we can ensure our dealers and customers are receiving parts quickly and efficiently," said Clay Caldwell, Doosan director of parts. "We're excited to offer a facility in the Pacific Northwest, knowing that we have a large customer base who work in forestry and logging applications. Our goal is to help build this market as well as be able to serve customers in construction, processing and other market segments from the West Coast to the Midwest."