AMIX is taking on water-borne vessel recycling with help from Doosan material handlers
Riverside Recovery near Vancouver using DX530LC-5 excavator with hydraulic shear to cut vessels and DX300MH-5 material handler with grapple to move material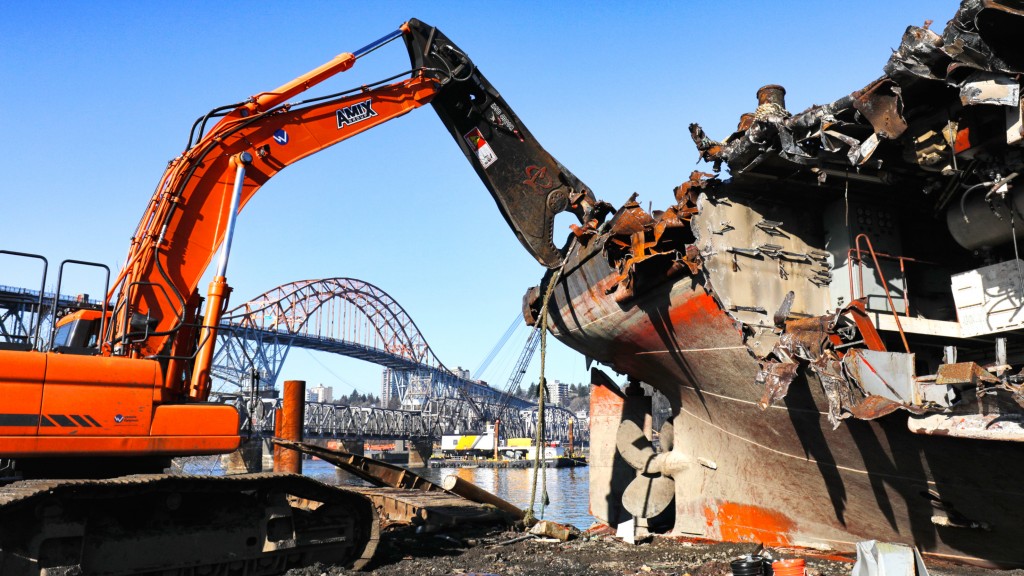 A queue of old barges and tug boats idle and rock gently in the Fraser River, south of Vancouver, British Columbia. It could be an idyllic scene - but this is no watercolour painting. These old vessels are lined up to be demolished and turned into scrap metal.
At the AMIX riverfront yard, skilled operators combine with the hydraulic power of a Doosan DX530LC-5 crawler excavator outfitted with a hydraulic shear, and a DX300MH-5 material handler with a grapple - to cut, sort and load incoming metal debris.

Scrapping with waterfront access
AMIX Group, based in Surrey, British Columbia, began as a scrap metal recycling business in 1971. It has since diversified into a number of complementary business divisions, with the AMIX Recycling division overseeing the company's scrap metal business, including a four-acre scrapyard on the Fraser River. Dean Anderson, operations manager for AMIX Recycling, says the Fraser River yard takes in anywhere from 50 to 250 tons of ferrous and non-ferrous metal per day.
The yard accepts scrap deliveries by truck, train and barge. Truck deliveries, with roll-off containers holding 20 to 40 cubic yards of material, arrive from a nearby four-lane highway. Two spurs of a Canadian National railroad line allow for delivery and shipping via rail, and the waterfront location enables the yard to take barge deliveries. Most of the scrap material comes from construction contractors, but the yard also gets a significant amount of scrap from water-borne vessels.
To scrap vessels, AMIX Recycling employees remove surplus items from the craft and then use a large on-shore winch to pull the vessel out of the water and onto a bulkhead. Once it's pulled out of the water, an operator in the DX530LC-5 excavator uses a hydraulic shear to cut the vessel into four-by-two-foot pieces. Another skilled operator in the DX300MH-5 material handler uses a grapple to pick up the metal pieces the shear leaves behind and sort and stockpile them nearby. A fixed six-foot cab riser helps the operator in the DX300MH-5 with enhanced visibility to the worksite.
Operators use the DX300MH-5 to load material into a high-speed container loader, which moves the scrap into shipping containers. With approximately 42 feet of reach, the material handler can effectively sort the material with minimal repositioning. The operators transload the containers of scrap onto trucks and send it to be recycled.In addition to vessels, AMIX Recycling scraps large pieces of machinery, including dock cranes and rubber-tired gantry cranes from nearby ports. When the AMIX Recycling yard is running at full capacity, operators are moving scrap and running the Doosan excavator and material handler almost continuously throughout the day.
The benefits of a modern machine
Prior to purchasing the DX300MH-5 material handlers, AMIX Group was using log loaders to stockpile scrap metal. The company knew it needed to upgrade to a modern machine, so Dean asked Jim Murphy, AMIX Group equipment/surplus asset manager, to solicit bids for a new material handler.
Darren Sabatino, a territory manager with Westerra Equipment in Abbotsford, B.C., had previously sold Jim a Doosan DL300 wheel loader for Western Concrete, another division of AMIX Group. He put in a tender for the material handler.
"Darren gave us a great deal on the material handler," Jim says. "He was honest and we knew we would get support from Westerra." Jim says the DX300MH-5 has met expectations. It's much faster at piling material than the old log loaders, and the operators are impressed overall.
"The Doosan material handler can move small material fast," Jim says. "One of our most experienced operators, a guy who has run more machines than most people probably ever will, was just talking to me about the material handler. He is impressed with the track power, the speed and the stability of the machine, compared to all other machines. That is huge, coming from a guy like that."
When AMIX Group was subsequently looking to purchase an excavator with a shear, Darren helped Jim find a 60-ton DX530LC-5 crawler excavator at Craig Taylor Equipment, an authorized Doosan dealer in Fairbanks, Alaska. Jim met Darren in Fairbanks to test out the machine. "
The 530 is an impressive machine," Jim says. "When I tried it out in Fairbanks, it was incredible. It was smooth. It's the kind of machine that can make a bad operator look good."
After returning from Fairbanks, Jim convinced Dean that the 373-hp DX530LC-5 was the machine they needed. Dean tried the machine - the largest crawler excavator in the Doosan lineup - once it arrived and quickly became a believer.
"The first time I ran that, it was, by far, the smoothest machine I've ever run in my life," Dean says. "The first two minutes that I started running it, it felt like I had been in the seat for 10 years." Dean says the DX530LC-5 excavator is smooth, properly balanced and extremely powerful. It has impressed Dean and Jim enough that they are considering future purchases from Westerra Equipment and Doosan.
A strong dealer and manufacturer partner After purchasing the DX300MH-5 and the DX530LC-5 from Westerra, Darren took Jim and Dean to the Doosan Real Operation Center (ROC) near Tucson, Arizona. At The ROC, they were able to test the entire Doosan heavy equipment lineup including excavators, wheel loaders and articulated dump trucks (ADTs).
"If you're entertaining buying a piece of equipment from Doosan, you should go to The ROC," Jim says. "It's impressive." Jim says when he was at The ROC, he operated a Doosan DA40-5 ADT, and that it was the best ADT, or rock truck, he had run.
"The DA40 rock truck is, by far, the superior rock truck in the market, right now," Jim says. A chief reason Jim, Dean and AMIX Group have begun to fill out their fleet with Doosan orange is Darren and Westerra Equipment's outstanding customer service.
"We're 110 percent being taken care of," Jim says. "We know about recycling, and they're learning from us. Darren and the other guys at Westerra Equipment are incredible. They take care of you."
Mike Slusark is a writer for Two Rivers Marketing.

This article was originally published in the May/June 2019 edition of Recycling Product News, volume 27, Number 4.