Schofield metal recyclers using Sennebogen handlers to process mountains of castings
New 825 M and 830 M scrap handlers continue tradition for UK recycler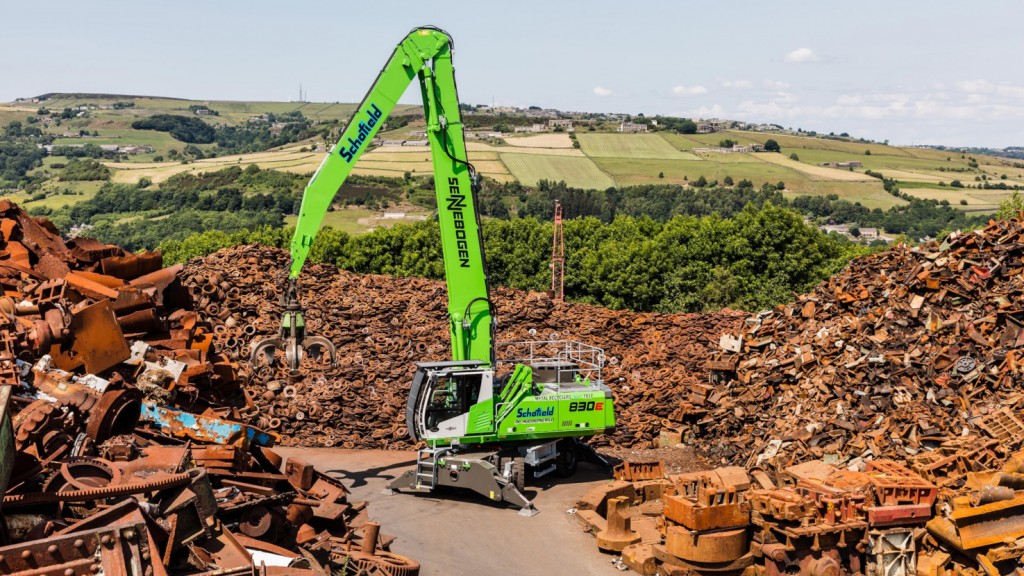 The Schofield family's scrap yard is unique in Great Britain because of the materials it processes. Heaps of piled broken castings have been part of the landscape here for decades.

The sixth generation of the Schofield of Huddersfield, England family business, has been firmly rooted in recycling. The history of the firm goes back to the early 19th century, long before everyone was talking about recycling and the use of raw materials. The founder, James Schofield, had established a family tradition at the site with the recycling of waste from the wool industry. More than 140 years later, Schofield Metal Recyclers is still worth a visit.
Their business philosophy has always dictated that the company's machines and vehicle fleet are always at the cutting edge of technology. Recently they took delivery of two new Sennebogen E Series machines; an 825 M and an 830 M.
Quality vs Quantity
For an outsider, the mountains of scrap metal almost seem to belong to the landscape of the hills of the Colne Valley. Located between Leeds/Bradford and Oldham/Manchester, material is collected and purchased within a 100 mile (160 km) radius. According to Mark Schofield "we have specialized in the processing of high-quality casting materials. We can break cast elements weighing up to 15 tons here on site with our drop balls, which requires not only skill, but also extremely robust and powerful machines. For twenty years, we have relied on the SENNEBOGEN material handlers."
Today machines are faster, more efficient and safer
Equipped with the modern Maxcab comfort cab, which can be elevated up to 9 ft. (2.70 m), the operators have an excellent view of their working environment. They also work comfortably and are protected from the elements in the SENNEBOGEN Maxcab. The SENNEBOGEN 830 E has a powerful 220 hp (164 kW) diesel engine with a reach of almost 56 ft. (17 m). This allows them to stack even the heaviest materials safely. The reliability of the machine and its components, the excellent stability and the simplicity built into the maintenance are features that are particularly appreciated on SENNEBOGEN machines.
"While a lot used to be done with rope-operated cranes, today modern material handlers are faster, more efficient and above all safer," explains Schofield. Only through the continuous modernization of space and equipment has the company been able to successfully assert itself in the market over the decades with a focus on the highest quality processes and procedures.
Although the iron foundries in the region have remained indispensable customers, today, almost 60 % of buyers are from abroad. For this reason, being able to pile material higher allows them to safely fill any order, no matter how large.
Company info
Related products