Tweed and TerraCycle team up to take cannabis packaging recycling across Canada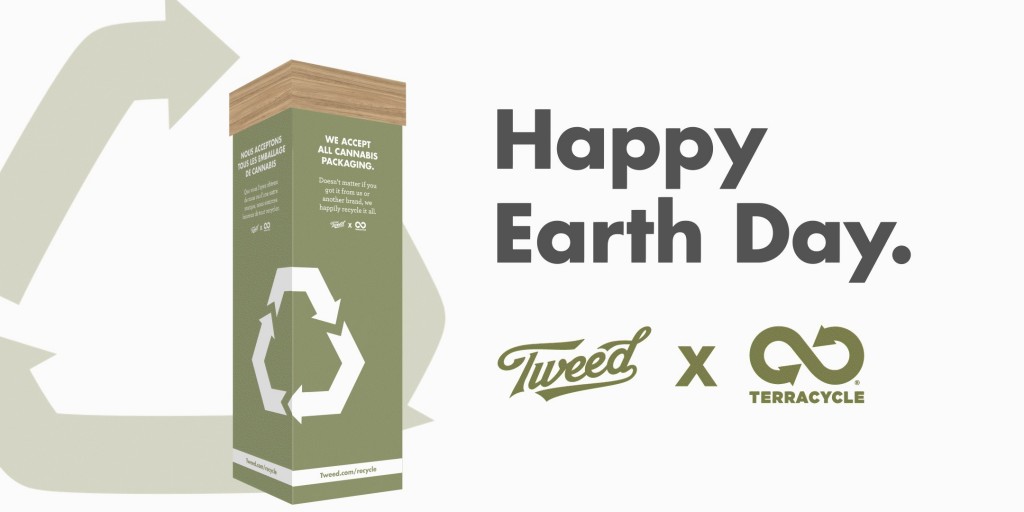 In the spirit of Earth Day, Canada's best-known cannabis brand is thrilled to officially launch the Tweed x TerraCycle recycling program across Canada. Previously available in select stores and provinces, today's announcement officially marks the roll out of Canada's first country-wide Cannabis Packaging Recycling Program.
As we approached legalization of recreational cannabis in Canada, Tweed realized a solution was needed for all the new containers, tubes and packages in our industry, to ensure they are diverted away from landfills and upcycled into other products.
First introduced in October 2018, the Tweed x TerraCycle Cannabis Packaging Recycling Program accepts all cannabis containers from all licensed producers - including tins, plastic bags, tubes, and bottles with child-proof caps, which are notoriously tricky to recycle. Since its debut, the free Cannabis Packaging Recycling Program has saved over 165,000 containers from ending up in landfills. The program is currently active in over 106 legal cannabis retail locations across Canada, including all Tweed and Tokyo Smoke stores, as well as select third-party retailers. In addition to drop off points located at participating retail stores, consumers have the option to register online through Tweed.com for free pickup and recycling of their discarded containers.
"As a community, we came together quickly to address the sustainability concern in our industry and I'm so proud of what we've accomplished so far. Over 165,000 containers have already been collected through the Tweed x TerraCycle program and will be melted down to make plastic pellets used to create new products," reflects Hilary Black, the company's Chief Advocacy Officer, on the success of the program so far. "With the next phase of the Tweed x TerraCycle recycling program, we're excited to bring this initiative to even more communities across Canada and keep working to reduce waste across the industry."
"By partnering with Tweed, we've given consumers a free and easy way to divert cannabis packaging from landfills," said Tom Szaky, CEO, TerraCycle. "Through this ground-breaking recycling solution, these now common items are collected on a national scale from all licensed producers and given a second life as a different product, thereby extending the lifecycle of the packaging material."
The Cannabis Packaging Recycling Program is an ongoing activity, open to any individual purchaser or consumer of legal cannabis products or public/private/online retailer with a legal license to distribute cannabis products in their respective province. To learn more about the program, please visit terracycle.ca/tweed or tweed.com/recycle.