EDGE Innovate honoured with Queen's Award for Enterprise: International Trade
Recycling equipment manufacturer recognized for outstanding short term growth in overseas sales over the last three years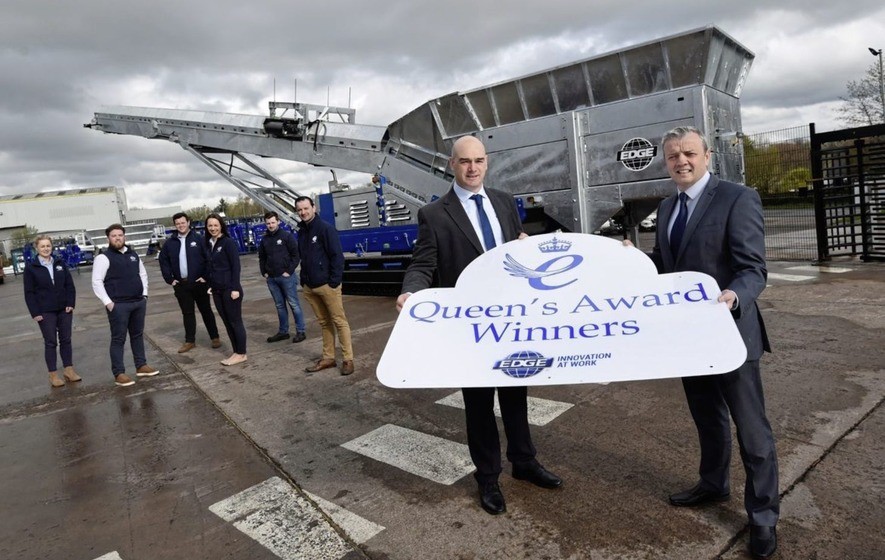 EDGE Innovate has been honoured with a Queen's Award for Enterprise for International Trade. EDGE Innovate joins an elite group of organizations to be recognized with a prestigious Queen's Award for Enterprise. Now in it's 53rd year, the Queen's Awards for Enterprise is among the most prestigious business awards in the UK. EDGE Innovate has been awarded the Queen's Award for International Trade for Outstanding Short Term Growth in overseas sales over the last three years.
Established in 2008, EDGE Innovate now employs almost 200 people directly. According to a company statement: "As a family run business, we have seen overseas earnings grow by 68% during a three-year period with top markets including the United States, Australia, France, Canada and Japan. By diversifying our product range we have been able to cope with economic fluctuations in various marketplaces."
The company says that when awarding EDGE Innovate with the prestigious business award, the Queen's Award panel pointed to the company's exceptional levels of corporate social responsibility with particular emphasis on involving partners in the reinvestment into Research and Development to introduce more advanced technology to suit differing legislation.
"We are honoured and excited to have received the Queens Award for Enterprise," said Darragh Cullen, EDGE Innovate Manager Director, commenting on the recent success. "This renowned accolade is the highest award available to us. It is the result of years of dedication from a team of high performing people right across all our business functions. Their dedication and commitment is second to none. Every member of our team has been instrumental in developing a world class business delivering world class products and services right across the globe. Our distribution partners of which there are now many and in particular those who have worked so closely with us from the very beginning have been a huge part of our successful story and the winning of this coveted award. This story is only beginning, however. We seek to further improve, expand and fulfill the needs of our people and our customers."
EDGE Innovate currently exports both material handling and recycling equipment to almost 60 unique countries. EDGE has experienced exceptional growth with exports rising from 85% in 2016 to 93% in 2017. To meet the rising demand for their product line, the company recently announced an investment of £8 million in the business including an expansion of its production and office facilities and the construction of a new factory that will see covered floorspace doubling in size. The investment also includes the creation of 80 new roles and a leadership and skills development program.