Wendt plant upgrades designed to help expansion, maximize value and create new products
Wendt and MTB report historical years for chopping line sales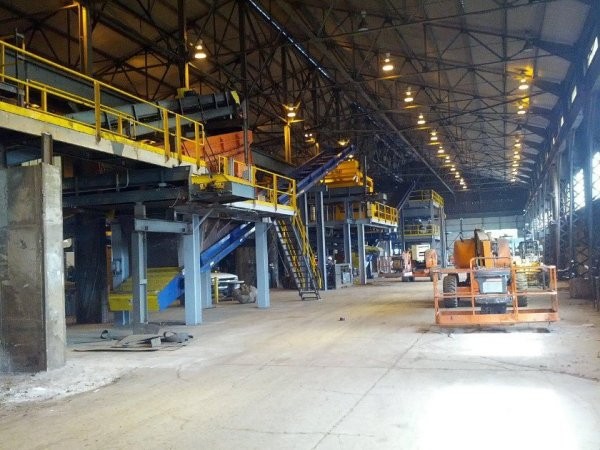 In the fall of 2012. Wendt Corporation announced the installation of an upgraded non ferrous system at Recycle WV. The upgrade was a result of Recycle WV's goal to expand their plant and help maximize the value of the products they are already producing, as well as create new products from their automobile shredder residue (ASR).
Recycle WV is a scrap processing company located in Princeton, West Virginia and was started in 2008 by Tom Bishop and son Tommy Bishop. The company originally installed a Harris 98/115 shredder and non ferrous separation plant that included Steinert and Eriez equipment. With a successful shredding operation in place, Recycle WV reached out to Wendt to learn how they could recover copper wire and improve their existing products.
To understand more about Wendt's non ferrous process, Tom and Tommy visited Wendt's headquarters and brought samples of their waste material for Wendt to test. The material testing showed additional recovery was possible and showed how copper wire could be recovered and separated. Tommy then visited Wendt's reference plants to see their non-ferrous process in operation. After seeing the results of testing their own material, and validating it with site visits, the Bishops signed off on the equipment and Wendt began the engineering process.
Recycle WV's upgraded non ferrous equipment features a Wendt Tumble Back Feeder, two 80" dual magnetic separators, an 80" single magnetic separator, two Wendt/TITECH Finders, a Wendt/TITECH Fines Finder, and a Wendt/TITECH PolyFinder.
The Wendt/TITECH Finders feature proprietary TITECH SUPPIX software and TITECH designed sensors which recover any remaining non ferrous metals from the flow including copper wire. Then the remaining material will be run through the Wendt/TITECH PolyFinder, which use near infrared scanners, to separate a premium insulated copper wire product.
Upgrading Recycle WV's plant provided Wendt's design, application, structural, and electrical engineers with some unique problems to solve. In addition to the standard issues involved with updating an existing system, the non-ferrous plant upgrade created challenges because it is located inside a historic factory building and they were limited in the type of renovations that were allowed to be made to the building. The upgraded system required a new Motor Control Center and the current electrical controls were updated to work with an Allen Bradley equipped Main PLC Panel.
Recycle WV also selected one of the latest product offerings from Wendt, mobile tablet controls. Wendt can configure tablets to allow for wireless connection and mobile control and monitoring of entire non ferrous systems from anywhere, at any time, with internet access. Recycle West Virginia is an early adopter of this new technology, and the tablet will provide them with the same functionality as their Main PLC system. Recycle WV's upgraded non ferrous plant has recently been commissioned.
"Wendt has done an excellent job of utilizing our existing equipment, placing new equipment and conveyors, all while working within our existing building footprint. The plant was engineered so that we can easily add more processing equipment to further upgrade our nonferrous products, with little or no change to our layout," stated Tommy Bishop, owner of Recycle WV.
"I'm extremely happy with the controls package Wendt put together. When I'm anywhere in the plant, I can control the entire system, observe warnings and alarms, and access production data from the Wendt provided tablet." Tommy added, "It is near impossible to find any type of metal in my fluff. The current rate of recovery is exceeding our expectations and we anticipate an excellent ROI."
Wire Chopping with the Blase Brothers
Also at the end of 2012, Wendt Corporation announced the sale of a state of the art, high-volume MTB copper and aluminum chopping line to Blase brothers, Gary, Craig and Kevin Blase.
According to Wendt, this sale represented the Blase brother's first scrap recycling equipment purchase in five years. The brothers sold their company, Blaze Recycling & Metals to a private equity group in July 2007 and were under a five year non-compete clause, which ended July, 2012.
The Blase brothers, having been in the scrap recycling industry for over 20 years, and having run three previous auto shredding plants, were eager to get back in business with the purchase of the MTB chopping line.
Gary Blase states, "This plant is going to be fun for us, it's all about getting back to our roots in wire chopping. There is an art to the chopping business and it's something that we really enjoy and look forward to. Our main objective is to really build and invest in this business venture."
In August 2012, the brothers purchased a 30-acre facility in Lithonia, GA. This facility sits on the east side of Atlanta and features a 60,000 square foot building which will house their wire chopping installation. A seasoned team of professionals will be joining the Blase brothers on this endeavor as they look to establish and grow the business.
After the installation of the MTB wire chopping line, the brothers plan to continue to expand their operation, starting with installing a non-ferrous baler and purchasing an auto shredder, as well as a non-ferrous downstream plant to aid in wire recovery. Gary Blase says they have already begun sourcing feedstock material for their aluminum and copper chopping line. With their successful past in the wire chopping business, the brothers say that they wanted to make an educated decision on what type of equipment to purchase.
Gary Blase says, "After visiting the MTB processing facility in France, the explanation of the equipment just did not do the equipment justice." The purchase of the MTB chopping line presents the Blase brothers with the unique opportunity to process a broad spectrum of products. Blase adds, "When we saw the capabilities of the equipment and the variety of materials that we could process, we were very confident and excited about the MTB line. We realized that this equipment will give us the opportunity to process materials that many do not have the ability to do at this time and we look forward to that advantage in the marketplace."
The company looks to source material from around the country and in particular the Southeast, while specifically targeting ICW (insulated copper wire) from ASR (automobile shredder residue). The state of the art MTB copper and aluminum chopping line is fully automated and includes the latest models of pre-choppers, granulators and vibratory screens that MTB offers.
The high-production chopping line features a BDR 2400, two BAT 1600 granulators, air density separators and proprietary vibrating screens. This all-purpose chopping line has the ability to process material including; aluminum and copper cables, twitch, aluminum and copper radiators, ACSR, as well as, ICW from ASR.
According to Wendt and MTB, the Blase brother's purchase contributed to a historical year for both companies, for chopping line sales in North America.
Wendt Corporation is the exclusive strategic partner and distributer in North America for MTB equipment, parts and service. MTB has over 30 years of experience manufacturing wire and cable chopping systems and is France's largest processor with over 30,000 tons of copper and aluminum cables processed each year. As a processor themselves, MTB continues to provide new applications and innovative designs, to deliver robust and purpose-built machines for wire and cable chopping, granulating, sorting, cleaning and sizing.
The Blase brothers broke ground in December, 2012, on a two-story scale house and have begun other preparations for their new facility. They anticipate having their MTB aluminum and copper chopping line operational in the 4th quarter of 2013.