Eriez brochure highlights line of Eco-Certified equipment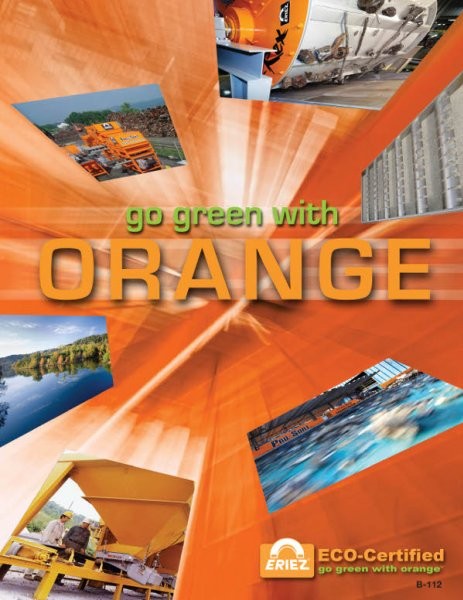 A wide array of Eriez' magnetic separation and recycling equipment as well as its line of small feeders has been given Eriez' company designation of Eco-Certified. This line of Eco-Certified equipment is now highlighted in a new brochure from Eriez, "Go Green with Orange," which is available in print and PDF format.
Equipment identified by Eriez for the Eco-Certified designation has met several criteria:
• The products have a positive impact on recycling processes and the recycling industry.
• They are manufactured with energy-savings features, including the use of energy-free permanent magnets.
• All equipment is built in an Eriez facility that focuses on recycling consumables, driving down energy usage and drastically reducing solid landfill waste.
• An electronic, paperless format is used when promoting the selected equipment; when marketed using hard copy, promotional material is printed on recycled paper.
"Go Green With Orange" explains the criteria behind the Eco-Certified designation and lists the Eco-Certified equipment available across multiple industries. The primary industries Eriez serves include aggregates, ceramics, coal processing, food processing, glass, metalworking, minerals processing, packaging, pharmaceutical, plastics and recycling.
Eriez recycling equipment with the Eco-Certified label includes, among others, the new P-Rex® Permanent Scrap Drum, RevX-E™ Eccentric Rotor Eddy Current Separator, and the DensitySort™, ProSort FinesSort™ and TotalSort™ Metal Recovery Systems. The designation also applies to the PolyMag® Separator, which efficiently separates plastic regrind containing the PolyMag additive from other resins.
The brochure also showcases Eriez' Eco-Certified Electromagnetic Feeders and Eco-Certified Permanent Magnetic Plates, Grates and Traps. "Go Green With Orange" offers product details and highlights the features that helped the equipment earn the Eco-Certified designation.
The back cover of "Go Green with Orange" is dedicated to Eriez' PolyMag® Separator. According to the brochure, Eriez' PolyMag Separator provides an efficient means to separate plastic regrind containing the PolyMag Additive from other resins, reducing material waste and disposal costs.
"Go Green with Orange" explains, "From energy-saving StackCell flotation technology for coal processing to eco-friendly magnetic separators for the pharmaceutical industry, Eriez Eco-Certified products are designed with both customers' needs and the environment in mind."
To obtain a printed copy, contact Eriez and request brochure B-112.
Eriez' online Literature Library, is a comprehensive collection of all Eriez product information available in electronic format. The Eriez Literature Library is a part of Eriez® Orange University®, the umbrella under which the company offers all its educational resources.
From the Eriez Literature Library, registered users have access to more than 150 materials, available for immediate download in PDF format. The Eriez Literature Library includes corporate literature, product brochures, flow charts, resource guides, parts lists and more.
"While the Eriez Literature Library is a great online information source, Eriez experts are also available to personally answer your questions and handle your requests," explains John Blicha, Marketing Communications Manager. "We are committed to quickly providing customers with the information they seek, in the manner most convenient for them."
Offering paperless literature is part of Eriez' dedication to environmental stewardship. As a part of this commitment, the company developed an eco-certification program for its environmentally-friendly practices and products. For more information, visit http://ecocertified.eriez.com/.
To access additional Eriez online resources including videos, free tools, newsletters, magnet safety information, articles, the Eriez Technical Center and more, visit www.eriez.com/Resources/Index/.
Eriez is recognized as world authority in advanced technology for magnetic, vibratory and inspection applications. The company's magnetic lift and separation, metal detection, x-ray, materials feeding, screening, conveying and controlling equipment have application in the process, metalworking, packaging, recycling, mining, aggregate and textile industries.
Eriez manufactures and markets these products through ten international facilities located on six continents.