ORBIS names its Rexdale facility plant of the year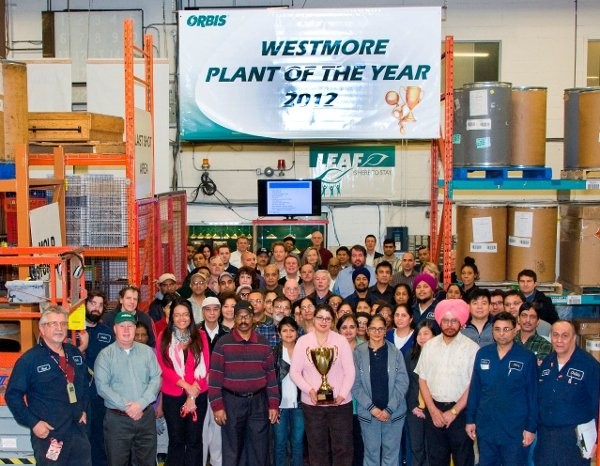 ORBIS Corporation, a leading manufacturer of plastic recycling bins, organic waste carts, compost bins and rain barrels, has named its Rexdale, Ontario facility as its plant of the year.
ORBIS Corporation president, Bill Ash, presented the award to Steve Smith, plant manager. Also present was the City of Toronto Mayor, Rob Ford, and Ward 1 Councilor, Vincent Crisanti, who were visiting the plant for a tour.
For this award, ORBIS judges its plants on performance in the areas of delivering customer value, employee safety, financial results, project deployment, community involvement, team work, support of company goals and employee engagement. The Rexdale plant was selected because of significant improvements in on-time delivery to its customers, employee retention, increased profitability, environmental upgrades that reduced overall water usage and a very strong employee safety score, while increasing its annual shipments by nearly 20 percent.
"We were very pleased to present this award to the Rexdale team. Over the past year, this plant has excelled in several key areas and made significant process improvements to help meet our customers' needs faster and more efficiently," said Pat Feeney, Vice President of Operations for ORBIS Corporation.
ORBIS Corporation, formerly Norseman Plastics, has seen solid performance for more than 35 years at the Rexdale location, due to new product launches, market growth and installation of new technology.
ORBIS' team of experts work with both municipalities and haulers to identify recycling/diversion goals and assist in planning curbside recycling or diversion programs to meet the needs of residents. ORBIS says they have more than 160 years of material handling expertise and 50 years of plastics innovation.
www.linkedin.com/company/orbis-corporation
www.facebook.com/ORBISCorporation