​Unprecedented surge in industry-related deaths so far in 2019, according to SWANA
Solid Waste association calls for heightened focus on safety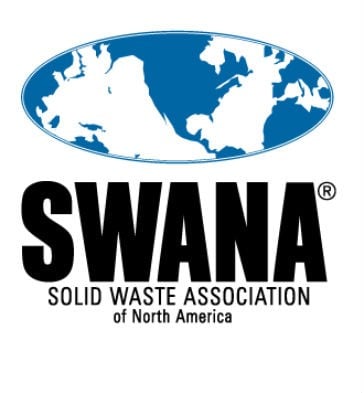 The Solid Waste Association of North America (SWANA) is calling for a renewed focus on safety in response to an unprecedented uptick in fatalities in 2019, to date. At least 17 fatal incidents have occurred relating to the solid waste industry in the United States and Canada so far this year, according to the organization, and although there is no common denominator for the cause of all the accidents, it is clear that reviewing safety fundamentals now will likely help prevent future incidents.

"The surge in fatal incidents involving solid waste personnel and vehicles in January is unprecedented in my 20+ years in the industry and is unacceptable, said David Biderman, Executive Director and CEO of SWANA. "Regardless of who was at fault, each incident is tragic, and we urge all solid waste employers and employees in the United States and Canada to review their safety procedures and operations, and commit to being safer in 2019."
SWANA urges solid waste employers and employees in the United States and Canada to share this data and review their training and operations to help put an end to this series of tragic deaths.
"The frontline employees of Waste Management have a continued focus on protecting themselves by following our operating rules and accepting safety as our core value without compromise. Industry fatalities are shared by managers with employees to build knowledge and raise immediate awareness," said Jeff Martin, Vice President of Waste Management. "Sadly, the majority of industry employees are injured or killed outside of their trucks. With the continued increase of distracted motorists, all employees must remain 100 percent focused, 100 percent of the time while serving our communities. A longer-term solution is moving to Automated-Side-Load trucks to ensure the securement and overall protection of drivers keeping them in the cabs."
Recently, the U.S. Department of Labor's Bureau of Labor Statistics (BLS) released the 2017 National Census of Fatal Occupational Injuries, identifying 30 fatalities among refuse and recyclable material collectors, making it the job with the fifth highest fatality rate in the United States.
"Waste Connection's first value is SAFETY. The safety of our team members, customers and the communities we are privileged to work in, is of the utmost importance. As the societal distractions of cell phones, texting and mobile internet continue to create unsafe situations on the roadways we share, we will endeavor to raise the level of awareness to ALL unsafe behaviors and do our part to create safer roadways. We fully support SWANA's initiative to eliminate unsafe behaviors from the waste industry and encourage ALL organizations to join us in supporting SWANA's safety initiatives," said Shawn Mandel, Vice President, Safety & Risk, of Waste Connections.
The 17 industry-related deaths within the first 22 days of 2019 is a tragic reminder that SWANA needs to keep pushing for a stronger commitment to safety from the industry, elected officials, and the general public. SWANA will continue to focus on expanding its safety program, with the goal of raising awareness and removing solid waste collection off the BLS's list of most dangerous jobs.
"I share SWANA's concern about the recent increase in fatal incidents involving waste collection vehicles. There have been two in New York already this year, and January isn't even over yet. I will be working with other safety leaders in our chapter to provide additional safety resources and tools to members and non-members in the coming months," stated Paul Zambrotta, Safety Director of Mr. T Carting (Brooklyn, NY). Mr. Zambrotta is the SWANA New York State chapter Safety Ambassador and a frequent speaker at industry safety events in New York City.
SWANA provides free resources on its Safety Matters webpage, which contains valuable tools for both collection and post-collection. SWANA will also host numerous safety events this year, including a live safety webinar on January 29 at noon EST. Safety issues will also be discussed at SWANApalooza in Boston, Massachusetts, February 25-28, as well as at SWANA's 7th Safety Summit at WASTECON in Phoenix, Arizona, October 21-24.

For more information on SWANA's safety programs, visit www.swana.org/safety.