​Galbreath's new Work Truck Series Cable Hoists to address light-duty applications
Latest models combine toughness and durability with more compact size and lighter weight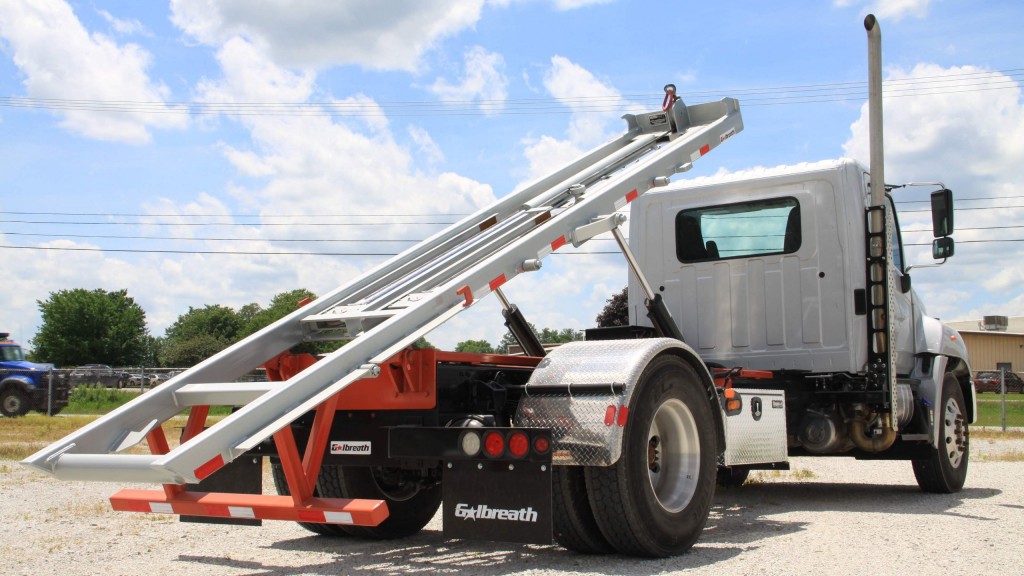 Galbreath recently launched its new WT-1216/X and WT-2018/X work truck series cable hoists. Combining all the toughness and durability Galbreath hoists are known for in a more compact and lighter-weight package, the new models were designed to offer a lighter-duty option to Galbreath's original 8-inch main frame single axle cable hoist, making them perfect for landscapers, general contractors and private waste haulers who need less power and easier maneuverability.

The WT-1216/X and WT-2018/X can transport loaded containers and equipment up to 20k lbs. and 18 feet in length. With a stout 6-inch main frame, these new hoists feature electric over hydraulic controls using a wireless remote control, making it easier to "spot" containers much more efficiently and safely while monitoring low clearance and maneuvering through difficult-to -reach or tight metropolitan areas.

Engineered and manufactured in the United States with versatility and compatibility with a variety of truck chassis in mind, the new cable hoists are bolt-on ready and easily installed with no welding required, saving time and money. The hoists also come standard with externally mounted secondary manual controls, BOC (back of cab) mounted steel tank w/ dual sight/temp gauge, adjustable bolt-on rear apron and split bumpers and dual 4-inch lift and winch cylinders. The hoists are also tarp system ready, with a mounting platform that is compatible with Pioneer or other tarp brands.

The work truck series hoists are also customizable, with custom engineering layouts to ensure the best fit for each customer, as well as a host of options, including toolboxes, back-up cameras, fenders, expanded light packages, auxiliary front stops and a side-mount oil tank.

"Galbreath is committed to using our unsurpassed hoist knowledge and expertise to solve customer problems through innovations and new product development," said John Defenbaugh, Wastequip's commercial president. "Many of the hoists available on the market are simply overkill for many end-users in terms of size and power. By offering a smaller, lighter-duty option, the WT-1216/X and WT-2018/X fill a need and present a compelling product option for previously underserved markets, like landscapers, general contractors and private waste haulers."
Safety features include an automatic spring loaded (pass over style) front safety lock, in-cab ¾-inch flashing LED hoist up warning light, back-up and hoist alarms and dual safety/maintenance props.

Additional product features include:
• 3 micron return filtration inside of steel tank
• LED lighting
• Rear wing skid plates & 2.5 inch outside rail rollers
• 5/8-inch cable & 8-inch cable sheaves w/ UHMW wear guides
• Tarp/valve mounting platform & protective valve cover

The WT-1216/X and WT-2018/X have been field tested in hauler operations to over 4,000 cycles and come with a standard one-year hoist and two-year limited hydraulic system warranty.