A look inside the Calgary composting facility: the largest in-vessel based operation in Canada
Aim Environmental and the City of Calgary are getting a massive job done right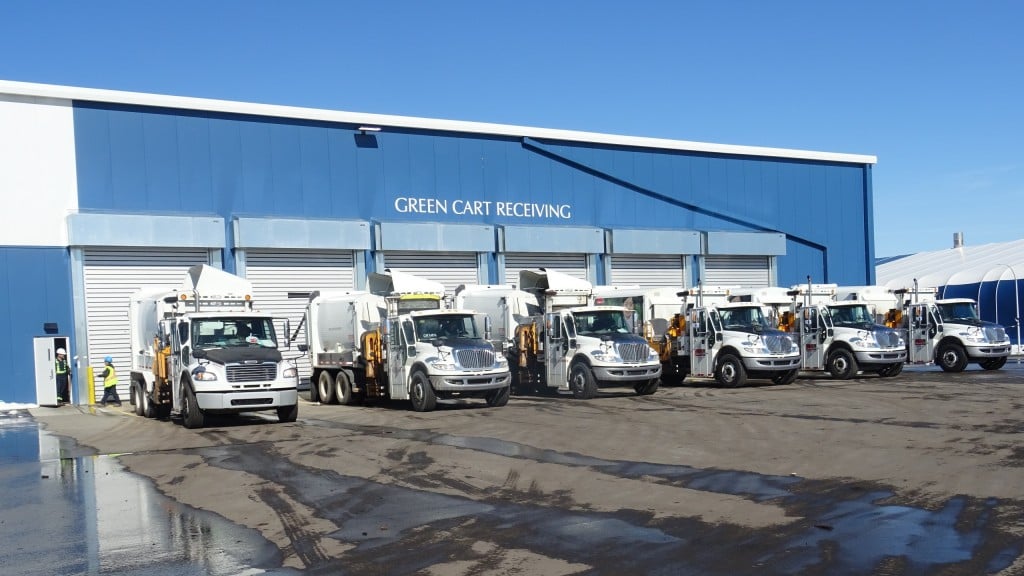 Opened in July 2017, the City of Calgary Composting Facility is the largest in Canada to use in-vessel composting technology. Yearly, the facility can process over 100,000 tonnes of food and yard waste brought in through the City of Calgary Green Cart collection program, along with 45,000 wet tonnes of de-watered biosolids from municipal wastewater treatment. After one year of operation, the facility processed over 100 million kilograms of organic material.
"We're very happy with the success of the Calgary Composting Facility after one year," says Craig More, P. Eng. and program manager - organics, City of Calgary. "The amount of organic waste that's come to the facility has exceeded expectations, so that's great news because it is more diverted from the landfill than we anticipated heading in."
Laura Hamilton, waste diversion specialist with the City of Calgary, explains that since their Green Cart program was implemented in 2017, city waste sent to landfill from single family homes has declined by 46 percent. She adds that they are committed to a diversion target that encompasses all waste generating sectors, including single-family, multi-family, IC&I as well as construction and demolition, and that by supporting initiatives across all of these sectors, the city is steadily moving towards a goal of diverting 70 percent of waste from landfill by 2025.
"For 2018, the City is diverting approximately 60 percent of waste in its residential cart collection program, through a combination of blue cart recycling and green cart composting," she says. "As the program matures and Calgarians get more comfortable with how to use the cart and the types of materials that can go in, we should see that diversion rate increase."
According to Ken Kielly, general manager, AIM Environmental Group, the operator of the Calgary Composting Facility, and a member of the consortium that designed and built it, the facility is really performing the way that it was intended. "It's been optimized in the first year of operations to achieve what was projected by year 10 based on current operating practices and daily production performance," he says.
In the 2018 calendar year, they expect to surpass 110,000 tonnes of SSO (source-separated organics) - a combination of standard food waste and leaf and yard materials. "In addition, the biosolids program has performed very well during the same timeframe," he says.
AIM Environmental operates multiple composting facilities across Canada, but this one, according to Kielly, stands out.
"It's really a combination of physical size and integrated technology that makes this facility unique," he says. "The technology brings together the latest advancements in business, operations and SCADA (Supervisory Control and Data Acquisition) management to create a combination of process and control best practices, enabled by strategic partnerships across North America and Europe.
"It is also our largest Canadian facility," he continues. "If you look at the North American landscape it's also one of the largest. So it has a good strong physical presence."
Kielly adds that the business operations, technical and health and safety models that are in place are sophisticated and fairly integrated as a combination of people, process and technology. "The Calgary in-vessel composting facility certainly brings together an amazing capability to fast-track the normal biological process of composting food, leaf and yard waste, and biosolids, compared to any type of outdoor or traditional composting model."
Compost in 60 days
Compost in 60 days is impressive when one considers that composters using only a traditional outdoor windrow system, can generally achieve finished, saleable high-quality compost product in about three to six months or more. According to More, high-quality compost can be created in as little as 60 days at the Calgary facility due to their use of an in-vessel system combined with sophisticated control technology. When material arrives at the facility, an initial screening for obvious contaminants is done prior to the initial active composting stage.
Actively aerated static pile composting takes place in the in-vessel system over a period of approximately three weeks, and is followed by a screening process combined with Cyclone air technology, which removes any remaining light contaminants, including paper and film. Indoor aerated windrows are then used for the final curing stage, and storage buildings are used to store material post-curing. Their control system monitors air flow, oxygen, moisture content, temperature and other parameters during the entire process.
"I would say the use of the in-vessel technology really gives us the maximum control over the composting process," says More. "We're still using just a natural process of composting but the facility design and technology incorporated in the facility allows us to get to ideal conditions much more quickly," he says. "And we're more confident that we've maintained those ideal conditions. Really, we're facilitating the natural process but allowing it to happen in the shortest time period possible."
He continues, "Our completely enclosed facility is fully automated, using a system that allows for the entire process to be monitored and controlled by operators, either within the facility's control room, or remotely from any internet connection. This system also records and logs a nearly continuous stream of data from each system component, allowing for continuous monitoring and control of air flow, oxygen, moisture content and temperature within each of 18 composting vessels independently. And it creates a detailed operating log of the facility that can be stored for years to come."This high level of control allows for the rapid development of ideal composting conditions, which allows that natural composting process to occur in about 60 days."
A range of high-quality end-products
Composting of de-watered biosolids, sourced from Calgary's Bonnybrook Wastewater Treatment Plant, allows the Calgary Composting Facility to operate at near full capacity year round, minimizing wasted capacity over winter months when green cart tonnages drop significantly. Biosolids and SSO residential and commercial organics are kept separate throughout the process, so there are three distinct compost products available at the end, providing consumers alternatives based on their specific needs. One is an SSO-only product called Peak, and the second is a biosolids-only compost, higher in certain nutrients, called Peak+.
Finally, a high-nitrogen-based Ammonia Sulphate Powder product is also currently being produced with a go-to-market strategy planned for 2019. "The biosolids program was introduced last winter," explains Kielly. "By the late fall 2018, early winter of 2019, we will have the biosolids feedstock stream online as well, which means we should be exceeding the 145,000 total tonnage target at the facility."
According to Kielly, both feedstock streams are 100 percent separated right from the beginning of receiving into the facility all the way through composting, maturation and storage in the storage building, each with targeted end-markets in a number of different industries.
"On the SSO side, the end market is primarily residential and commercial, landscaping, and reclamation projects within the energy sector and key municipal departments, as well as top-dressing for landfills," Kielly says. "The biosolids can also span across all of those industries, but traditionally, it's been mainly adopted and utilized in the agricultural sector across Canada. Different municipalities also used biosolids in the larger landscaping application such as parks and recreation, golf courses, and in larger community spaces."
Meeting the standard Calgary's finished product is measured to the highest industry and regulatory standards in Canada , including voluntary participation in the Compost Council of Canada's CQA (Compost Quality Alliance.) Kielly explains that once compost has gone through both the in-vessel and curing stages, the third stage is what they call laboratory testing and certification.
"At that point in time we take specific samples from every windrow or product produced and it is sent to a CQA certification lab in Ontario. We go through a number of specific testing parameters, and about 30 days later, that product receives a certification to be sold as a category A or category B finished compost product." According to More, the CQA standard has become an internal quality baseline for operational success and once met, provides the peace of mind and quality assurance that the marketplace and customers demand. "Our facility provides a SSO, biosolids, and ammonia sulfate concentrated powder product suite to the market based on a business-to-business approach to the market," adds Kielly.
"Demand has been greater than current supply leading to strong customer attraction and new customer growth. Most challenging has been collaborating with logistics and transportation providers to support customer supply chain delivery programs. This is expected to be mitigated going forward with improved customer communications and supply chain coordination."
Growing participation from the start
Of course, prior to all of the magic that takes place at the Calgary Composting Facility, organic material needs to be properly and efficiently collected. And there is the ongoing task of building community participation.
According to Laura Hamilton, prior to their Green Cart curbside collection program established in 2017, the only composting available to residents of Calgary was leaf and pumpkin drop-off, Christmas tree drop-off and composting at home. "This resulted in just three percent diversion of food and yard waste," she says. "Since the Green Cart program was rolled out city wide October 2017 we have collected over 111 million kilograms of food and yard waste that would have otherwise gone into the landfill."
Hamilton explains that Calgary's Green Cart program was set up to be user-fee funded through a fee applied to all serviced households on their monthly utility bill. To encourage citizen buy-in of the program, she says the City of Calgary started the first six months of the program as free for residents, then a subsidized rate was applied at $6.50/month, with the intent being that the User Fee would cover the program costs. Citizen buy-in was also supported through the provision of an extensive "starter kit" to all 330,000 households prior to the program launch. In addition, the four years before starting collection, the City of Calgary ran a pilot program, primarily to look at what works and what didn't work in other municipalities.
"Being able to learn those lessons from other places was really valuable," says Hamilton. "And then when we rolled out the program we had a really extensive communication campaign." She says their communication efforts have focused on education with a presence at festivals, trade shows as well as media appearances. "Regular communication materials are distributed with tips on utility bill inserts, transit ads, TV/radio and social media," she says.
"We also maintain web pages that detail specifically how to use the cart, what materials are accepted, what type of bags are acceptable and where they can be purchased." In addition to communicating about their new program, at the start, all households received a 240-litre cart, kitchen pail, 10 compostable kitchen pail liners and five paper yard waste bags. The starter kit contained a step-by-step guide, walking Calgarians through how to use their new food and yard waste program.
"Citizen feedback has indicated that the provision of this comprehensive starter kit made it easy and convenient for them to use the program early on," says Hamilton. According to City of Calgary audits, participation since startup has been between 70 and 80 percent. "Not every household will put their green cart out every week, depending on the volume of waste they are producing," she explains, adding "We just did a survey in the summer and it told us that well over 95 percent of people had used their cart at some point."
Looking forward to continued success in year two
"We're just entering our second full year of operation," says More. "Over the next year we're definitely going to be monitoring the tonnages compared to the first year of operation, and just really try to get a good understanding of how the program is trending. "There's theories out there that you might see an increase in the second year, but you might actually see a decrease because the first year had some initial enthusiasm for the program that might peter off. "The second year, I think, will be our first real opportunity to get a sense of whether there's a trend up or down, or if it's holding steady."
Hamilton says after a year in, people are still really supportive of the program. "Our tonnage certainly supports that," she says, adding that they continue to monitor how Calgarians are feeling about the program and what challenges they are having. "The goal is to tailor communication and education to help move that forward and continue the support," she says. "People are talking about waste diversion. When you implement a program like ours in Calgary, people start asking questions. Whether they support it or don't support it, they're at least talking about it."
Kielly agrees that Calgarians have been incredibly adaptive in adopting the green cart program. "I think as Canadians, they're concerned about the environmental and societal impacts of participating. And that has leant itself to a high adoption rate for the first year. I would see that continuing to grow, and the main diversion goal of 70 percent over the life cycle of this program, certainly to be achieved. "From an environmental perspective, from a financial cost-benefit savings to the City of Calgary, and to the constituent or resident, the net positive impacts of the Calgary Composting Facility are going to be quite substantial." RPN
This article was originally published in the November/December 2018 edition of Recycling Product News, Volume 26, Number 8.
Related Articles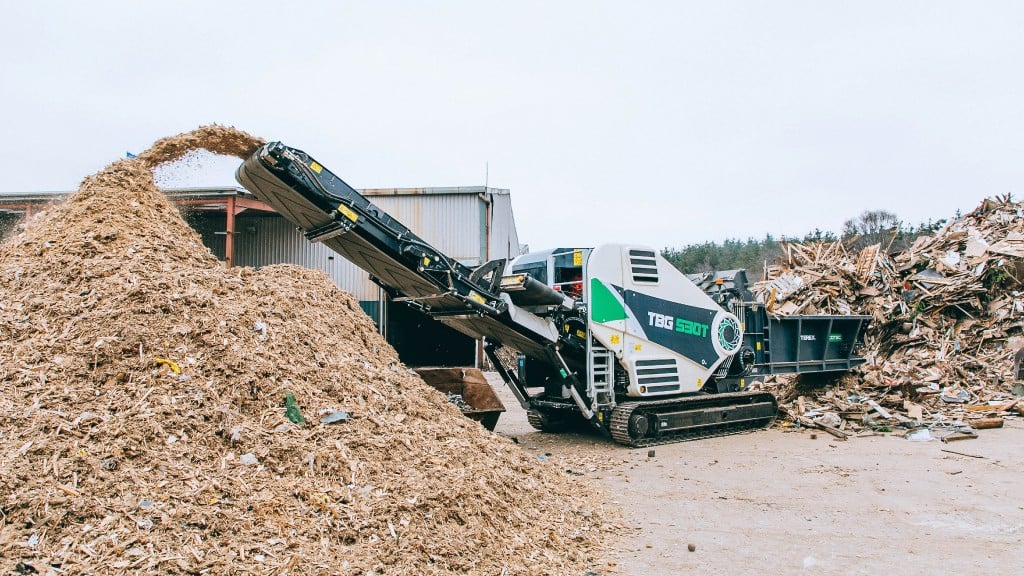 Terex Ecotec's new high-speed shredder ideal for wood processing and green waste shredding