Bringing biosolids full circle
Enclosed bays and attention to detail key to composting success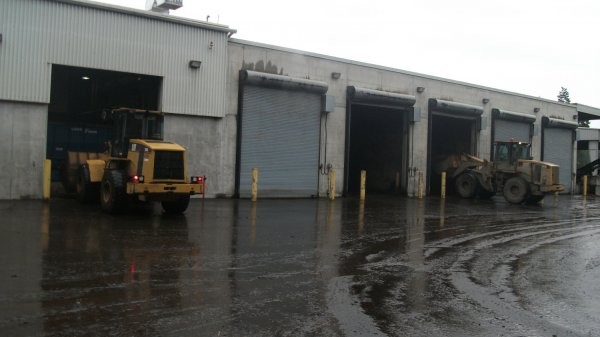 by Keith Barker
The Comox Valley Regional District's Biosolids Composting Facility, located on Vancouver Island in Cumberland, B.C., has been making compost from the region's wastewater treatment plant biosolids since 2003.
Approximately 4,500 metric tons of treated biosolids (wet weight) are delivered to the plant annually in tandem-axle dump trucks. Materials are conveyed using a shaftless screw conveyor from a receiving hopper into a horizontal auger mixer (the kind designed for agriculture industry feedstock blending) where it is blended with a combination of wood materials (four parts wood to one part biosolids.) After mixing for about six minutes, materials are moved by front-end loader into one of five enclosed, aerated-floor bays (or bunkers) where it stays for approximately 28 days.
This is the stage at which temperature rises to a minimum of 55 degrees C (usually closer to 65 degrees C) to kill pathogens. A programmable logic controller and thermocouples are used to control air flow and temperature of the pile.
One month after biosolids enter the enclosed bays, material is ready for screening and then two stages of curing. After screening using a trommel, material is placed in an open shed-type building, and aerated using perforated pipe and air blowers for six to eight weeks. For the final curing stage, material is moved into open windrows where it is turned for 10 to 12 weeks.
Once all this is done, The Comox Valley Regional District's (CVRD) SkyRocket branded compost / soil amendment product is available for sale, in bulk, back to the community it came from. The Comox Valley facility produces approximately 2,400 tons of high quality compost annually.
Recipe for success
Jim Elliott, a thirty year veteran at the CVRD, is the region's Manager of Wastewater Operations. Part of his job is to manage the biosolids composting facility. After all, it's an integral part of the overall wastewater plant operation in that it's how they divert their solid residuals.
"We originally composted our biosolids at our wastewater facility, starting in 1984, but we had to build a new facility due to an odour issue with our neighbours at that location," explains Elliott. "There are no odour issues at the new site. "We were very diligent in our design of the new site to ensure that odours weren't going to be an issue – because many facilities have been basically shut down because of odour problems," he continues.
"We designed our facility in such a manner that we can capture the odours. If you can't capture them, you can't treat them. That's why we have the enclosed bays. They're designed to keep their air in a negative pressure state, if needed. And then we exhaust through a biofilter."
Besides keeping odours in check, the main objective of any composting operation is of course to achieve absolute pathogen kill in the material. Elliott says this is done mainly in the initial high temperature bunker stage, but that he still makes sure they get their temperatures back up to 55-degrees after material is screened, in the first curing phase. This ensures any pathogens that survived the bunker stage are killed.
"We've found this is fairly important because in the bunker, not all the material may get up to temperature, in particular, the material that is up against the walls at the edges of the bunker."
To further ensure pathogen kill is complete, the Comox composting facility uses two separate loaders, one for incoming material before pathogen kill, and one for handling material after pathogen kill, so there's no cross contamination from material in the buckets.
"Our loaders actually have their own parking places, so we're not picking up material off the wheels or anything like that," says Elliott. When it comes to screening, he says their operation started with a star-type screen, but that they found it expensive to maintain, because of the large amount of moving parts. "We've transitioned to a trommel-type screen, which has much more throughput and way less parts and maintenance costs. And we also went to electric as opposed to diesel power – for the lower carbon footprint."
Moving forward
Elliott says one of the many projects they've been working on in 2012 is the engineering of the expansion of their facility, which he says is pretty much at its capacity, and which was originally built with expansion in mind. "We're hoping to be able to get sufficient funding to go in and basically double the existing size," says Elliott.
"We will pursue any grants that we may be able to garner for it. We're hoping there may be some infrastructure grants available. One of the things here in B.C. is that it's really important when seeking infrastructure funding to identify integrated resource recovery options (IRR.)
"This includes answering questions like 'What can we do to capture our excess heat? How can we allow this facility to serve more than one purpose? Can we extract the heat from our piles to heat our building?' So we'll look really hard at trying to come up with opportunities."
With respect to the ever-changing regulations that govern the composting industry, Elliott admits they are there to protect everybody, which is great. But, he says there needs to be assurances that the people in the industry are providing input so that the regulations make complete sense. "I believe that composting is a very sustainable thing for any community to do," says Elliott.
"There's a big push in many communities to go to anaerobic digestion and produce methane to create power. Which is good, in that you're getting away from fossil fuels. But, with composting, it's a more holistic approach. You are taking material that would have been a waste product, and converting it into a soil or soil conditioner. It allows us to regenerate the whole cycle. It's a very full-circle kind of approach."