McNeilus offers hands-on training for refuse and recycling collection trucks
Three-day program offers variety of courses to train technicians on automated side loader, front loader, and rear loader trucks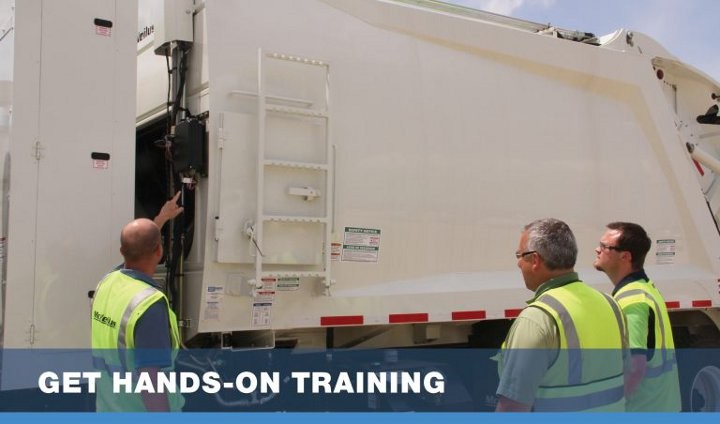 McNeilus Truck and Manufacturing, Inc., an Oshkosh Corporation company, is now offering a new program to train service technicians in the maintenance of refuse (and recycling) collection vehicles.

"A refuse collection vehicle mechanic is a valuable asset to a customer's organization and to the industry as well," said Jim McReynolds, vice president and general manager, customer support solutions, McNeilus Truck and Manufacturing, Inc. "That's why we want to do our part to increase both the quantity and quality of the mechanics working in the industry."
The three-day program offers a variety of courses to train technicians in the ZeroRadius Automated Side Loader, the Meridian Front Loader, and the company's rear loaders. Participants can attend any combination of courses. The program includes in-depth sessions on topics like safety, controls and monitoring, electrical components, hydraulics, tailgate systems, packer systems, arms, pneumatics and body lift systems. The courses will include both classroom sessions as well as hands-on experience with the trucks.
According to McNeilus, this training program is designed to teach technicians what they need to keep their fleet in top condition, increase efficiency and improve your company bottom line. Courses support the safe, reliable and profitable operation of McNeilus trucks. When your technicians are trained for precision, everyone wins.
This course is ideal for anyone with support responsibility on McNeilus refuse collection vehicles. Including: service technicians, training supervisors, shop supervisors and operators.
Classes vary in length and include time in the classroom and hands-on trucks. While in the classroom, attendees become familiar with truck systems using a number of tools including detailed colored hydraulic schematics and electrical schematics. Each system is covered using a basic troubleshooting methodology that emphasizes a step-by-step approach and builds upon a solid understanding of hydraulic and electrical principles. On the trucks, attendees complete hands-on assignments testing and adjusting hydraulic pressures for various systems and practicing calibration steps for electronic controls. Instructors challenge attendees to apply classroom lessons through diagnosis and repair of increasingly complex problems. Attendee's progress is monitored carefully with assessing critical concepts and functions to ensure course objectives are met throughout the session.