Premier Surplus, Inc. expands e-waste division of company with SSI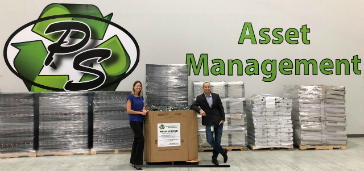 Premier Surplus, Inc., a Georgia-based asset management and electronics recycling company has, along with SSI, completed the design of a new E-Waste Shred System.
The system will be replacing their original shred line with state-of-the-art equipment and technology. Dave Fleming, Director of Sales and Marketing at SSI, said "Premier Surplus has very specific goals and a desire to offer their clients tailored solutions. This approach allows Premier to consider a wider breadth of materials than a typical processor might, at a time when the industry is full of people looking for reliable domestic outlets. SSI is thrilled to be selected as a part of Premier's growth plans and is excited to supply their next generation e-scrap processing system."
Processors in the South East, including Premier Surplus, are handling unprecedented volumes of e-waste. As the industry shows no signs of slowing down, the time was right for Premier Surplus to partner with SSI on this important project.
Phillip Kennedy, President of Premier Surplus, said, "Working with SSI has been amazing. We spent a great deal of time reviewing multiple system designs and proposals before selecting the equipment that will work for our application. Every item was carefully chosen and sized to streamline the shred system. We have been shredding E-Waste for over five years and are now faced with much more volume and harder-to-recycle electronics. The commodity values continue to drop but the volume continues to rise. Georgia needs a system like this running to help achieve maximum commodity recovery, landfill diversion and proper downstream of the focus material. The new system will have the latest and greatest in sorting technology and we feel our client base will be very happy with the finished product."
Mr. Kennedy added, "We designed the new shred system around our existing system, so we can simultaneously perform data and product destruction projects while at the same time processing the electronic scrap. We would like to thank all our clients that utilize our service and entrust us in processing their equipment. We would also like to thank SSI for their guidance and the industry knowledge they have brought to the table to help us accomplish our mission. The system is set to be installed March 1, 2019."