Membrane-covered structures central to construction of transshipment dock for recyclable materials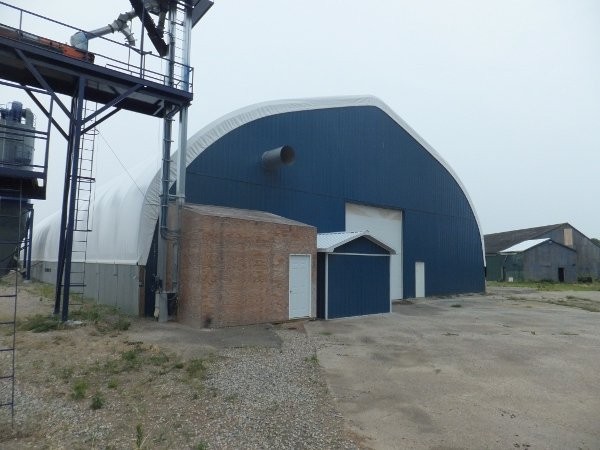 The county of Minganie, located in northern Québec, is comprised of eight municipalities of the Côte Nord region, including Natashquan, l'Ile D'Anticosti and Havre St-Pierre. Representing approximately 6,000 residents, Minganie voted in the fall of 2009 on the adoption of a new regulation with respect to the sorting of dry materials and the establishment of a new recycling policy. They decided to do what needed to be done to establish a "collecte sélective" for their territory. This included the need to build a covered transshipment dock for recyclable materials. In order to ensure that expenditures would be made in the most efficient and economic way possible, Minganie considered various alternatives.
They visited various recycling operations, including one in Port-Cartier, Québec, where they were using a MegaDome structure. After the visit to Port-Cartier and a meeting with Robert Marineau, the industrial sales director for MegaDome, they continued visiting other sites, including one in Sept-Îles where another MegaDome building was installed as a sorting facility for dry materials. In the end, Minganie chose to go with MegaDome.
"We chose MegaDome for the simplicity of the whole process and their impressive speed of execution," says Martin Guay, waste materials management coordinator for the county of Minganie.
Working as a team, Minganie and MegaDome established the main objectives of their project. First they needed to determine the size of the building so that it ensured smooth operations and maximum use of space. They also needed to keep to a limited budget, and they needed to establish an access point for dump trucks to a loading dock where loose and baled material would be dumped over a loading ramp. Finally, they needed their new structure to be surrounded by a buffer zone of between 7 and 10 metres. This was, according to Guay; to "respect durable development principles and also to have a working area closer to nature than usual in an industrial area."
The installation of the new 60-foot by 80-foot building at County of Minganie was completed in June (2012) over a two week period. According to MegaDome, the whole project went exactly as planned. The product was delivered on time, and was within the scope of Minganie's approved budget. Guay says it took one day to set the blocks, five days to erect the building, and two days to lay the cement inside.
With respect to the installation, Guay says; "It's been more than perfect. Fast, efficient and professional. As the structure was erected, I realized that our project had fallen into good hands."
"We expect to process between 700 to 1,000 tons per year. We're using a Kubota R420S with a grapple bucket, and a horizontal baler for cardboard," he adds.
According to Marineau; "Follow-ups have been made to answer customer's needs and interrogations, and especially to be proactive and avoid any issues that may have occurred during the installation. Moreover, he says, "this collaboration led to a deeper understanding of the client's situation, which resulted in a final solution that was a better fit for them and less expensive than the competition."
MegaDome says their buildings are CSA A660-certified, membrane-covered galvanized steel structures that are ideal to provide storage and protection for machinery and industrial operations. Each structure is designed based on local building code requirements, using 45 years of experience in steel structure engineering. MegaDome Buildings is a division of HARNOIS Industries Inc. based in St-Thomas, Québec.