Watch this: Eight-year-old recycling entrepreneur trades family pickup for a Mack LR refuse truck in latest RoadLife episode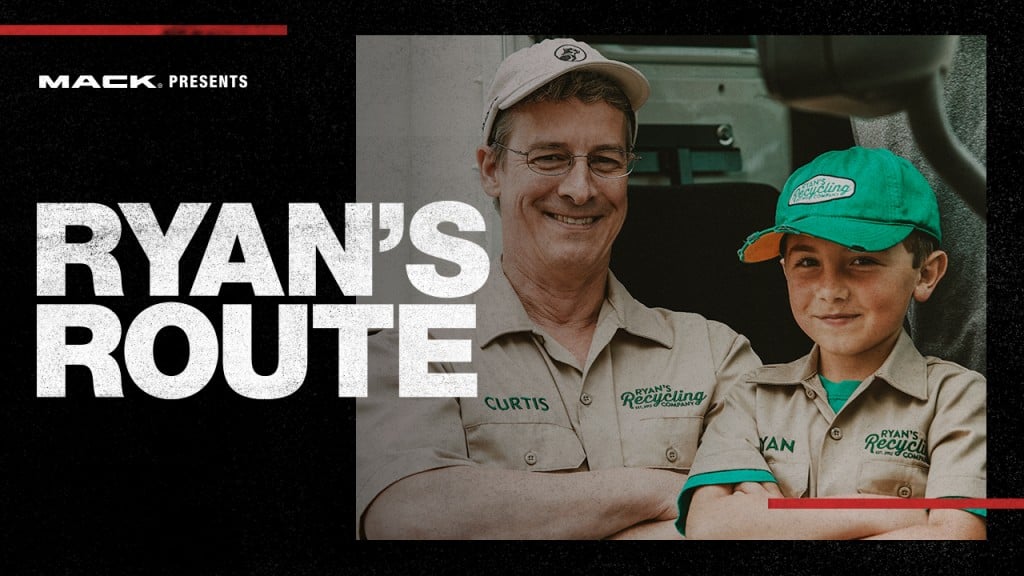 Mack Trucks has released the fifth episode of its RoadLife series on roadlife.tv and Amazon Prime Video. "Ryan's Route" stars 8-year-old Ryan Hickman, a recycling entrepreneur and owner of Orange County, California-based Ryan's Recycling, as he trades in the family pickup for a more appropriate work truck: a Mack LR refuse model.
"When Ryan was about three years old, we took him to the recycling centre, and he fell in love with it," said Damion Hickman, Ryan's dad and driver. "The next day he started asking all of our neighbors to save their cans and bottles for him, and it just grew."
Ryan collects plastic bottles, cans and glass from customers along his route, transporting them to a local recycling centre. What started as a local operation, with collections from family friends and neighbors, has grown to include business customers. In order to keep up, Ryan realizes he'll need to grow his collection fleet someday.
"My ultimate goal is to get a trash truck," said Ryan. "If I had a trash truck, it would help me more efficiently run my business."
Mack Trucks granted Ryan's wish for a day when Curtis Dorwart, Mack refuse product manager, arrived at Ryan's house in a fully equipped Mack LR model, including Ryan's Recycling logos proudly displayed on each side.
"You can pack a lot of stuff in this truck," Dorwart said as he showed Ryan the Mack LR model.
"More than this truck," Ryan replied while pointing at the family pickup.
After a brief review of some of the LR's features, the two set off on Ryan's route to collect his customers' recyclables. While too young to drive the Mack LR model, Ryan got plenty of practice using the truck's Curotto-Can automated loading arm.
In addition to providing a service to his customers, Ryan's hope is to get more people to begin recycling in order to help our planet. With recycling rates for plastic materials hovering in the single digits, experts estimate that there will be more plastic in the ocean than fish by the year 2050.

"He's an inspiration to a lot of people who have started recycling because of hearing his story," Damion said.
Company info
Related products