Komptech turners and screens key to success for one of Michigan's largest suppliers of compost and mulch
Turning waste to gold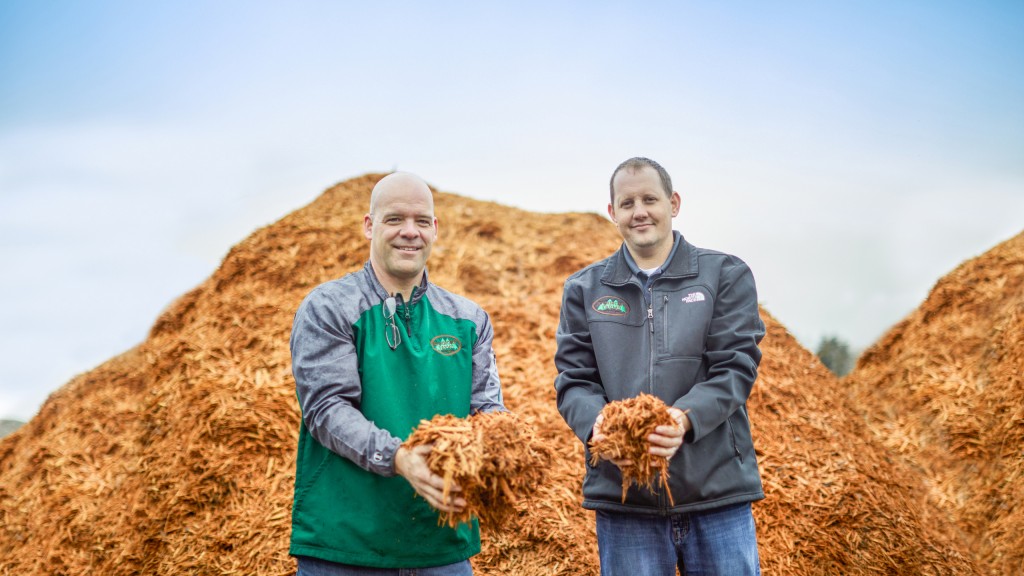 Cliff Walkington is General Manager of Hammond Farms, where he's been for 22 years. He took over from Lee Hammond Sr., whose son Lee Hammond Jr., the current assistant general manager, is now ready to take over the job. "I've been with the company since I was in school," says Hammond Jr. "I was bagging product when I was ten."
According to Walkington, Lee Hammond Senior's idea from the start was that Lansing, Michigan needed a "one-stop-shop" for all gardening products. "We never stopped developing along those lines," he says, adding that "In the past few years organic waste has become more and more important."
Hammond Farms processes large volumes of green cuttings and compost, mixing it down to about 52,000 cubic yards of premium soil substrate, while also having products including paving and decorative stones on offer. Today the company puts out nearly 104,000 cubic yards of mulch, including 65,000 cubic yards of coloured mulch.
In addition to processing the biodegradable waste that they take in from the Lansing area, Hammond Farms needed to find the right recipe for composting an increasing amount of very damp material.
"We experimented and tried out a lot of things," Walkington says. "We used to mix the material with front loaders. That took two weeks. Now we do the same amount in three quarters of a day with a Topturn X63." He says this investment, made at the end of 2016, has made their process much more economical.
According to Kevin Yuncker, Komptech America's representative for Hammond Farms, Komptech's Topturn X63 is an ideal fit for their operation. "The X63 Topturn processes material in less than 10 percent of the time it takes a front end loader," says Yuncker.
"This significantly reduces labour and resources needed for compost rows and allows the operator time to take care of other projects on the yard. The X63 turns material slowly and mixes completely, while introducing oxygen into the pile. This reduces the overall time on the yard, produces a better quality product and does it with low operating costs by not 'grinding' the material."
"You can only earn money with the process when you understand it," adds Walkington. "And we do, at both ends."
He says Hammond Farms gets paid, not just to take organic waste, but also for their quality finished product, which is by no means the case everywhere in North America, where many composters get little or no money for their final product.
Walkington adds that spring is when Hammond Farms is at its busiest. Demand for all products starts to rise in late March, along with the temperature.
"It peaks in late May," he says. "Everything starts to tail off after June." Early on, he adds that large-volume customers like municipalities dominate their business, while later in the season, most sales are to individuals and home gardeners.
Screens key for Hammond farms
"At the beginning of spring we can't make enough material," continues Walkington. "Our two screeners run practically around the clock."
The screeners he's talking about are star screens - a Komptech Multistar L3, and an XL3. The L3 is the older machine, with about six years at Hammond Farms, and over 5,000 operating hours under its belt.
Walkington first learned about Komptech screens at a mulch producer conference. A presentation about the benefits of star screening caught his attention.
"Star screens make nice material and throughput is high," says Walkington, adding "These screeners go far toward reducing shredding costs, because we only need to reshred the screen overflow."
After more than six years, Walkington also has nothing but praise for the relationship they have built with Komptech Americas. "If a minor problem does come up, they're ready to listen," he says, adding that he's especially appreciative of his key contact person at Komptech Americas, Kevin Yuncker.
Yuncker describes the model XL3 Multistar, which Hammond bought at the end of 2014, as a screen that produces a high-quality mulch from the primary grind.
"The fuel consumption is less than two gallons per hour, at 300+ yards per hour, so there is a significant savings over re-grinding all of the mulch through a grinder at 40+ gallons per hour," explains Yuncker. "The Multistar is capable of going from a high-quality double-grind or high-quality triple-grind by pushing a button, as well as switching from 1-inch down to 3/8-inch in compost material."
The future is green
Hammond Farms opened its fourth location at the start of 2018. The employee headcount is at 50 and there are plans to hire more. Designated successor, Lee Hammond Jr., says they are going to be marketing to areas farther away soon and expects continued growth.
Still, while legal mandates are already very strict in Europe and Canada, the U.S. has barely started to regulate the composting industry.
Walkington says they expect much more restrictive legislation down the road. "A few years ago five percent, by volume, of plastic was okay in finished compost," he says. "Now it's only one percent. And we expect that to tighten up."
Of course, there is a good side to this. "More and more people are aware that to get a clean product, you need to do something about the waste at the source," Walkington says.
"We also know that we have a responsibility to educate the public. More and more schools and interested individuals come to visit us and tour the plant," he continues. "And that's just the tip of the iceberg. The next generation needs to do better, and I'm sure they will."
He adds that he gets a lot of compliments from visitors. "People are really excited when they see our operation. We turn what looks like trash into a beautiful product." You might even call it "gold".
This article was originally published in Recycling Product News, July/August 2018, Volume 26, No. 5.
Company info
Related products