New 855 E expands Sennebogen product line
855 E model completes largest line of purpose-built material handlers worldwide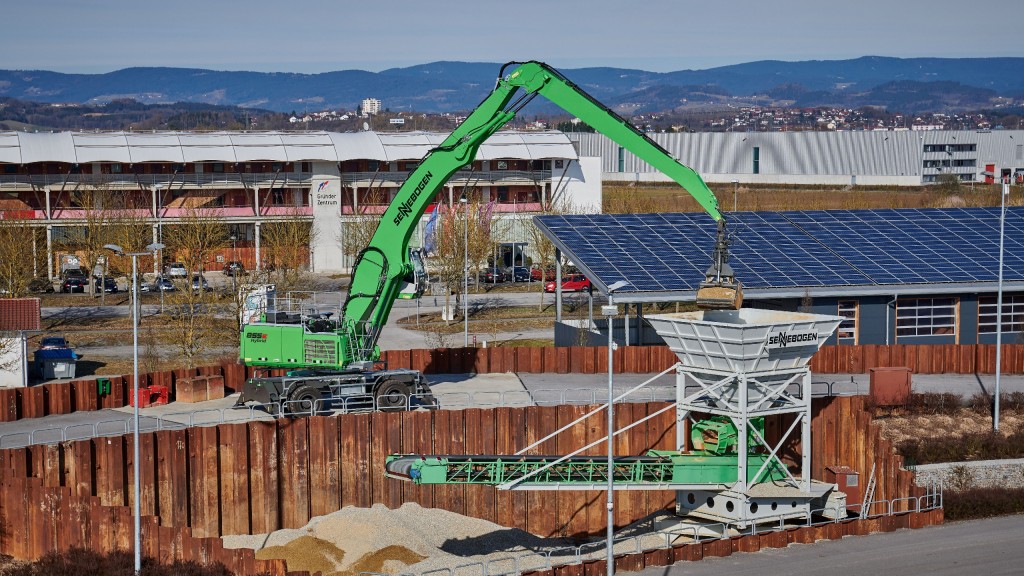 SENNEBOGEN has introduced the new 855 E model to its line-up of material handlers, which the company says completes the largest product line of purpose-built material handlers worldwide. With an operating weight of approx. 160,000 lb. (72.5 tons) the new 855 features reach packages from 59 to 68 feet (18 to 21 meters), a powerful 305 HP (227 kW) Cummins Tier 4f diesel engine as well as SENNEBOGEN's "Green Hybrid" technology. The new 855 E as well as all other models are available as rubber tired, crawler and stationary versions and can be equipped with diesel engines or electric motors, applicable for a range of applications, including port and recycling.
30% More Energy Savings
Enhanced by SENNEBOGEN's innovative Green Hybrid system, the 855 E design is easily recognized by the large energy recovery cylinder mounted in between the boom's two hoist cylinders. The hydraulics of this energy recovery cylinder effectively reduces the energy (fuel) demand for each lift cycle by as much as 30%.
According to Constantino Lannes, "The Green Hybrid system captures energy on every downstroke, and stores it in separate gas accumulators at the rear of the machine. It then releases this stored power on each lift to assist in raising the boom and its load. The principle is similar to a spring being compressed and then releasing its energy by allowing it to expand. Furthermore, the system is a very simple design using a standard hydraulic cylinder that connect to the accumulators at the back of the unit."
SENNEBOGEN's model 855 E, 860 E, 870 E and 875 E are all equipped with the innovative green hybrid system.
Operator Comfort & Safety
The 855 E is also equipped with the newest version of the SENNEBOGEN Maxcab. The new Maxcab includes a wide range of ergonomic comfort features, as well as large windows and joystick controls for travel providing an unobstructed view of the complete work zone from the operator's seat.
A 2-camera system is standard delivering operators a clear view to the right side past the boom and to the rear of the machine. Bulletproof glass is also standard in the Maxcab, providing additional operator safety. Additional features like a permanent catwalk for safe and easy cab entry and exit, handrails on top of the upper carriage as well as many more safety related items that are standard.
Company info
Related products
More from Metals Recycling
But we've been successfully sorting paper on the front end with optical sorters since 2005. Why have we been so successful? Because we know it's not JUST about the optical. We focus on your entire operation, so you make the most of your fiber line. Is your optical sorter living up to its potential? Call us at 203-967-1100 for a free system evaluation.
Traditionally, recyclers across Canada have sent a huge percentage of their recovered scrap metal to Hamilton, Ontario, or Pennsylvania in the U.S., via open-top rail cars and truck trailers. The scrap is then melted down and turned into new steel. This is still the case for much of our scrap steel, but recently the growing trend toward containerization has introduced new opportunities for efficient, cost-effective shipping of both non-ferrous and ferrous materials to overseas markets.